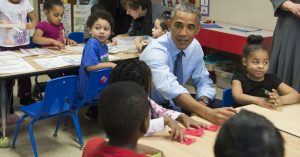 Over the past 8 years, the Obama administration and Congress – under both Democratic and Republican control – have achieved historic, bipartisan victories on early childhood education. President Obama has been a steadfast champion for America's youngest learners, which has resulted in tremendous progress for children birth through age 5. We at FFYF have felt especially proud and honored to work with the Obama administration to lead the president's Invest in US challenge, which has resulted in over $340 million in new private funding to support early childhood education.
As President Obama's time in the White House comes to an end, we're incredibly grateful for his efforts to bring national attention to the importance of strengthening the nation through investing in its greatest resource – our children.
Take a look at the Obama administration's top early childhood education moments:
Maternal, Infant, and Early Childhood Home Visiting (MIECHV)
To ensure children are ready for school, it's critical that parents have the tools necessary to support their child's development. Thus, as part of President Obama's signature health care law, came the Maternal, Infant, and Early Childhood Home Visiting Program (MIECHV). For parents and pregnant mothers experiencing poverty, language barriers or geographic isolation, voluntary home visits are a valuable resource. One goal of the MIECHV models is to support parents in becoming the best advocates for their children's learning and development in the early years.
Originally the MIECHV program provided $1.5 billion over 5 years in funding to expand evidence-based home visiting programs in states to serve low-income children and families. After a six month extension in 2015, Congress passed the Medicare Access and CHIP Reauthorization Act of 2015 which extended MIECHV for an additional two years through 2017.
Race to the Top – Early Learning Challenge (RTT-ELC)
President Obama established the Race to the Top – Early Learning Challenge in 2011 to challenge states, territories, and tribes to close the school readiness gap and enable states to increase the quality of their early learning programs.
The Departments of Education and Health and Human Services released a joint report that shows states receiving RTT-ELC grants are rapidly improving the quality of their early education programs.
State of the Union 2013 and the Budget
In his 2013 State of the Union address, President Obama called upon Congress to expand access to high-quality preschool for every child in America, proposing investments that support a continuum of early learning opportunity beginning at birth.
As part of his FY2014 budget, President Obama proposed a budget neutral investment in excess of $75 billion over the next 10 years to improve early childhood education nationally for children from birth to five years old. Since then, the Obama Administration has consistently requested increases for early learning and care programs in the president's budget requests to Congress. In turn, Congress has increased funding levels for early childhood education programs with overwhelming bipartisan support.
White House Summit on Early Education
In December 2014, the President convened state and local policymakers, mayors, school superintendents, corporate and community leaders, and advocates, for the White House Summit on Early Education, highlighting collective leadership in support of early education for America's children.
Shakira, John Legend, Jennifer Garner, and Julianne Moore contributed to the event with videos produced by FFYF elevating the importance of investing in quality early childhood education and development.
Invest in US and Early Learning Communities
At the Summit, President Obama launched Invest in US, in partnership with the First Five Years Fund and its philanthropic partners. Through this public awareness campaign leading corporations, foundations, and individuals agreed to dedicate a greater ongoing percentage of their philanthropy to expanding high-quality early childhood programs and research as a strategy for achieving better education, health, social, and economic outcomes. In addition, 22 communities and states committed to making early childhood programs a policy priority, and more than 40 advocacy organizations announced their ongoing support of the campaign. President Obama also announced over $750 million in federal funding for early learning programs through the Preschool Development Grants and Early Head Start – Child Care Partnerships (EHS-CCP). Invest in US private commitments currently total more than $340 million; when added to federal investments, there has been a sum total of more than $1 billion of critical investments in early childhood education during the Obama Administration..
Early Learning in the Every Student Succeeds Act (ESSA)
In December 2015, Congress approved, and President Obama signed, the Every Student Succeeds Act (ESSA) to replace the No Child Left Behind Act of 2001. This latest update to the Elementary and Secondary Education Act includes an array of important early learning provisions, including language authorizing a new Preschool Development Grant program to be jointly administered by the U.S. Department of Health and Human Services and U.S. Department of Education. ESSA's provisions also aim to promote early learning coordination within communities; greater alignment with the early elementary grades; and early childhood education focused capacity building among teachers, leaders, and other staff serving young children
Preschool Development Grants (PDG) Among ESSA's many important, bipartisan early learning provisions, the new Preschool Development Grant program is quite significant. Though identical in name to the U.S. Department of Education grants made to states in 2015 and 2016, ESSA's new PDG program provides competitive grants, managed by the Department of Health and Human Services, for states to improve coordination, quality, and access for early childhood education for low- and moderate-income children from birth to age five. The program aims to increase parent choice and includes a focus on supporting high need and rural communities.
Child Care and Development Block Grant Act of 2014 (CCDBG)

With champions on both sides of the aisle and near unanimous support in Congress, President Obama signed the Child Care and Development Block Grant Act into law on November 19, 2014. This marked the first reauthorization of this law in 18 years. Significant revisions include health and safety requirements for child care providers, increasing quality requirements and improving transparency so families are equipped to make the best choice. The availability of funds for CCDBG, along with the Child Care and Development Fund, makes it possible for families to access child care who otherwise could not afford it.
Reforming and Expanding Head Start
The Obama Administration has taken important steps to reform and expand Head Start services to more children around the country. Through the American Recovery and Reinvestment Act in 2009, President Obama invested $2.1 billion in Head Start and Early Head Start. Additionally, the new 2016 Head Start Program Performance Standards incorporates up-to-date research and best practices while allowing for locally-driven decisions that respond to children's needs in the context of their community. These standards will improve program quality, reduce the burden on programs, and improve regulatory clarity and transparency.
Early Head Start-Child Care Partnerships

One recent innovation that builds on the existing strengths of Early Head Start are the Early Head Start – Child Care Partnerships (EHS-CCP). EHS-CCP is a competitive grant opportunity that allows new or existing Early Head Start programs to partner with local child care centers and family child care providers serving infants and toddlers from low-income families. Federal support for child care comes in the form of state block grants administered by state lead agencies awarded by the Office of Child Care. Since standalone Early Head Start grantees are unable to provide full-day services with Head Start funding alone, partnering with child care through providers or subsidies from state lead agencies integrates high-quality, comprehensive programs, thus making better use of federal funding for children from low income families. Additionally, these partnerships increase parent choice when selecting high-quality early learning opportunities in their communities.