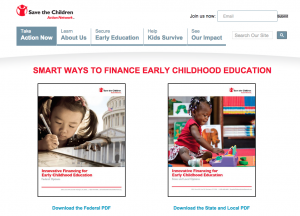 Americans on both side of the aisle agree: investing in early childhood education should be a national priority. Not only are such investments critical for children's brain development, but the research shows there is a strong return on investment for every $1 spent on early childhood education.
Everyone agrees this work is important, but how do we pay for it?
Today the Save Children Action Network (SCAN) released a report affirming the research behind the benefits of early childhood education and outlining innovative financing options at both the federal and state level. SCAN's recommendations, which fall into two broad categories – incentivizing private dollars and reforming tax credits, and identifying new public resources – aim to bridge the gap and provide lawmakers with viable options to invest in quality early childhood programs.
To learn more about SCAN's innovative financing options, read the full report here.
Also be sure to share their infographics, and take action to urge lawmakers to support new investments in early childhood programs.