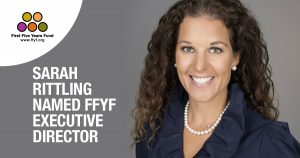 WASHINGTON – Today, the First Five Years Fund (FFYF) announced that Sarah Rittling has been named Executive Director. Rittling has been serving as the organization's Interim Executive Director since February 2018 and previously oversaw the organization's operations and bipartisan government relations work as National Director. Founded in 2008 by a group of prominent national philanthropic foundations, FFYF is a leading advocacy organization dedicated to increasing the federal government's investment in high-quality early childhood education.
"Sarah's deep expertise in early childhood policy, her invaluable political and legislative experience, and her reputation as a trusted collaborator make her the ideal leader as FFYF enters its second decade of advocacy, said Diana Rauner, President of the Ounce of Prevention Fund and co-chair of FFYF's Executive Policy Council."
"Sarah Rittling is the perfect choice to lead FFYF as the organization builds on its legacy as the trusted leader for early childhood education in Washington," said Jessie Rasmussen, President of the Buffett Early Childhood Fund and co-chair of FFYF's governing Executive Policy Council. "Sarah's passion for the mission of FFYF, her impressive leadership and advocacy experience, and her inspiring vision for the organization's future will no doubt lead to even greater success on behalf of America's young children."
"All across this country in small towns and big cities, high-quality early childhood education is opening doors and creating new pathways to opportunity for young children – particularly those born into poverty," said Sarah Rittling. "A child's circumstances at birth should never limit her access to healthy developmental experiences that will help her learn and grow, and set her up to achieve greatness throughout her life. I am grateful for the opportunity to lead FFYF as we enter our second decade of federal advocacy. I care deeply about this organization's mission, and the unique, bipartisan strategy that guides our work each day. While there's no doubt that we've made tremendous progress for children from birth through age 5, quality early learning and care is still out of reach for far too many families – particularly for infants and toddlers. As executive director, I will approach this crucial work with a great sense of urgency and a profound conviction that every child in America is capable of achieving great things in life."
Throughout her career, Rittling has developed a strong track record of bridging the partisan divide to find solutions and build consensus. In her role as National Director, Rittling led FFYF's bipartisan government relations efforts, managed partnerships with early childhood and other advocacy coalitions, and directed the organization's staff and operations.
Prior to joining FFYF, Rittling served as Senior Policy Advisor at EducationCounsel, an education consulting firm, where she was part of a bipartisan, education-focused team led by former U.S. Secretary of Education Dick Riley. Rittling has dedicated her career to creating policy change on education issues, with a particular emphasis on early childhood education. She served as counsel to Sen. Lamar Alexander, R-Tenn., on education policy before the Senate Health, Education Labor and Pensions Committee and counsel to Rep. Michael N. Castle, R-Del., on education and labor matters before the House Committee on Education and the Workforce. Under Sen. Alexander, Rittling was responsible for advancing the Senator's priorities during the reauthorization of the Higher Education, Head Start and Child Abuse Prevention Treatment Acts. While serving Rep. Castle, Rittling assisted with matters before the Subcommittee on Education Reform, including reauthorization of the National School Lunch and Child Nutrition Act and the Individuals with Disabilities Education Act. Rittling also served as a legislative assistant and deputy press secretary to Rep. Christopher Shays, R-Conn.
Rittling holds a Bachelor of Arts from Syracuse University and earned her J.D. from Syracuse University's College of Law. She lives on Capitol Hill with her husband, Patrick Lyden, and their two young daughters.
The First Five Years Fund provides knowledge, data and advocacy – persuading federal policymakers to make investments in the first five years of a child's life that create greater returns for all. FFYF helps America achieve better results in education, health and economic productivity through investments in quality early childhood education programs for disadvantaged children. http://www.ffyf.org
###