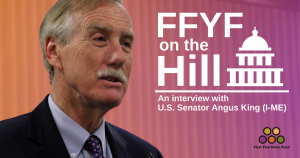 U.S. Senator Angus King (I-ME) has been a strong voice for children on Capitol Hill since joining the Senate in 2013. Just last year, as an original sponsor of the Promoting Affordable Childcare for Everyone (PACE) Act, Sen. King worked tirelessly with Republicans and Democrats in both the House & Senate to strengthen the outdated child care provisions of the tax code, successfully defeated attempts to roll back provisions that help families with the cost of child care.
FFYF spoke with Sen. King about why access to quality child care is a priority for him, and the ways bipartisan lawmakers can work together to support the care and education of America's youngest learners.
FFYF: Why should Congress help address the cost of child care?
Sen. King: We know that children's experiences in the first five years of life establish the foundation for ongoing learning, and the long-term benefits of high-quality child care to a child's cognitive, social, and emotional development have been proven time and time again. But even as we have overwhelming data to support the importance of child care, this resource has become far too expensive for far too many families. It's time Congress gets serious about helping our nation's children's grow and thrive, and we can do that by promoting meaningful reform for our child care policies.
FFYF: Why should this continue to be a top priority for Congress? Why should other lawmakers prioritize early childhood education in general?
Sen. King: In addition to helping our children grow and prepare to enter the workforce, affordable, high-quality early child care is also crucial to the success of our current workforce. Currently, expensive child care costs hold families back from fully participating in our economy, particularly harming the participation of women in the labor force. The numbers are startling: in nearly half of the country, the annual cost of full-time child care for a 4-year old is greater than the average cost of in-state tuition at a 4-year college or university. These pressures are especially challenging for low-wage workers who spend, on average, more than 30 percent of their income on child care. By acting to make child care more affordable, Congress would lessen the burden for working families and provide an overall boost to the economy.
FFYF: How does the PACE Act and/or other tax incentives help address access and affordability of child care?
Sen. King: Last year my colleague Senator Richard Burr (R-NC) and I introduced the Promoting Affordable Childcare for Everyone (PACE) Act to make child care more affordable for families all across the country. This bill aims to modernize and make more accessible two significant tax benefits that help offset child care costs: the Child and Dependent Care Tax Credit (CDCTC) and Dependent Care Flexible Spending Accounts (FSAs). The PACE Act would make several changes to both policies to keep up with inflation and give eligible families access to more options and greater spending power.
Why is it important for American families?
Sen. King: My mother was a school teacher and very early on she, along with my father, instilled in me the importance and value of education—including education even before kids get to kindergarten. They believed, as I do, that income should not dictate access education. And that is why it is crucial that we bring the federal government's child care tax benefits out of the past and into the 21st century so that they reflect the realities families face today, and can deliver the real, substantial assistance they were intended to provide. The PACE Act implements these critical changes and that will benefit children, hardworking American families, and the economy.
What are you most hopeful about when it comes to this session of Congress on early learning and child care policy?
Sen. King: Providing high-quality and affordable child care isn't—and shouldn't be—a partisan issue. It just makes sense—for our kids, hardworking families, the economy, and our country's future. It is my hope that the Senate will recognize the importance of this subject, and work together to invest in our future by putting child care and working parents first.