A new report supports what researchers have been saying for years: the first five years of life lay the foundation for a child's future achievement and life trajectory. According to the new report in the American Journal of Public Health, kindergarteners who develop important social-emotional skills early on may have better life outcomes. Specifically, children who share, cooperate, and problem solve are less likely to drop out of school, commit a crime, or rely on government assistance.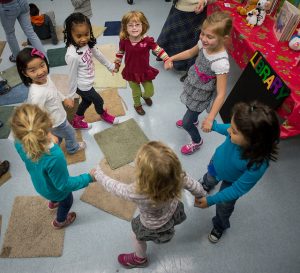 Researchers form Duke and Penn State University tracked over 750 children for two decades, requiring teachers to rate specific behaviors along the way. The researchers believed children who processed strong social-emotional skills would be able to do well in school, pay attention, and navigate his or her environment – all indicators of success later in life as well. The study found that for every 1-point increase on a 5-point scale, children were twice as likely to earn a college degree; 54 percent more likely to earn a high school diploma, and 46 percent more likely to have a full-time job.
The study results suggest intervening early and investing in high-quality early education programs can help change a child's life trajectory.
Read more to learn how investing in high-quality early education programs now can reap benefits for children down the road.