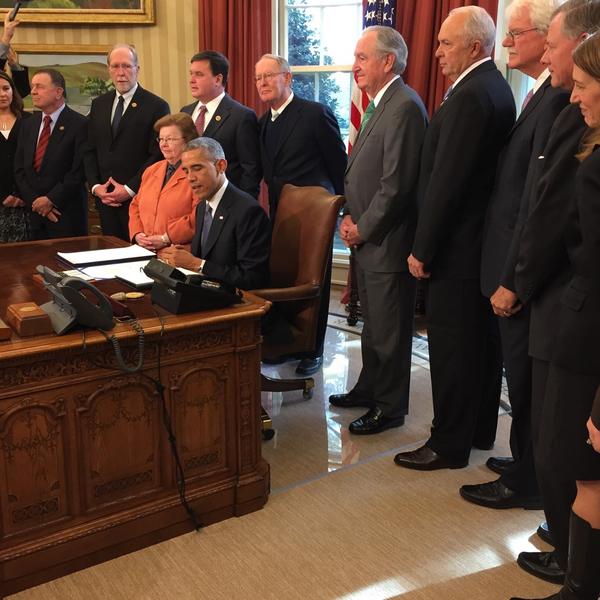 Statement from First Five Years Fund (FFYF) Executive Director Kris Perry on President Obama signing the bipartisan Child Care and Development Block Grant Act into law.
In Washington, D.C. today, President Barack Obama – surrounded by both Democratic and Republican congressional leaders from the House and Senate – signed into law the Child Care and Development Block Grant Act of 2014 (CCDBG). CCDBG passed the House and Senate in overwhelming fashion – and today's bill signing is a reminder that the issue of early childhood education and development continues to be a commonsense, bipartisan policy priority for both Democratic and Republican leaders.
FFYF again extends its thanks to Congress and the President for prioritizing this important piece of legislation. This is a great day for children and families across the U.S. – following a year of unprecedented action and momentum on the issue of early childhood education. Since January, Congress launched the $250 million Preschool Development Grants competition which has generated interest from 35 states; they extended the Maternal, Infant and Early Childhood Home Visiting (MIECHV) program; and approved more than $1 billion in early childhood education funding increases. CCDBG had last been authorized in 1996 – nearly two decades ago. Few issues have seen as much breakthrough and bipartisan appeal on Capitol Hill as early childhood education.
With a new Congress entering Washington, D.C. in January – this is a pivotal moment for policy leaders on both sides of the aisle to start thinking big on early childhood education. Recent bipartisan polling affirms that voters care deeply about investments in early childhood education and want Congress to do more.
With tremendous economic incentive and an overwhelming research base, along with support from business officials, military leaders and diverse political bases all across the country – early childhood education remains a key priority. Today's bill signing is a hopeful indicator that CCDBG – along with other major early childhood policy wins – is yet another stepping stone to even greater investment.
###
The First Five Years Fund (ffyf.org) helps America achieve better results in education, health and economic productivity through investments in quality early childhood education programs for disadvantaged children. FFYF provides knowledge, data, and advocacy – persuading federal policymakers to make investments in the first five years of a child's life that create greater returns for all.