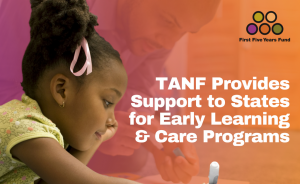 Child care is not a luxury for American families—it's a necessity. Yet the costs associated with quality child care are rapidly outpacing other expenses faced by families, including the cost of higher education. In addition to other important federal programs that support the care and education of America's young children from birth through age five – particularly those from low-income families – the Temporary Assistance for Needy Families (TANF) program plays a crucial role in offering relief to these families for their child care expenses. TANF helps states to break the cycle of poverty through quality early childhood programs that support children's development, while allowing parents to enter or return to the workforce.
NEW FFYF RESOURCE: Child Care and the Temporary Assistance for Needy Families (TANF) Program
The TANF program is designed to help families living in poverty achieve self-sufficiency. States receive funding to develop programs and opportunities that accomplish one of the purposes of the TANF program, including a broad range of child care and early education initiatives.
On March 6th, the Education and the Workforce Subcommittee on Early Childhood, Elementary, and Secondary Education (ECESE) convened a hearing entitled 'Strengthening Welfare to Work with Child Care' that explored the importance of elevating programs like TANF to meet the needs of both children and parents through high-quality child care in coordination with public assistance. ECESE Chairman Todd Rokita (R-IN) made opening remarks highlighting the importance of coordinating high-quality child care and public assistance programs in order to effectively help families find sustainable, good paying jobs: "No parent should have to make a choice between showing up for work and caring for their child."
As Congress considers reauthorization of TANF, there is a significant opportunity to recognize the unmistakable role quality early childhood experiences play in helping to break the cycle of poverty.