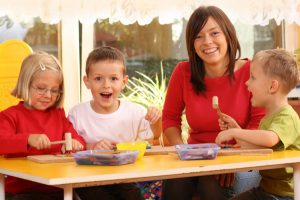 Earlier this week Vanderbilt University released a study on the early outcomes of Tennessee's Voluntary Pre-K program, showing that good intentions aren't good enough and calling for improvements in both the quality of its preschool program and K-3 education. Fortunately, these results come early in Tennessee's investment in early education, and the state's policymakers, educators and media remain committed to improving the program and the lives of disadvantaged children.
The results of the Vanderbilt study on Tennessee's preschool program are unique to Tennessee and by no means weaken the promise of better academic and life success for disadvantaged children who receive quality early childhood education. The study's authors repeatedly point out that quality matters, and that Tennessee has a long way to go to improve quality in its preschool and K-3 education.
Despite identifying quality problems in Tennessee's preschool program, lead Vanderbilt researcher Dale Farran notes, "The children who'd had the Voluntary Pre-K program were much better prepared for kindergarten by all of our achievement measures — significantly so." Kindergarten teachers highly rated entering-TN-VPK children as being better prepared for school, having better learning behaviors and having more positive peer relationships.
Unfortunately, these school-ready TN-VPK children met a school unprepared to capitalize on the momentum gained from preschool. By first grade, teachers rated TN-VPK children as less well prepared for school, having poorer work skills and feeling more negative about school, a trend that continued into third grade.
Those looking for so-called "fadeout effect" from preschool now have an idea of what may cause it—schools playing catch up with unprepared students while prepared students languish. Something is wrong when a prepared, motivated child becomes the exact opposite after one year of schooling—and the blame cannot and should not solely be attributed to preschool.
Fortunately, Tennessee remains committed to making preschool and elementary school work for disadvantaged children. Prominent newspapers across the state, from The Commercial Appeal​ in Memphis to Murphreesboro's Daily News Journal, are praising the state's preschool program and calling for improvements in quality and funding. Educators and elected officials have added their voices to this call.
They are wise to do so. Studies of high-quality preschool programs in other states show they consistently produce results such as school readiness, higher achievement, and reducing the need for special and remedial education. For example, a study of Tulsa's Pre-K program showed that children who attended Tulsa's preschool program demonstrated persistent education gains, better retention rates, better attitudes about school, and less absenteeism into 8th grade. Tulsa's Pre-K program also showed gains in cognitive abilities, executive function and social skills. North Carolina, Georgia, Arkansas and New Jersey are other high quality programs that have delivered high quality results.
High quality preschool programs are being replicated and scaled in states with good results. We know what works and what doesn't. The Tennessee study adds to this body of knowledge. Fortunately, Tennessee now has the information it needs to improve its program and its outcomes.