On Tuesday of this week, I had the pleasure of hosting a panel discussion on the "politics" of early childhood education with two people who know more about the ins and outs of Washington than just about anyone else – Kevin Madden and Robert Gibbs.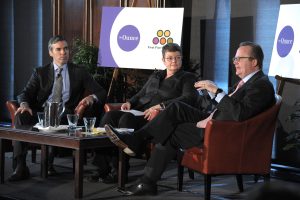 Kevin was a senior advisor and Mitt Romney's 2008 and 2012 presidential campaigns, he served as press secretary to then-House Majority Leader John Boehner, and is currently a Partner with Hamilton Place Strategies. Robert ran communications for then-Senator Obama's 2008 presidential campaign and went on to serve as White House Press Secretary from 2009 to 2011.
Kevin, Robert and I were in Chicago at the invitation of Ounce of Prevention President Diana Rauner and J.B. Pritzker, head of the Pritzker Group and Pritzker Family Foundation, and a true champion of early childhood education, to speak to a room full of prominent business leaders about the ways in which early learning has developed as a bipartisan national priority—and how we can leverage this moment to create better education, health and economic outcomes for the 6 million young children nationwide.
These days it seems that not a day goes by where we don't see clear evidence of America's untempered momentum for early childhood education. And it's very clear that the widespread and bipartisan support for this issue will only continue to grow.
During our panel discussion, Kevin Madden pointed out that governors across the country – Republicans and Democrats alike – are focusing their attention on early childhood education because they have a real interest in planning for their states' economies 20 years from now.  What we invest in our children today has a direct impact on our society and our economy in the future.
And Robert Gibbs pointed out that, as the country begins to gear up for the 2016 presidential election cycle, there's no doubt that early childhood education has the potential to be a major campaign issue that candidates from both parties can leverage for support. In fact, early childhood education is one of the few issues that both sides of the aisle have shown bipartisan agreement in the recent past.
There is widespread recognition that every child in this country needs access to quality early childhood development opportunities that will prepare them for success in school and in life. And we, as a nation, are on the cusp of a major moment in our fight for these kids, who are truly America's greatest resource.