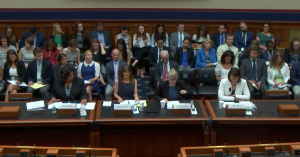 Today a subcommittee of the U.S. House Education & Workforce Committee held a hearing on the federal early childhood education and child care programs. The Subcommittee on Early Childhood, Elementary, and Secondary Education hosted, "Opportunities for State Leadership of Early Childhood Programs," and featured testimony from early childhood scholars and practitioners, as well as a representative from the Government Accountability Office:
Ms. Cindy Brown Barnes
Director of Education Workforce & Income Security
Government Accountability Office | Washington, DC
Dr. Katharine Stevens
Resident Scholar, Education Policy Studies
American Enterprise Institute | Washington, DC
Dr. Pamela Harris
President and CEO
Mile High Montessori Early Learning Centers | Denver, CO
Ms. Ericca Maas
Executive Director
Close Gaps by 5 | Minneapolis, MN
The lives of millions of American children are changed for the better because of access to high quality federal early learning and care programs. During today's hearing Cindy Barnes highlighted the findings of a new GAO report, which details significant improvements in inter-agency coordination and decreases in program overlap and duplication.
Take a look at the top 7 moments from today's hearing:
1. Rep. Jared Polis Points to National Governors Association's Call for Federal Partnership on ECE
In discussing the leading role that Republican and Democratic governors across the country are playing in expanding access to quality early learning and care, Rep. Jared Polis of Colorado – the ranking member of the Subcommittee – noted that the National Governors Association had incorporated early childhood education into its official platform. The policy, "reinforces governors' support for early childhood education as a workforce development strategy and welcomes collaboration with the federal government on early childhood innovation."
2. Child Care vs. Early Childhood Education: What We Call It Doesn't Matter
In a discussion with Rep. Virginia Foxx of North Carolina, Chairwoman of the House Education & Workforce Committee, Katharine Stevens reinforced a point she's made previously – that children are learning and growing in any setting they're in. "From birth, children are learning. It doesn't matter what we call it, it's funding stream or what building it is in." Stevens made a similar argument in a report co-authored with the U.S. Chamber of Commerce Foundation: "The commonly made distinction between "care" and "education" in early childhood is a false one. Childcare is early education, regardless of the building it occurs in or what we call it."
3. Benefits of Quality ECE Are Backed Up by Science – But Quality Matters
Stevens continued from the previous point about the importance of quality in early learning and care settings. "There is no other area of policy that I know of that has such a strong body of science that so clearly points us in the right direction… We can't stop children from learning, so the question is only the quality of that environment." According to Nobel Laureate Professor James Heckman, "It makes dollars and sense to target disadvantaged children with quality early childhood programs rather than subsidize low quality universal programs."
4. Rep. Bonamici Calls for Bipartisan Cooperation on ECE
During her portion of the hearing. Rep. Suzanne Bonamici of Oregon reinforced the need for bipartisanship. "If we can make [ECE] programs better and more accessible, let's do that and let's do it in a bipartisan way."
5. Voters Support Investment in Early Childhood Education
Rep. Jared Polis referenced FFYF's new national poll during his opening remarks, quoting data that shows "Support for our investment in making quality early childhood education a reality for every child in our country has broad support from across the political spectrum because it simply makes sense… 82% of Republicans and 97% of Democrats believe that we should make quality early education more affordable and prevalent."
6. GAO Report Indicates Improvement in ECE Program Coordination
During her opening remarks before subcommittee, the GAO's Cindy Brown Barnes highlighted significant improvements in inter-agency coordination and decreases in program overlap and duplication. "HHS and [the Department of] Education have helped address these conditions [fragmentation, overlap, and duplication] through improved agency coordination, particularly by following leading practices for interagency collaboration…The agencies have also documented their agreements, dedicated staff time to promote goals and activities of this inter-departmental workgroup, and issued joint policy statements. The resulting improvement in coordination has helped mitigate the effects if fragmentation and overlap."
7. Republican and Democratic Closing Statements Agree: We Must Do More
GOP Chairman Todd Rokita: "Children are the country's most important asset – however you want to define that. Nothing can replace a family bringing up a child. As fiduciaries of taxpayers' funds, we have to ensure these programs are being used in the most efficient way possible."
Democratic Ranking Member Jared Polis: The science behind early childhood education is clear – it's critical to provide services at the earliest years… It takes several programs to work together to reach a common goal – creating an affordable, high-quality early learning system."
WATCH THE FULL HEARING HERE: