American voters agree: early childhood education must be a priority for Congress and the administration. According to the First Five Years Fund's 2017 annual poll, 78% of voters support investments in home visiting programs that help parents support their child's early learning, health, and emotional development.
Our polling also shows us that this is not a partisan issue. Majorities of every partisan persuasion also say these investments are important including, 68% of Republicans, 73% of Independents, 89% of Democrats.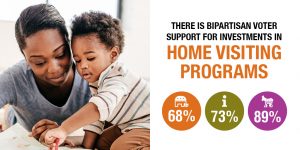 What is home visiting?
Research demonstrates that learning and development begin long before a child enters a classroom for the first time. In fact, the first five years of life is especially critical for families that are experiencing poverty, language barriers, and/or geographic isolation.
Home visiting programs pair families looking for additional support and mentoring with trained home visitors such as nurses, social workers, and educators. From pregnancy through their child's kindergarten entry, home visitors help families lay the foundation for the health, education, development, and economic self-sufficiency of the entire family.
MIECHV
Funding for voluntary home visiting programs at the federal level comes from the Maternal, Infant, and Early Childhood Home Visiting (MIECHV) program, a federal/state partnership with long-standing bipartisan support in Congress and states. Since the needs of families in communities across the country can greatly vary, the MIECHV program is designed to give states flexibility in identifying local needs to maximize effectiveness in improving outcomes. In order to be eligible for MIECHV funding, programs must meet at least four of six evidence-based benchmarks to meet expectations of demonstrated effectiveness.
These include:
Improve maternal and newborn health
Reduce child injuries, abuse, and neglect
Improve school readiness and achievement
Reduce crime or domestic violence
Improve family economic self-sufficiency
Improve coordination and referral for other community resources
Increased Support
Home visiting works. Home visiting programs partner with parents to support children's education and achievement by engaging parents in their child's educational future and supporting parents' educational endeavors. These programs also improve the physical and mental health of participating families by showing families how to best care for their children and themselves. Home visiting programs help children and families access quality health care and resources to improve birth outcomes and ensure children born into poverty have a healthy start.
MIECHV is set to expire on September 30, 2017. If reauthorized, MIECHV will have the ability to expand and improve existing evidence-based programs, enhance state's ability to reach more vulnerable children and families, as well as create cost-savings for states and communities.

Learn more about the effort to reauthorize MIECHV and home visiting programs at www.homevisitingcoalition.org.
Learn more about the First Five Years Fund poll at www.ffyf.org/2017-poll.