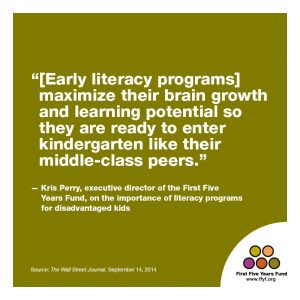 In case you missed it, over the weekend the Wall Street Journal ran a story on the Parent-Child Home Program, which was recently awarded a $175,000 grant from New York City to expand home visiting programs for 2 and 3-year olds living in poverty and their families. The story examines the positive impact home visiting programs like the Parent-Child Home Program have on literacy for at-risk children and cites recent studies that found home visits help children develop key skills they need to start school ready to learn.
FFYF Executive Director Kris Perry is quoted on the benefits of home visiting and early learning programs for at-risk children to "maximize their brain growth and learning potential so they are ready to enter kindergarten like their middle-class peers."
Read the full story here: Literacy Effort Pushes Parents to Start Sooner – Wall Street Journal
As a reminder, federal funding for home visiting programs through the Maternal, Infant and Early Childhood Home Visiting program (MIECHV) is currently at $400 million.  The funding is allocated to states, who distribute it to eligible home visiting models and serve local communities.  States are currently completing applications for the most recent round of funding. However, federal funding for MIECHV will expire in March 2015 unless Congress passes legislation to extend it.