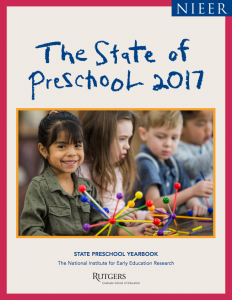 Today, the National Institute for Early Education Research (NIEER) released the latest edition of its annual report that scores state-funded preschool programs on their efforts to increase access, funding and quality. This year's "State of Preschool Yearbook" identified areas of growth in states across the country, and made recommendations for how they could make improvements to the quality of their preschool programs, as well as enrollment.
The NIEER research team used data from the 2016-17 school year, reviewing all states and jurisdictions that have public funded preschool programs, measuring many aspects including spending levels and quality. In total, 43 states, plus the District of Columbia and Guam, offer public preschool opportunities to 3- and/or 4-year-old children.
According to the report, "Enrollment continued to increase, but growth slowed. And much of the growth that did occur can be attributed to federal Preschool Development Grants (PDG) program." In addition to growth, NIEER also reported that states are making an effort to improve quality. "More programs met NIEER's new quality standards benchmarks than last year, with notable progress on the new staff professional development standards—although it remains the most challenging for states to meet."
To rate states' preschool programs, NIEER assessed 10 different quality standard benchmarks, such as the presence of a qualified teacher and assistant, small class size, and low teacher-to-student ratio.
Alabama, North Carolina, Rhode Island, and West Virginia once again lead the way in expanded enrollment while maintaining high-quality standards. And California and Texas lead on policies supporting Dual Language Learners.
Other highlights from the report include:
43 states, D.C. and Guam provide publicly funded preschool to more than 1.5 million children
5 states met all ten of NIEER's original quality standards benchmarks (Alabama, Louisiana NSECD, Mississippi, Rhode Island, and West Virginia)
States spent $7.6 billion on pre-K in 2016-17, a 2% increase from the previous year
18 states received federal PDG funding to support enrollment of low-income 4-year-olds in high-quality preschool. More than $230 million was used to support about 48,600 four-year-olds and to raise quality.
"Recent changes in federal policy–including the Every Student Succeeds Act (ESSA) –make it clear that progress in early education depends more than ever on the states," said NIEER Senior Co-Director Steven Barnett.
According to FFYF's recent analysis of ESSA plans submitted by states, there is a clear sign that states see ECE as an integral part of their education systems and pipeline—from how they can help schools improve to how they are holding schools accountable.
To learn more, read NIEER's annual State of Preschool Yearbook here.