Brain scientists, educators, and economist agree, the first five years of life are a critical time when children develop the early cognitive and character skills that set the foundation for success later in school and life. Unfortunately, more than 2.5 million four-year-olds don't have access to publicly funded preschool programs and even fewer are enrolled in "high-quality" programs.
To meet this unmet need and serve more children, the federal government has provided Preschool Development Grants to low- and moderate-income communities across the country. Such grants help states expand early education opportunities through increased credential teachers, full-day, full-week programs, and much more. The program currently serves 200 high-need communities across 18 states. And more than 33,000 additional children will enter preschool this fall thanks to this grant. However, the 18 states that have received grants represent only half of the states that developed and submitted plans, demonstrating a strong interest from states to partner with the Federal government. Roughly 285,000 additional preschoolers could have the opportunity to attend preschool if funding were available for the other states that applied.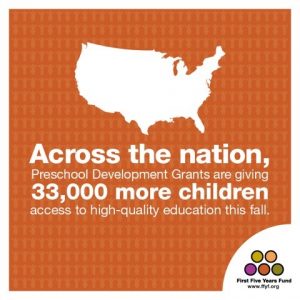 That being said, investing in early childhood education is more important now than ever. Research from economist James Heckman shows that every dollar we invest in high-quality early learning for disadvantaged children grows the economy through a 7-10 percent return – per child, per year – to taxpayers through improved education, health and social outcomes and decreased social spending. As Congress and the Administration work to finalize the budget, let's make the investment in youngest learners today.