Support for high-quality early learning and care remains overwhelmingly bipartisan among voters, candidates and elected officials alike. And Americans are united when it comes to early childhood education and their desire to have the issue remain a bipartisan priority for policymakers at every level of government.
For the past decade, an increase in political demand, paired with the major focus and investments from leaders at the state and local level, have created opportunities for bipartisan advancements on early childhood education at the federal level. FFYF's work to prime the political and policy landscape has helped create new champions in Washington and develop innovative opportunities for progress.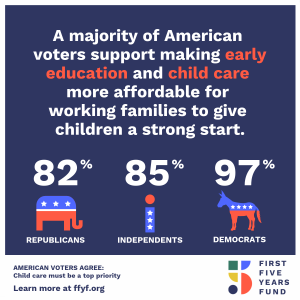 Today, Democratic and Republican candidates for office are harnessing this overwhelming momentum and the undeniable need for action, making quality child care a centerpiece of their campaigns.
Without question, the tide is moving inexorably toward progress for America's young children and their families.