Investing in a child's early years is one of the smartest investments a country can make.
Today, the World Bank hosted the Human Capital Summit, a forum highlighting the need for investment in children in the early years. The summit convened country leaders to make commitments to reduce chronic malnutrition in children and expand access to early childhood development services by 2020 to ensure that children everywhere can thrive.
"Poor nutrition, few opportunities for early learning and stimulation, and toxic environments literally hardwire young children to miss out on opportunities to learn and later to earn good wages," said Jim Yong Kim, President of the World Bank Group. "But when Heads of Government and Ministers of Finance commit to fight stunted development and nurture the power of children's brains, we can avert future crises where people and economies will not reach their full potential."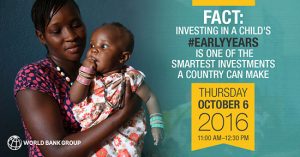 Watch a replay of the event at www.live.worldbank.org/human-capital-summit and follow the twitter conversation with #EarlyYears.