Early Childhood Education Was a Big Winner in the Bipartisan Funding Bill Passed by Congress
Last month, Congress passed its FY2019 "minibus" appropriations package, which included $260 million in increases to federal early childhood education programs. In addition to a $200 million increase in funding for Head Start and Early Head Start, lawmakers voted to increase funding for the Child Care and Development Block Grant (CCDBG) program by $50 million, building on the historic $2.37 billion increase the program received in FY2018 through a bipartisan deal made by House and Senate leaders. The bipartisan measure funds the combined FY2019 Labor, Health and Human Services, Education, and Related Agencies (Labor/HHS) programs, the Department of Defense, and also included a short-term Continuing Resolution to fund the rest of the government through December 7, 2018. Notably, this is the first time that Labor/HHS funding has been approved by Congress on time since 1996 – a testament to the bipartisan way in which this bill was crafted and negotiated. Ultimately, the measure was overwhelmingly approved by the House in a 361-61 vote, and 93-7 in the Senate. The new program funding levels as approved by Congress are: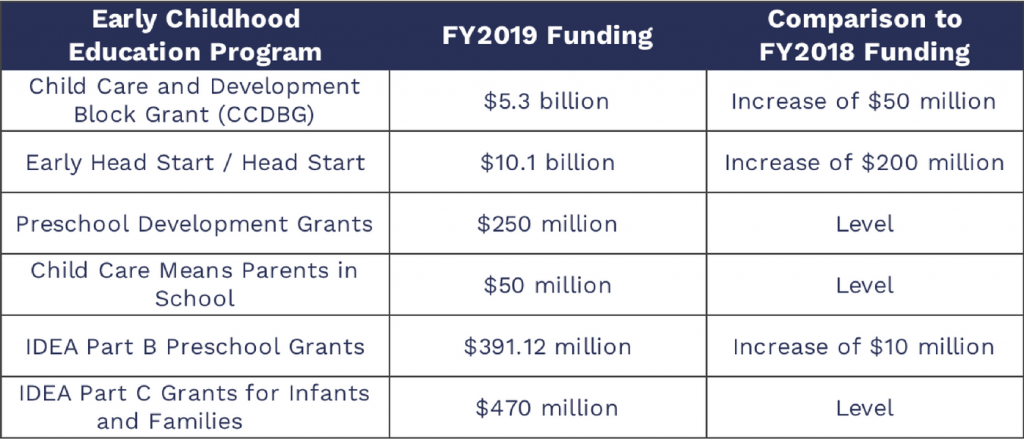 Research has proven that children who experience high-quality early learning and care from birth through age five are more likely to graduate from high school, complete college and graduate school, own a home, and have better health outcomes, in addition to many other lifelong benefits. At FFYF, our mission is to ensure all children have equal access to affordable, comprehensive, high-quality early learning opportunities to support their healthy development and help them achieve their full potential. We are are grateful to members of Congress and their staffs who were instrumental in realizing this bipartisan accomplishment, and we applaud their commitment to America's young learners. Moving forward, FFYF will continue to work with lawmakers to ensure early childhood education remains a bipartisan priority.
Subscribe to FFYF First Look
Every morning, FFYF reports on the latest child care & early learning news from across the country. Subscribe and take 5 minutes to know what's happening in early childhood education.