Big News from FFYF's Bipartisan Congressional Briefing Today on Preschool Development Grants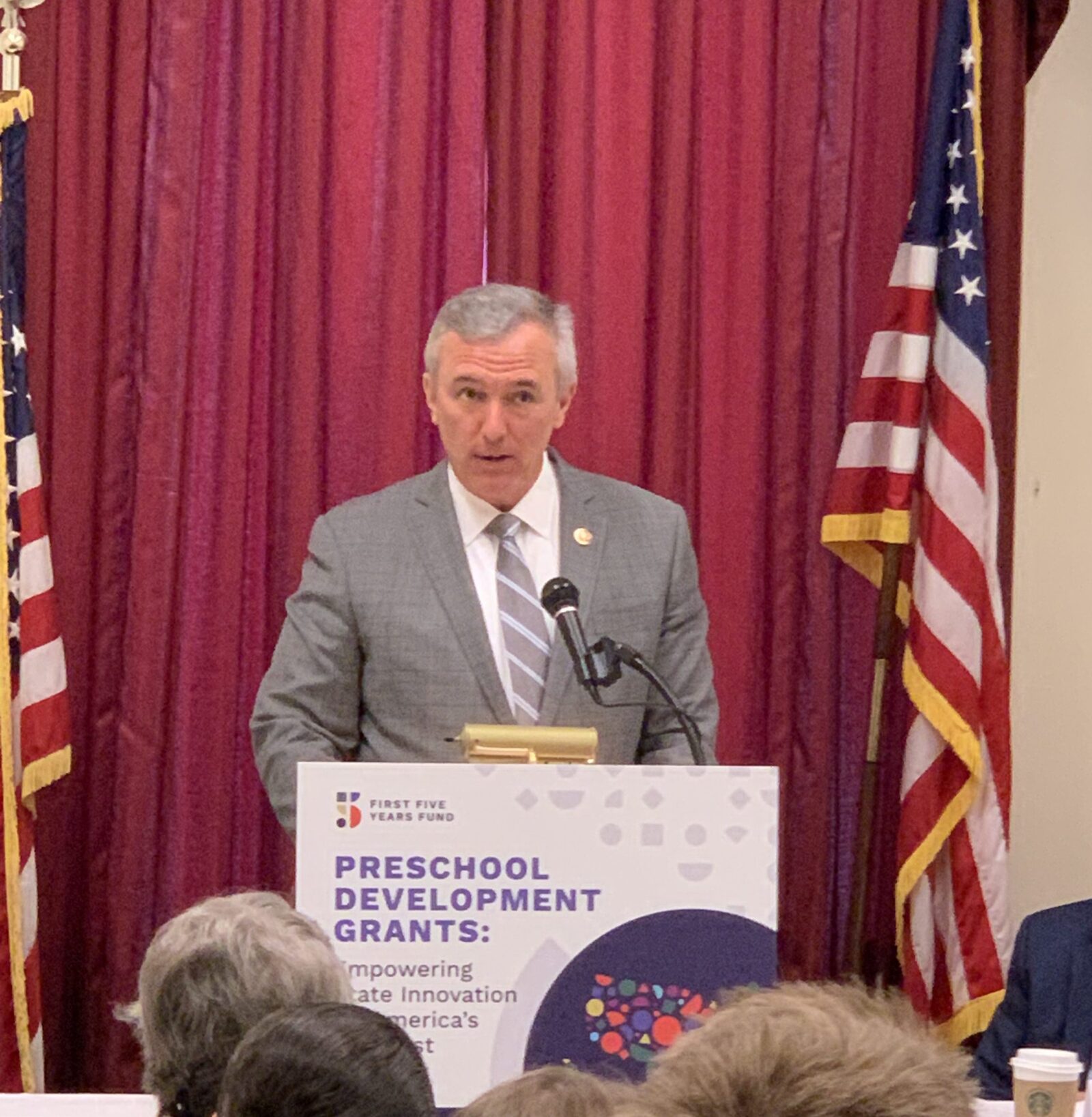 Earlier today, FFYF, in conjunction with the offices of Representatives Joaquin Castro (D-TX-20) and John Katko (R-NY-24), hosted a bipartisan briefing on Capitol Hill today to discuss the benefits of the Preschool Development Grants Birth through Five (PDG B-5) program with Congressional staff.
In his remarks at the briefing, Rep. Katko announced a bipartisan "Dear Colleague" letter he is leading with Rep. Castro, and encouraged Members of Congress to cosign the letter to the Appropriations Committee requesting a substantial funding increase for the PDG B-5 program – from $250 million to $400 million.
PDG B-5 is a competitive grant program authorized by the bipartisan Every Student Succeeds Act (ESSA) and is intended to help states strengthen, align, and grow their early childhood education systems. The first year of PDG B-5 funding will fund state-level needs assessments and strategic planning to optimize existing early childhood education (ECE) resources. The grants focus on three major activities: maximizing parental choice, improving transitions within early care and learning programs and with elementary schools; and improving overall quality of ECE programs.
Due to the substantial number of states that applied for PDG B-5 funding, the Administration for Children and Families (ACF) decided to award as many first-year planning grants as possible, ultimately awarding grants to 46 states and territories that range from $538,000 to $10.6 million. In order to fund the 46 states, the majority of applicants were not fully funded. And 39 states and territories had to revise their scopes of work and received approximately 71% of their original grant award request. HHS has indicated that, due to the overwhelming participation, not all states will receive implementation grants at the program's current funding level. Therefore, increased federal funding of this program is critical to ensure the 46 states and territories awarded planning grants can move forward with implementation.
"We're thrilled to see so many states and territories are eager for the opportunity to improve their early childhood education systems," said FFYF Executive Director Sarah Rittling. "It's clear that there is a significant desire from states to continue this important work. That's why we're echoing the words of Representatives Castro and Katko in calling for lawmakers to increase funding for the program. At FFYF, we stand ready to work with lawmakers interested in learning more about the vast potential of this critical competitive grant program."
During today's briefing, speakers discussed the importance of the PDG B-5 program and how states are using the grants to identify and address needs in their early learning and care systems.
Debra Andersen, Executive Director of Oklahoma Partnership for School Readiness, shared her perspective and experience on behalf her organization, which was designated by the governor as lead entity to both apply for and administer the Preschool Development Grant Birth through Five grant in Oklahoma. Danielle Ewen, Principal at Education Counsel, discussed her work with states to help them craft their PDG applications and implementation plans. And Rear Admiral Kenneth M. Perry represented Mission:Readiness, a nonpartisan group of 750 retired admirals and generals who believe in the importance of education as an investment in families and communities.
The PDG B-5 program is small but mighty and joins a small list of critical federal programs, including Early Head Start, Head Start, and the Child Care and Development Block Grant program, which all help to address the early care and learning needs of children and their families across the country.
If you're interested in learning more about today's briefing or the PDG B-5 program, please click here.
Subscribe to FFYF First Look
Every morning, FFYF reports on the latest child care & early learning news from across the country. Subscribe and take 5 minutes to know what's happening in early childhood education.