Governors Use 'State of the State' Address to Share Early Learning Plans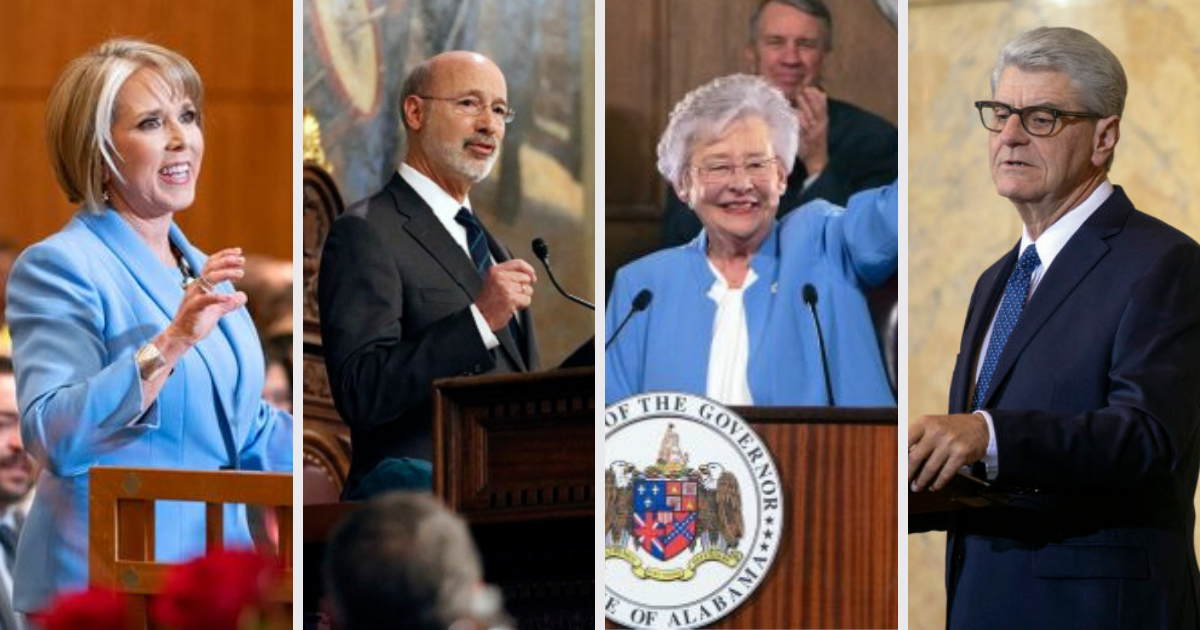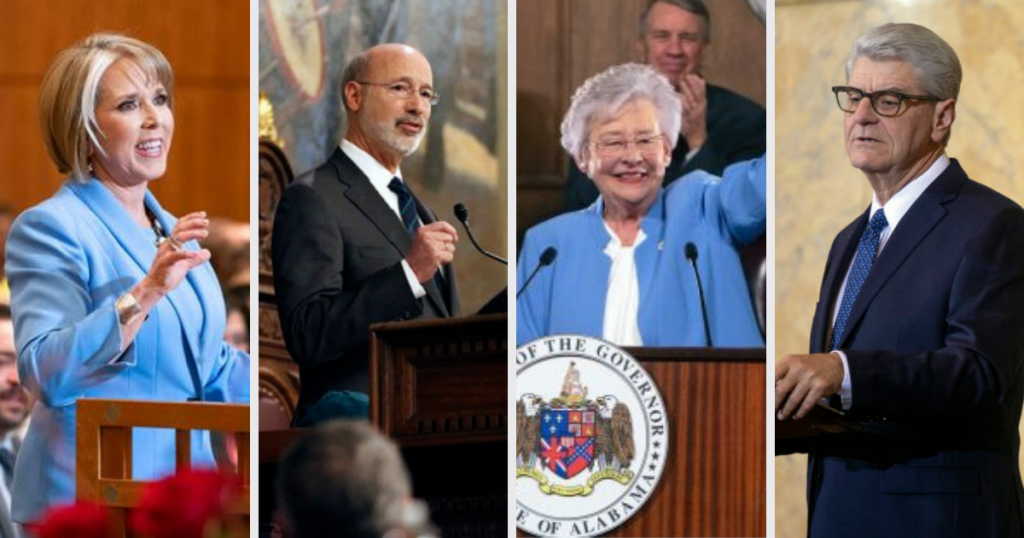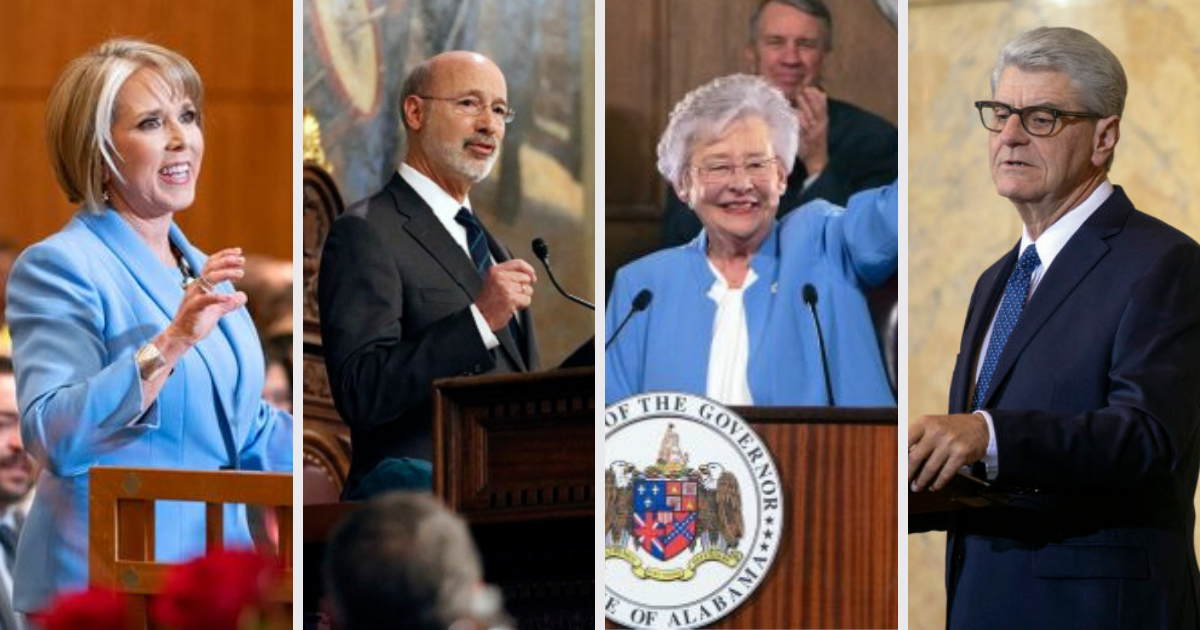 A majority of governors across the country used their 2019 State of the State address as an opportunity to highlight their state's commitment to, and investment in, early childhood education. Overall, a bipartisan group of 26 governors discussed early learning and care plans and opportunities in their states during their speeches.
The words of these speeches reflect the actions of governors across the country. States led by Democratic and Republican governors alike have championed early learning and child care to ensure children from birth through age five—especially those from low-income families—have opportunities to succeed in school and in life.
Check out some of the top moments from 2019's addresses:
Governor Kay Ivey (R) Praises Alabama's Record Increase In Funding For The State's "First Class Pre-K" Program. "For a child to reach their fullest potential later in life, they must first build a strong educational foundation. Under the nationally-recognized leadership of Secretary Jeana Ross, the tremendous efforts of the Department of Early Childhood Education have enabled Alabama's First Class Pre-K to be ranked as the nation's highest quality pro gram for the 12th consecutive year!  Most importantly, our efforts are giving more of Alabama's children a strong start. Last year, we increased funding by $18.5 million dollars, which was the largest, single-year increase ever approved. And because of that historic investment, 107 new First Class Pre-K classrooms were added last fall, which led Alabama to officially break the 1,000-classroom mark. Additionally, our P-3 pilot program aimed at building upon the gains made in Pre-K, grew by 75 classrooms this school year." ("Alabama Governor Kay Ivey's 2019 State Of The State Address, WAAY, 3/5/19)
Governor Asa Hutchinson (R) Celebrated Arkansas' Increased Budget For Pre-K And Number Five National Ranking In Three-Year-Old Education Access. "Together, we have invested in pre-K education. Our budget for pre-K has increased from $111 million to $114 million in recent years. We rank 17th nationally in spending on pre-K and Number 18 in four-year-old pre-K access; and we rank Number 5 in the nation in terms of three-year-old access to early education." ("Governor Asa Hutchinson State Of The State Address," arkansas.gov, 1/15/19)
Colorado Governor Jared Polis (D) Proposed The Biggest Expansion Of Early Childhood Education And Noted Bipartisan Efforts For Early Education. "What we are proposing is the single biggest expansion of early childhood education in Colorado history. It is an essential first step in our broader strategies for both early childhood and K-12 education, setting kids up for success right from the start. In fact, it will free up resources to get closer to an even more ambitious goal: full-day preschool available for every Colorado child, which the families of this state deserve, and which we are committed to achieving. And I want to be clear: this is not a mandate, either for parents or for school districts. But for parents who believe public preschool and full-day kindergarten are the best option for their kids — and for school districts who want to offer these vital opportunities to families — we will do everything possible to make it happen. School districts, education nonprofits, and bipartisan state legislators have done amazing work to raise public awareness of the benefits of full-day kindergarten and make it a top priority in this state. Now it's time for us to finally cross the finish line. Free, full-day kindergarten by fall of 2019. Let's get it done." ("State Of The State Address By Governor Jared Polis," gov, 1/10/19)
Governor J.B. Pritzker (D) Proposed A $594 Early Childhood Block Grant For Illinois, Noting That Early Childhood Is The "Single Most Important" Education Policy With Significant Return on Investment. "Real focus on the learning that happens from birth to age 5 can determine the entire arc of a person's life. Investing in early childhood is the single most important education policy decision government can make, and it has proven to provide a significant return on investment. That's why I'm proposing funding the Early Childhood Block Grant at $594 million, an increase of $100 million from fiscal year 2019. It will allow us to begin the march toward universal preschool so that every child in Illinois will have a real opportunity to succeed." ("READ: Text Of Gov. J.B. Pritzker's Budget Address," Chicago Sun-TImes, 2/20/19)
Governor Phil Bryant (R) Lauded Mississippi's Improved Early Childhood System, Saying "Mississippi's Workforce Of Tomorrow Is In Daycare Today." "Now Mississippi's youngest students will be better prepared for school and successful careers by learning the soft skills necessary for any vocation. Mississippi's workforce of tomorrow is in daycare today.  Together, we can help them become the best in America." ("Watch Live: Gov. Phil Bryant's Final State Of The State Address," Clarion Ledger, 1/15/19)
Montana Governor Steve Bullock (D) Described How the Business Community Has Advocated For Quality Preschool. "Quality preschool is an investment in our children, in our workforce and for our business community. I'm pleased that the Washington Companies, First Interstate Bank, BNSF, Zoot Enterprises, and other major businesses are forming the Montana Coalition for School Readiness, and will be urging this 66th legislature to make a substantial state investment in quality pre-K." (Governor Steve Bullock's 2019 State Of The State Address," gov, 1/31/19)
New Hampshire Governor Chris Sununu (R) Announced A New State Director Of Early Childhood Education And Said That A Quality Workforce Starts With Early Childhood Education. "Many of you have heard me talk about my idea that a quality workforce starts with Early Childhood Education. I really believe that. So through my budget we will create a new State Director for Early Childhood Education – an innovative initiative that will coordinate and streamline the state's services by bridging the divide between the Department of Education and the Department of Health and Human Services. This will help ensure our investments in children are data driven, coordinated, and efficient." ("Governor Chris Sununu's 2019 Budget Address," nh.gov, 2/14/19)
New Mexico Governor Lujan Grisham (D) Emphasized The Benefits Of Early Childhood Education And How It Can Transform Public Education. "To truly and meaningfully transform public education, we must be proactive, and we must begin at the beginning. The research is unanimous and unequivocal: Children who attend preschool are far better prepared than those who don't. It's really as simple as that. And we can make that a reality for every single New Mexico three- and four-year old. As if that weren't enough, research has also shown children who come from poor and disadvantaged families have the most to gain from preschool — as do dual-language learners and Spanish-speaking children." ("Gov. Lujan Grisham Outlines Priorities For Legislative Session In First State Of The State Address," Office Of The Governor, 1/16/19)
Governor Tom Wolf (D) Discussed Pennsylvania's Focus On Children Under Three. "Last year, I convened a Ready To Start Task Force, charging it with finding ways to improve the lives of children under three and their families. I know that no new parent looks at their baby and sees a spreadsheet, but the fact is that preparing our kids for success starts long before they ever enter a classroom or even take their first steps. And providing services for children helps to get parents into the workforce and fight poverty." ("Remarks By Governor Wolf At 2019 Budget Address," Governor Tom Wolf, 2/5/19)
Governor Jay Inslee (D) Praised Washington's New Investments in Young Children, Saying They "Secure A Strong Start For Every Child." "For anyone who cares about equity in education, early learning is the best way to secure a strong start for every child, regardless of their family's economic circumstances. We're investing in children well before they enter the elementary school classroom for the first time. In the past six years we've nearly doubled the number of children in early learning programs to more than 15,000. My budget builds on that to expand preschool with a new 'birth to 3' preschool program. And it would create a statewide referral system to connect families with early learning services and facilities.("Washington's Unwritten Chapter," wa.gov, 1/15/19)
Subscribe to FFYF First Look
Every morning, FFYF reports on the latest child care & early learning news from across the country. Subscribe and take 5 minutes to know what's happening in early childhood education.