NEW NATIONAL CAMPAIGN: Child Care Relief Aims to Stabilize and Rebuild America's Child Care System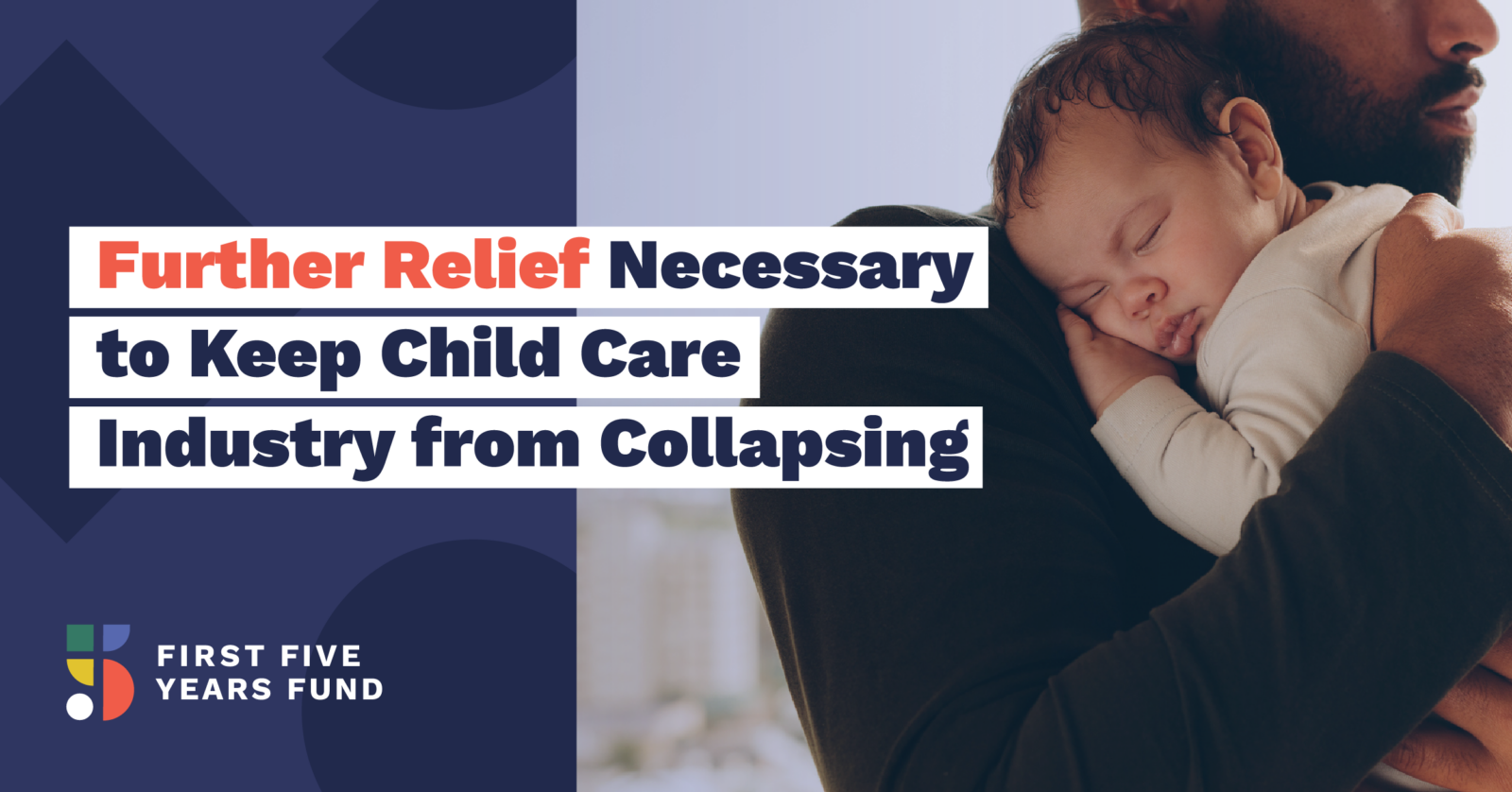 Stakeholders from across the economy join forces to secure critical relief from Congress that will stabilize and strengthen America's child care industry through the economic recovery and beyond
WASHINGTON—Today, a coalition of the country's leading child care, business, and child advocacy organizations launched Child Care Relief—a campaign to ensure federal lawmakers prioritize and address the needs of child care providers and families in the COVID-19 economic recovery effort – and beyond. A list of participating organizations can be found at the bottom of this release and at https://childcarerelief.org.
Congress has taken important steps to provide relief to America's families, small businesses, and major industries as they struggle with the effects of the COVID-19 crisis. What is clear now, however, is that the next Congressional relief package must include substantial, specific relief to meet the unique needs of the nation's child care providers and the families they serve.
Prior to this pandemic, sixty-six percent of children under the age of six had all available parents in the workforce and an estimated 12 million young children were in child care on any given day. As a result of widespread declines in child care enrollment – and therefore income – stemming from the health and economic crisis, half of child care programs in America say they have closed entirely, and that they would not survive a closure of more than two weeks without financial support. That loss of child care supply could result in a permanent loss of nearly 4.5 million child care slots. Quality child care is essential for families, businesses, and the economy, and there will be no economic recovery if the child care industry collapses.
At the same time, the millions of working parents who are on the front lines fighting this pandemic—from medical personnel and grocery store employees to first responders and mail carriers—cannot continue going to work without access to child care. Nearly one in five child care programs across America are closed to everyone except children of essential personnel. Over forty percent of child care providers say they anticipate making furloughs and/or layoffs in the next 1-4 weeks.
Our nation's long-term well-being depends on a child care infrastructure that works for every family. An abundance of quality, affordable, child care is critical to both our economic recovery from the pandemic and our social welfare. Moreover, we know that high-quality child care isn't just essential to the workforce of today—it also drives academic achievement and other measurable short- and long-term improvements to health and social development in children that prepare our skilled workforce of tomorrow. A well-financed child care system built to increase access to quality, affordable care, while also alleviating providers' financial and delivery challenges, would increase the stability and sustainability of the industry.
COVID-19 has created an acute child care crisis for American families, providers, and businesses, but the pandemic is not fully to blame. In recent decades, the exponential increase in demand for quality child care has far outpaced the growth in supply, creating a significant financial burden for families who rely on care out of economic necessity. At the same time, child care is an expensive, specialized service to deliver, and providers must strike a hard balance of earning a profit while keeping care affordable for the families they serve. The average cost of center-based child care in America is close to $10,000 per year – more than in-state college tuition in a majority of states. This pandemic has only exacerbated the realities of a child care system that was struggling financially.
Before the pandemic, 51 percent of Americans lived in a child care desert. Widespread closures driven by the virus will only deplete an already scarce essential service. Permanent child care closures in a post-COVID-19 environment will leave parents without the care they once relied upon to get to work and live their daily lives. To keep this from happening, we have joined forces to highlight the ways Congress can act to keep the industry afloat and drive a robust economic recovery.
For more information, please visit our website at https://childcarerelief.org.
The list of organizations participating in the Child Care Relief campaign includes:
Alliance for Early Success
Bipartisan Policy Center (BPC)
Center for American Progress (CAP)
Center for Law and Social Policy (CLASP)
Child Care Aware of America (CCAoA)
Council for a Strong America (CSA)
Early Care and Education Consortium (ECEC)
Educare Learning Network (ELN)
First Five Years Fund (FFYF)
Home Grown
KinderCare Education
National Association for the Education of Young Children (NAEYC)
National Head Start Association (NHSA)
Ounce of Prevention Fund
Save the Children Action Network (SCAN)
U.S. Chamber of Commerce Foundation
This list will be updated online as more organizations join the coalition.
###
Subscribe to FFYF First Look
Every morning, FFYF reports on the latest child care & early learning news from across the country. Subscribe and take 5 minutes to know what's happening in early childhood education.