Child Care 2020: President-Elect Biden & Incoming Congress Should Prioritize Solutions for America's Youngest Learners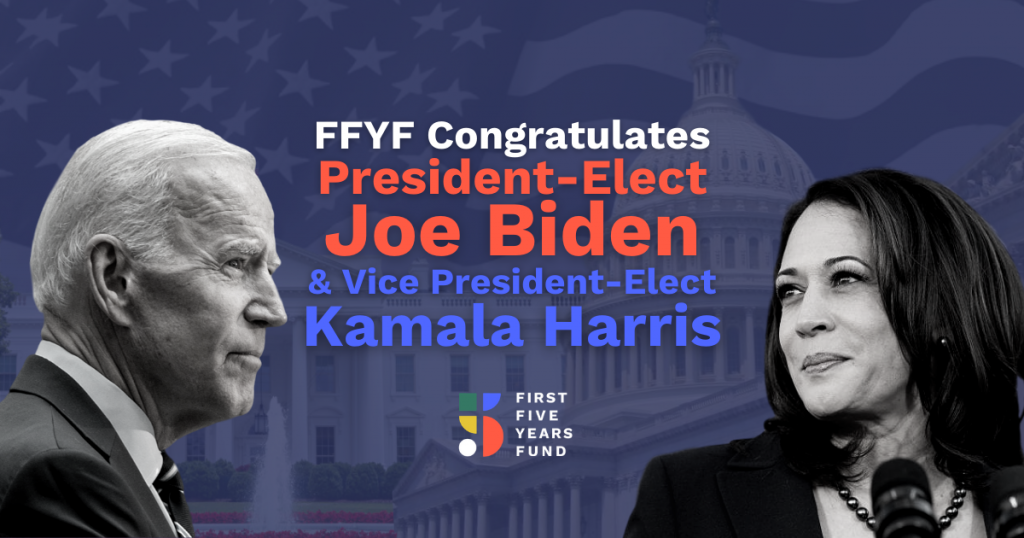 Democrats and Republicans agree on the need to address America's child care challenges, presenting an opportunity for progress in Washington for children and families.
WASHINGTON – While we await the final election results in remaining races, what we do know is that we must harness the overwhelming momentum built over recent years to truly address the early care and education needs of children and families by making high-quality early learning and care available and affordable to all families who need it. As President-elect Joe Biden prepares his administration's top priorities for the next four years, addressing the nation's child care crisis impacting all families — Democrats and Republicans alike — will be one important way he can begin fulfilling his promise of being a "President for all Americans." The First Five Years Fund (FFYF) is committed to working with the Biden administration, Democratic and Republican leaders in Congress, and a broad range of stakeholders across the country to make this a reality. Over the coming weeks, FFYF will release a Blueprint for Progress with resources and information showcasing the policy and political opportunities to support the care and education of children from birth through age five.
We have seen throughout this election that voters and policymakers across the political spectrum recognize the importance of investing in solutions that support healthy development in children, beginning at birth, while allowing working parents to pursue greater economic security. Over the past decade, there has been steady, bipartisan progress at all levels of government toward ensuring more families, particularly those living in poverty, have access to high-quality early learning and care programs. The Coronavirus pandemic, in particular, has laid bare the indispensable role of child care for working families and the economy–and the challenges of the current child care infrastructure.
"As the dust settles from this election, there is a clear opportunity to address the unprecedented demand nationwide to build up a high-quality early learning and care system that works for all families," said FFYF executive director Sarah Rittling. "There are few policy issues with such strong, bipartisan support in Washington. The Coronavirus pandemic has laid bare for millions of Americans the essential role that child care plays–for children, for families, and for our economy. Now, after years of bipartisan progress and a universal understanding about the importance of early learning for children from birth through age five, we look to the Biden administration and bipartisan leaders on Capitol Hill to find meaningful solutions to the challenges within the nation's child care infrastructure and ensure all families have access to quality care opportunities that meet their own unique needs. If this pandemic has taught us anything, it's that America only works with quality child care."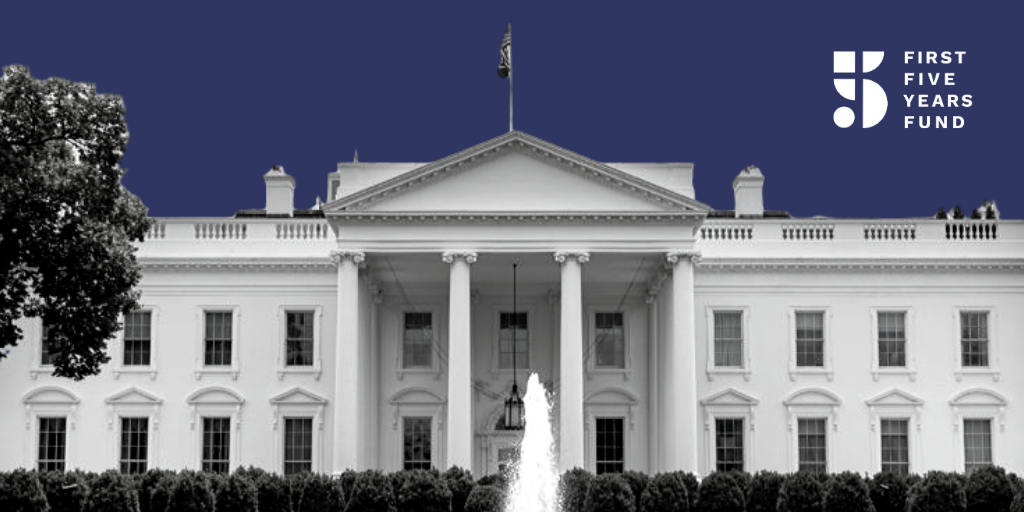 Without question, our nation's long-term well-being depends on a child care system that works for every family. In addition to the proven benefits of high-quality child care to a child's learning and healthy development, access to care is an essential pillar of America's labor market and economy. In the United States, 67 percent of children under age 6 have all available parents in the labor force, which means millions of American workers rely on child care just to be able to go to work each day. Yet for years, families have struggled to find afford care opportunities for their children, with the cost of quality care exceeding that of in-state college tuition in most states. Meanwhile, high-quality child care is an expensive, specialized, and labor-intensive service to deliver. Providers must strike a hard balance of earning a profit while keeping care affordable for the families they serve. Most providers must operate at near-full capacity just to remain in the black.
Meanwhile, over recent years, early learning and care has received broad support and historic funding increases, regardless of the political party in control of Congress and the White House. Paired with the significant demand for action among voters, it is clear that this is a rare issue where Republicans and Democrats can come together to make real progress–with little political downside.
In the lead-up to the 2020 elections, FFYF made it a priority to elevate early learning and care as a pivotal campaign issue, highlighting the policy and political opportunities for candidates on both sides of the aisle. The nation's leading federal early learning and care advocacy organization, FFYF's efforts included providing extensive briefing resources for presidential campaigns, which were also available to candidates seeking other offices, including national polling and messaging research, policy guidance, and more. FFYF also developed tools for voters to use when engaging with candidates for office. In addition, the organization undertook an extensive earned and paid media effort to showcase the widespread support for child care and to reinforce the long history of bipartisan achievement at all levels of government.
However, in the midst of the campaign, the COVID-19 crisis brought devastation to the child care industry, which was already operating on razor-thin margins before the pandemic, causing widespread layoffs and closures. Numerous national surveys indicate substantial portions of the country's child care market do not expect their businesses to survive the crisis without significant financial assistance from Congress. As a result, there has been a major impact for working parents who rely on child care to be able to work. Women, particularly women of color, have been most affected by pandemic-related child care closures: according to census data women ages 25 to 44 were almost three times as likely as men to be out of a job. At the same time, the pandemic served as a revelation to the American people as to the extent to which families and the economy rely on child care. To date, every economic recovery package proposed by Democrats and Republicans includes relief for the child care industry.
Looking ahead, we must look to implement meaningful, long-term reforms to the nation's child care system, beyond the short-term relief funding for child care providers who are struggling amid the pandemic. Earlier this year, then-candidate Joe Biden unveiled his proposal to invest in high-quality early learning and care opportunities and form a strong continuum of care and learning, including:
Provide all 3- and 4-year-olds access to free, high-quality preschool;
Offer a refundable child care tax credit of up to $8,000 per child for low- and middle-income families;
Increase access to affordable, high-quality child care on a sliding scale for low- and middle-income families; and more.
Recent polling conducted by FFYF found that voters overwhelmingly believe that federal funding for quality early education from birth to age five—including child care and preschool—should be increased. In fact, 79% of voters say the pandemic has shown us how essential it is that we build a child care system that makes care available and affordable to all families who need it. Most notably, 84% of voters say high-quality, affordable child care is an essential service – just like healthcare and education.
More information and resources ahead of the new Congress and administration will soon be available at https://ffyf.org/blueprint.
The First Five Years Fund is the leading bipartisan federal advocacy organization working to ensure all children from birth through age five have equal access to affordable, comprehensive, high-quality care and education to support their healthy development and help them achieve their full potential in school and life. FFYF seeks to expand federal support for all early learning and care opportunities that are high-quality and focused first on serving those children most-at-risk. http://www.ffyf.org
Subscribe to FFYF First Look
Every morning, FFYF reports on the latest child care & early learning news from across the country. Subscribe and take 5 minutes to know what's happening in early childhood education.