Child Care is Infrastructure Act Introduced in House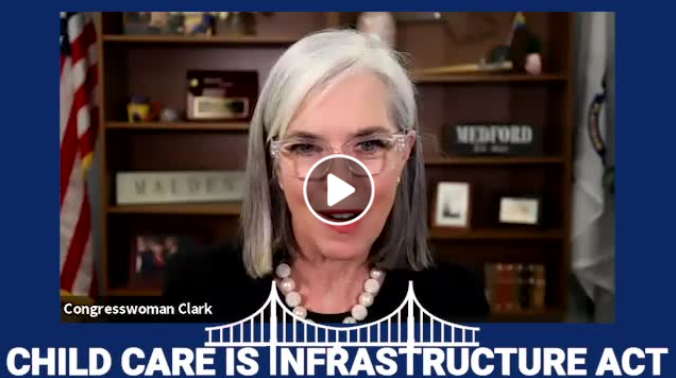 In an effort to bolster funding for the child care industry to provide the highest quality care to our nation's youngest learners, Congresswoman Katherine Clark (D-MA) introduced the Child Care is Infrastructure Act, a comprehensive package that invests in child care infrastructure and workforce development and education opportunities for care providers.
As we prepare to rebuild our nation's economy after this pandemic, there's no question that addressing our nation's child care crisis must be a core component. A robust child care market and a highly-skilled early education workforce will be essential to the economic recovery and our nation's long-term well being, which makes the Child Care is Infrastructure Act a critical investment.
During a press conference for the introduction of the Child Care is Infrastructure Act, FFYF Executive Director Sarah Rittling reinforced the importance of high-quality, affordable child care and early education for working parents, children, and communities. "We know that access to high-quality child care is an essential pillar of America's economy, allowing millions of parents to go to work or attend school each day, while their children are in safe and nurturing environments that support their healthy development. Unfortunately, before the pandemic more than half of Americans lived in neighborhoods or areas with little or no access to quality child care – something that has only gotten worse over the past year.
"In order to take advantage of the benefits of child care and early education and address the challenges facing families, Congress must continue to prioritize thoughtful, innovative solutions, such as the Child Care is Infrastructure Act, which would lift up and support struggling providers and help address the core issues within the child care crisis: access, affordability and quality."
Watch the full press conference hosted by Congresswoman Clark here: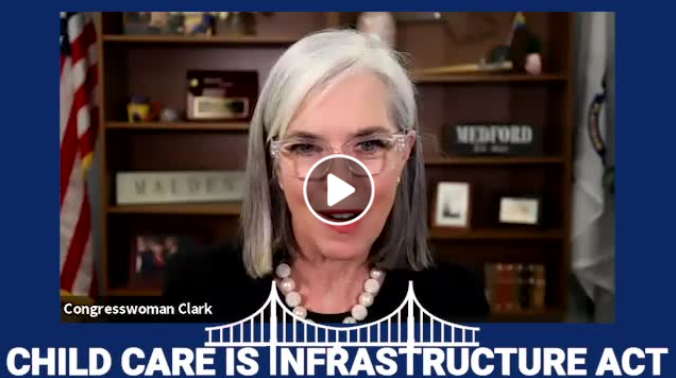 In addition to reauthorizing the Child Care Access Means Parents in School (CCAMPIS), which funds campus-based child care at higher education institutions, the Child Care is Infrastructure Act also establishes grant programs for states to address renovations to child care facilities and includes $10 billion to invest in the nation's child care infrastructure. The bill also addresses workforce shortages and additional educational opportunities for early educators and care providers by authorizing $35 million for student loan repayment for early childhood educators working for providers receiving CCDBG funding and providing up to $3,000 to eligible students pursuing a Childhood Development Associate (CDA) Credential or an associates degree.
Earlier this year, FFYF released its Blueprint for Progress, offering Congress and the Biden administration insight into opportunities, big and small, to support early learning and care programs for children from birth through age five. The sweeping resource provides a true blueprint for lawmakers with policy proposals to address access, affordability, and quality in child care and early learning, outlining wide-ranging solutions that fit squarely into the various legislative vehicles Congress might pursue, from infrastructure, to tax reform, to annual funding bills, to budget reconciliation, and more. The Blueprint is online at FFYF.org/Blueprint.
Subscribe to FFYF First Look
Every morning, FFYF reports on the latest child care & early learning news from across the country. Subscribe and take 5 minutes to know what's happening in early childhood education.