Transformative Investment in Child Care and Pre-K Included in Reconciliation Package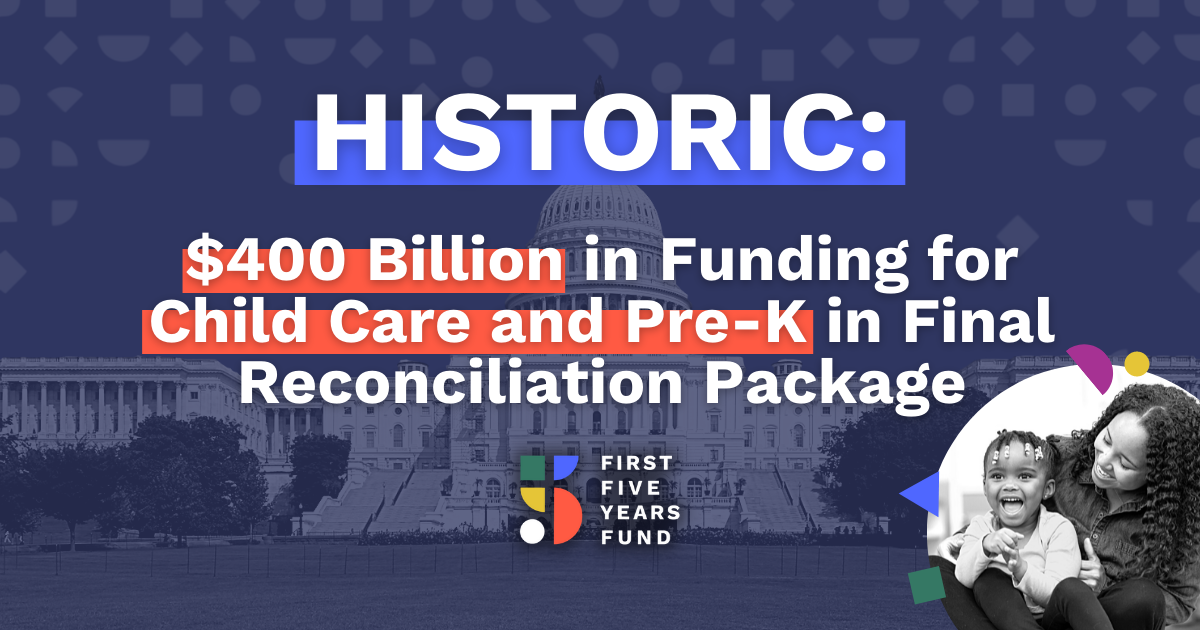 WASHINGTON — Moments ago, President Biden unveiled a final framework for the Build Back Better Act, setting an overall $1.75 trillion price tag for the budget reconciliation package that includes a long overdue, transformative $400 billion investment in child care and preschool as a centerpiece of the legislation. In response, First Five Years Fund (FFYF) Executive Director Sarah Rittling released the following statement:

"The $400 billion proposal for child care and preschool constitutes an extraordinary investment in addressing an equally extraordinary crisis. President Biden and Democratic leaders have prioritized and protected early learning and care as a cornerstone of the Build Back Better Act, which is a reflection of their understanding about the essential role of early care and education for children, families, and the economy. It also underscores a commitment to investing in future generations by guaranteeing that every child who needs it — particularly those from low- and middle-income families — can access high-quality learning and developmental opportunities that are proven to set them up for success in school and throughout their lives. Millions of Americans rely on child care just to be able to work, but the insurmountable costs and increasingly limited supply have kept parents from entering, re-entering, or remaining in the labor force for decades. We cannot overstate the historic nature of this proposed investment and the positive, lasting impact it will have on working families — and early educators who have been forced to scrape by on low wages that don't reflect the crucial skilled labor they provide to their communities. We call on Congress to act quickly to pass this bill so states and communities have the resources they need to begin building a strong, stable early learning system that meets the needs of families and our economy."

The Build Back Better Act framework unveiled by the White House today would save families thousands of dollars in child care and preschool costs and build a strong, stable early learning system that meets the needs of families, providers, and the economy, including:
$400 billion to address the child care needs of families with children ages 0-5 and guarantee access to free high-quality preschool for 3- and 4-year-olds.

Limits child care costs for families to no more than 7% of income, for families earning up to 250% of state median income.
Establishes a long term program, with funding for six years, enabling 20 million children to access affordable high quality child care.
Supports providers with increased wages to shore up and strengthen the child care workforce.
Expands access to free preschool for more than 6 million children per year and increases the quality of preschool for many more children already enrolled.
Enables parents to send children to high-quality preschool in the setting of their choice – from public schools to child care providers to Head Start.
FFYF's new national polling reveals a strong majority of voters, including suburban women, independents, and other voter groups whose votes are crucial in key elections, are supportive of the child care and preschool investments proposed in the Build Back Better Act. In fact, voters want their federal policymakers to prioritize child care and preschool this year, and support for these investments has inspired broader voter support for the legislation as a whole. Key findings include:
81% of voters see child care and preschool as a good investment of taxpayer money—including 80% of independents and 66% of Republicans.
70% of voters believe federal funding is needed to ensure that parents have safe, reliable, high-quality care for their children while they work.
Nearly 70% of voters say taking action to ensure working families have access to affordable, high-quality child care and early learning programs should be a priority this year.
68% of voters believe the best solution to the shortage of child care in America is to use public funding to ensure that child care is affordable for families and child care workers receive higher wages and benefits.
When asked about the child care and preschool policies included in the Build Back Better Act:

More than three in four voters support these policies and believe they would benefit their community.
More than 70% of voters would like their members of Congress to work with President Biden to enact these policies.
Notably, nearly two-thirds of all voters say they are more likely to support the budget reconciliation package if it includes provisions to make child care and preschool affordable for working families.
After years of underinvestment in America's early learning system, more than 108,000 child care workers, or 1 in 10, have left the industry since the start of the pandemic, opting for higher-paying jobs in other industries. The average pay for child care workers, who often have degrees and specialized training, is $12.24 per hour or around $25,000 a year, putting them in the bottom 2% of all professions. Wages must increase to ensure a supply of child care but without federal assistance, costs will continue to go up for families as supply is further depleted.
The Build Back Better Act would address three crucial challenges that together have created a mounting crisis for families, providers, and the economy:
The unaffordable price of child care (over $10,000 per year, per child on average, and often higher for infants and toddlers)
Near-poverty wages for workers, leading to an exodus from the workforce and increasingly limited supply of care options for families
Inequitable access to high-quality options (nearly half of families living in child care deserts)

The First Five Years Fund is the leading bipartisan federal advocacy organization working to ensure all children from birth through age five have equal access to affordable, comprehensive, high-quality care and education to support their healthy development and help them achieve their full potential in school and life. FFYF seeks to expand federal support for all early learning and care opportunities that are high-quality and focused first on serving those children most-at-risk.http://www.ffyf.org

###
Subscribe to FFYF First Look
Every morning, FFYF reports on the latest child care & early learning news from across the country. Subscribe and take 5 minutes to know what's happening in early childhood education.