U.S. House Passes Build Back Better Act with Transformative Investments in America's Early Learning System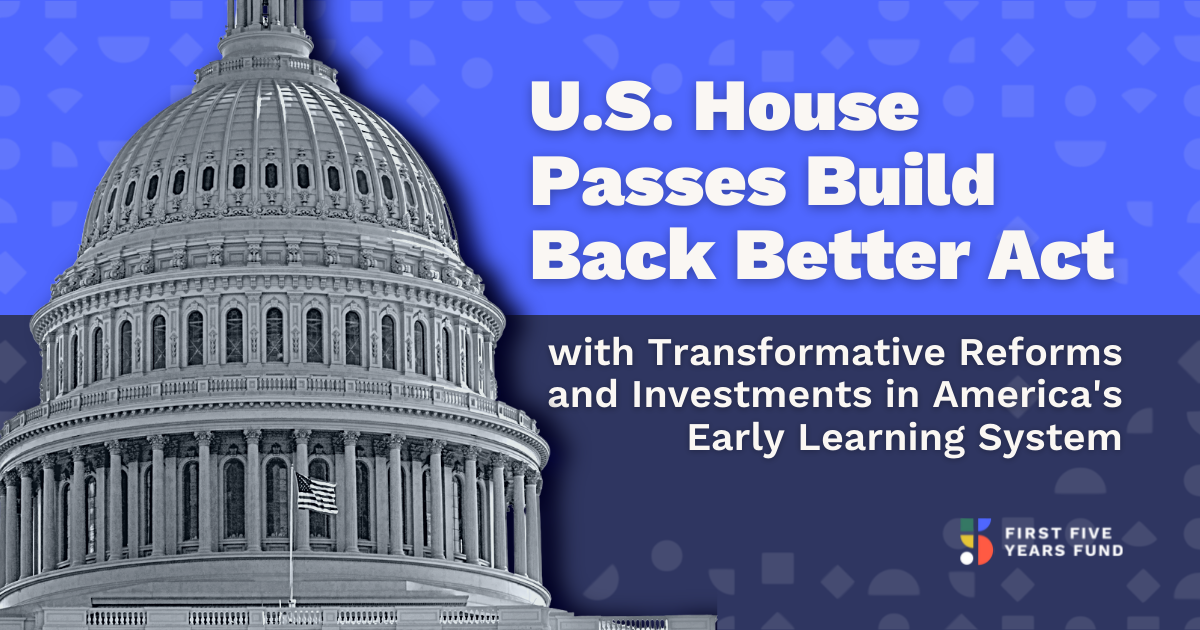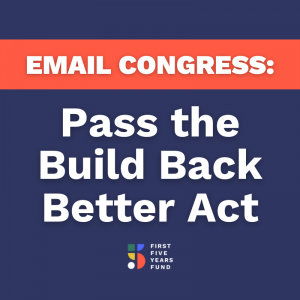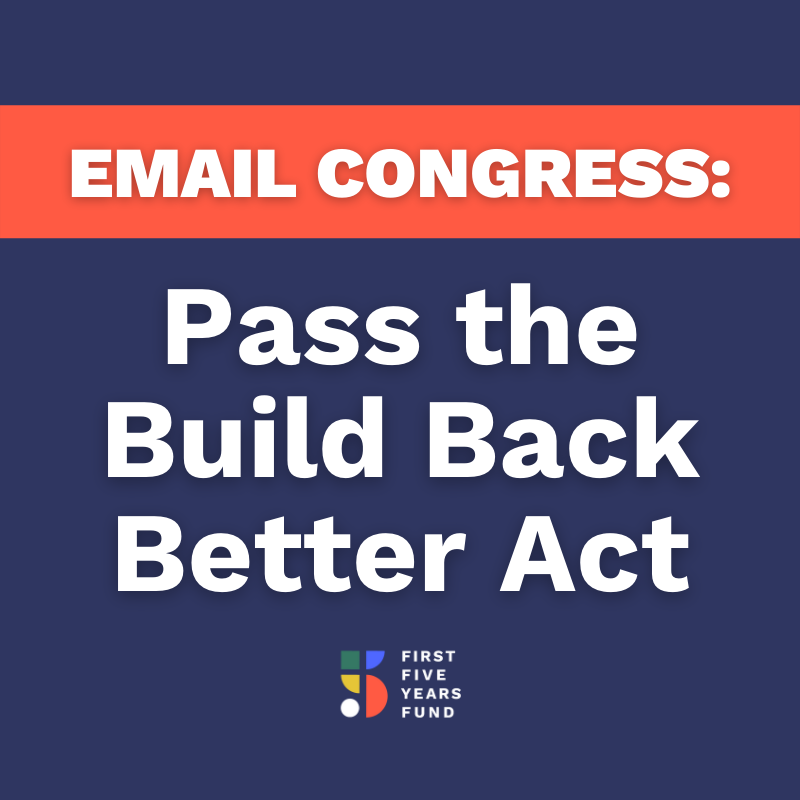 The U.S. House of Representatives passed the Build Back Better Act, which includes a historic $390 billion investment to transform America's early learning system. If enacted, the bill would expand access to high-quality, affordable child care to roughly 20 million children per year, reaching 9 out of 10 working families with children ages 0-5. Additionally, the bill guarantees free access to high-quality Pre-K for all 3- and 4-year-old children. The early learning and care provisions are a key pillar of the package, underscoring the strong commitment on Capitol Hill to eliminating barriers for working families and investing in future generations by ensuring that parents can afford the high-quality early learning options they choose for their children.
"Today, our nation is one step closer to a sweeping investment in early learning that will transform the lives of children and families for the better," said First Five Years Fund Executive Director Sarah Rittling. "It's no coincidence that this package has early care and education at its core; America only works with quality child care, and this legislation would ensure parents who want or need to work are never again held back by the high cost or woefully inadequate supply of early learning options—empowering parents to choose the provider and setting they think is best for their children. By fairly and adequately compensating early educators for the extraordinary work they do, we can create a thriving system of care that supports children's healthy development and prepares them for success in school, with ample options to meet the unique needs of families, regardless of what state they call home. We are immensely grateful to so many leaders on Capitol Hill for their efforts to secure this vital investment. Now, we call on the Senate to act quickly and pass this bill into law. With every day that passes, America's child care market moves ever closer to collapse, and families can't afford to wait for this crisis to be solved."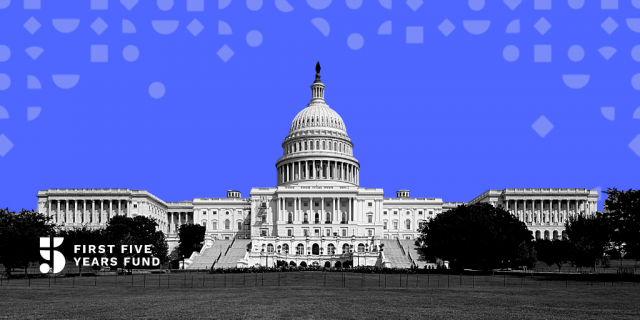 The legislation passed by the House today would save families thousands of dollars in child care and preschool costs and build a strong, stable early learning system that meets the needs of families, providers, and the economy, including:
Nearly $390 billion to address the child care needs of families with children ages 0-5 and guarantee access to free high-quality preschool for 3- and 4-year-olds.

Limits child care costs for families to no more than 7% of income, for families earning up to 250% of state median income.
Establishes a long term program, with funding for six years, enabling 20 million children to access affordable high-quality child care.
Supports providers with increased wages to shore up and strengthen the child care workforce.
Guarantees access to free preschool for more than 6 million children per year and increases the quality of preschool for many more children already enrolled.
Enables parents to send children to high-quality preschool in the setting of their choice – from public schools to child care providers to Head Start.
Click here for a state-by-state look at child care cost savings for families under the Build Back Better Act.
FFYF's new national polling reveals a strong majority of voters, including suburban women, independents, and other key voter subgroups, are supportive of the child care and preschool investments proposed in the Build Back Better Act. In fact, voters want their federal policymakers to prioritize child care and preschool this year, and support for these investments has inspired broader voter support for the legislation as a whole. Key findings include:
81% of voters see child care and preschool as a good investment of taxpayer money—including 80% of independents and 66% of Republicans.
Nearly 70% of voters say taking action to ensure working families have access to affordable, high-quality child care and early learning programs should be a priority this year.
68% of voters believe the best solution to the shortage of child care in America is to use public funding to ensure that child care is affordable for families and child care workers receive higher wages and benefits.
When asked about the child care and preschool policies included in the Build Back Better Act, more than three in four voters support these policies and believe they would benefit their community.
Notably, nearly two-thirds of all voters say they are more likely to support the budget reconciliation package if it includes provisions to make child care and preschool affordable for working families.
After years of underinvestment in America's early learning system, more than 108,000 child care workers, or 1 in 10, have left the industry since the start of the pandemic, opting for higher-paying jobs in other industries. The average pay for child care workers, who often have degrees and specialized training, is $12.24 per hour or around $25,000 a year, putting them in the bottom 2% of all professions. Wages must increase to ensure an ample supply of child care, but without federal assistance, costs will continue to go up for families as supply is further depleted.
The Build Back Better Act would address three crucial challenges that together have created a mounting crisis for families, providers, and the economy:
The unaffordable price of child care (over $10,000 per year, per child on average, and often higher for infants and toddlers)
Near-poverty wages for workers, leading to an exodus from the workforce and increasingly limited supply of care options for families
Inequitable access to high-quality options (nearly half of families living in child care deserts)
The First Five Years Fund is the leading bipartisan federal advocacy organization working to ensure all children from birth through age five have equal access to affordable, comprehensive, high-quality care and education to support their healthy development and help them achieve their full potential in school and life. FFYF seeks to expand federal support for all early learning and care opportunities that are high-quality and focused first on serving those children most-at-risk.http://www.ffyf.org
###
Subscribe to FFYF First Look
Every morning, FFYF reports on the latest child care & early learning news from across the country. Subscribe and take 5 minutes to know what's happening in early childhood education.