Bipartisan Pre-K and Child Care Caucus Hosts 2022 Virtual Kick-Off Event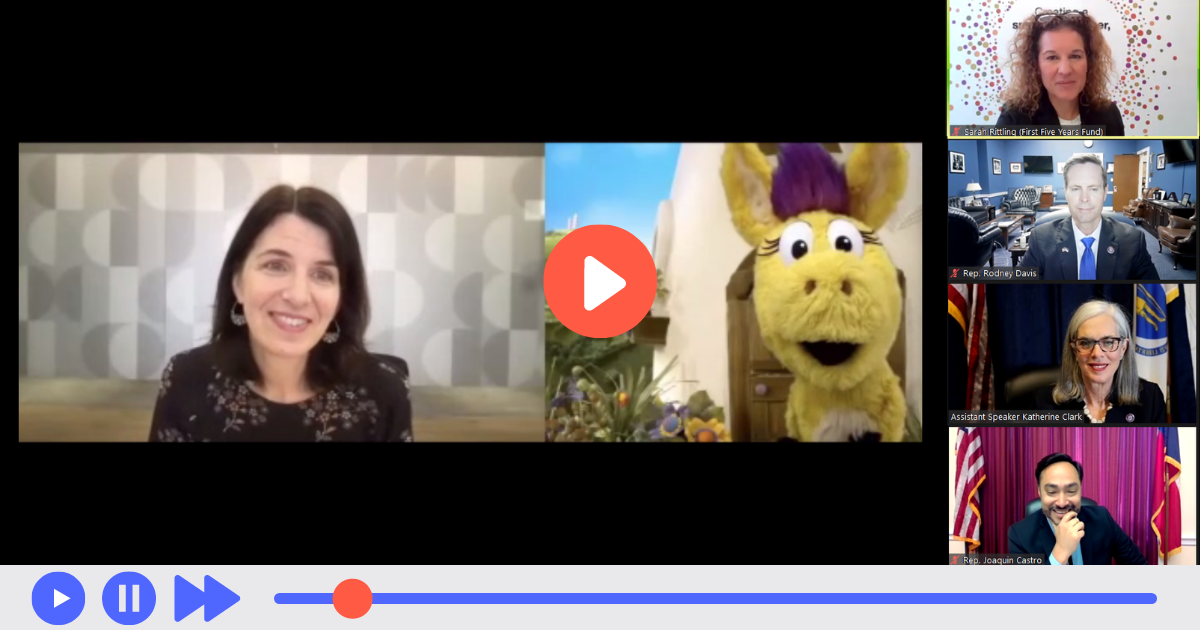 On Wednesday, March 16th, co-chairs of the bipartisan Congressional Pre-K and Child Care Caucus Congressman Joaquin Castro (TX-D), Assistant Speaker Katherine Clark (MA-D), Congressman Tom Cole (OK-R), and Congressman Rodney Davis (IL-R) were joined by the First Five Years Fund, PBS Kids, and the National Head Start Association for a virtual kickoff event to relaunch the Caucus, highlight its goals, and reinforce the importance of early learning and care for children and families across the country.
The event also featured a special appearance from PBS Kids star Donkey Hodie and Sara DeWitt, Senior Vice President for Children's Media and Education for PBS Kids. Members of Congress were also joined by child care providers and experts who shared their insight and experience on the importance of high-quality, affordable early education.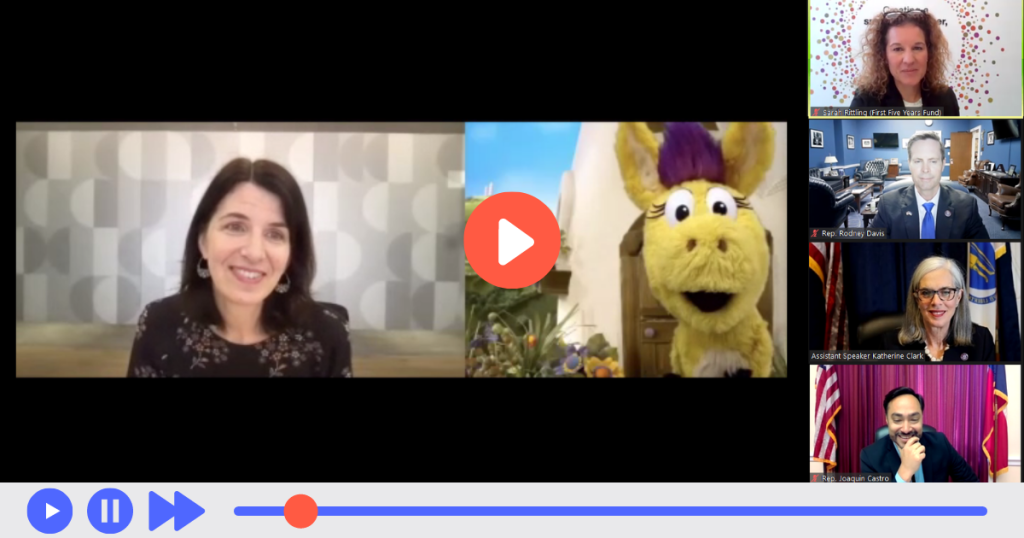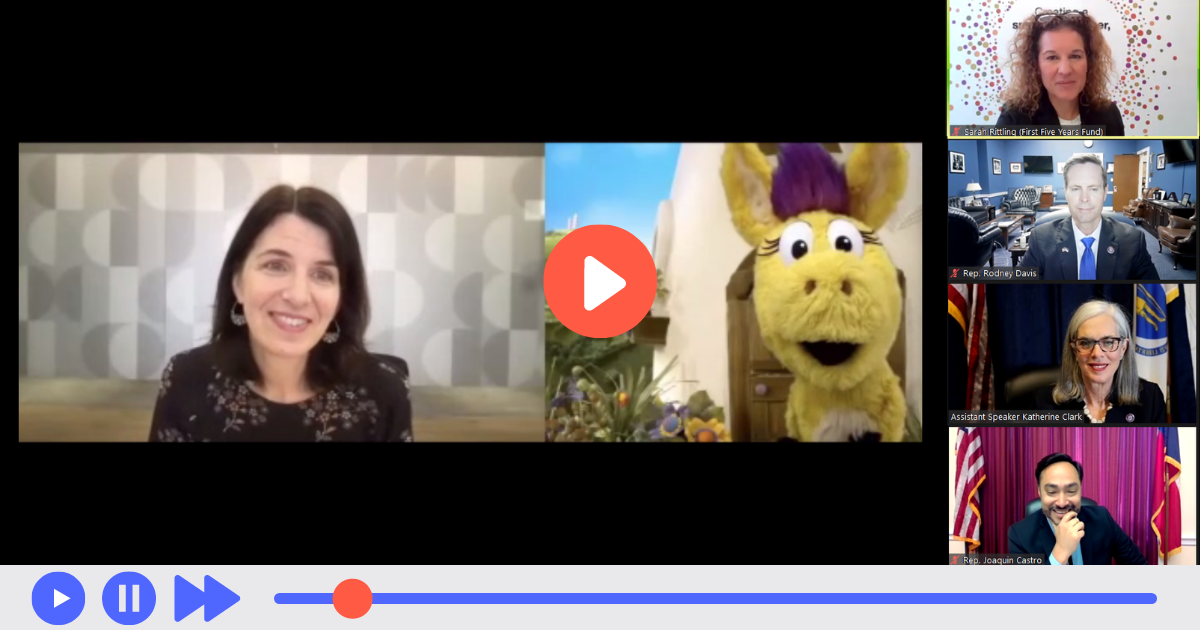 First Five Years Fund Executive Director Sarah Rittling moderated today's conversation with lawmakers and early learning experts and care providers: "For several Congresses, the bipartisan Pre-K and Child Care Caucus, and its co-chairs, have provided a platform for Members of Congress to gather, learn more about these early years and provide leadership to their colleagues in lifting up the importance of early learning and care."
During the Caucus relaunch, the Co-Chairs shared why they're driven to support early care and education as members of Congress. Here's what they had to say:
Congressman Joaquin Castro (D-TX): I speak now as a father of a six year old and an eight year old. The pandemic was very rough for all students, but especially for our younger students. I'm thinking of my son, who was four at the time the pandemic started and was trying to learn how to read at a very critical point in his own development. I watched him, and his classmates, and my daughter as they struggled to learn virtually, and watched what it means to have a very strong start in those very formative years of learning.
Assistant Speaker Katherine Clark (D-MA): I am hearing stories about people who, even before the pandemic, were working full time as child care providers and early educators and were still not able to provide for their own families on the wages they made. This dynamic is not new, but we have an opportunity to change that and make investments, not only in our parents and children, but also in a provider workforce that is overwhelmingly women and women of color.
The Co-Chairs also discussed the importance of bipartisanship and working together to find solutions to the child care crisis and support federal early learning and care programs.
Congressman Rodney Davis (R-IL): This [Pre-K and child care] is an issue where Republicans and Democrats come together and try to solve problems we can identify together. This Caucus should be a shining example of where bipartisanship is working.
Congressman Joaquin Castro (D-TX): Expanding pre-K education is something that hopefully we can do in Congress in a bipartisan way, to make a meaningful and impactful difference in learning and the lives of our children in this country. I'm so glad that we're able to work on this in a bipartisan way.
The Caucus originally launched in 2016 to bring lawmakers, policy advocates, and pre-kindergarten/child care providers together to promote policies that expand access to high-quality pre-K and child care. Staff and Members of Congress can access the Dear Colleague letter to learn more and join the Caucus here. By joining the Pre-K and Child Care Caucus, members will have a forum to:
• Examine early education priorities and child care programs to gain a deeper understanding of the benefits of early childhood education and child care;
• Explore best practice programs; and
• Develop policy recommendations to improve and expand early education and child care.
To close out their discussion, the Co-Chairs shared their goals for the Caucus as they look to grow its membership and work together to pass bipartisan child care policy.
Congressman Joaquin Castro (D-TX): My goal, ultimately, is to make sure that every three and four year old in the country – or the parents of every three and four year old in the country who want their kids to have full day quality pre-K – are absolutely able to do it, no matter where they are in the United States. To me, this Caucus is a way for us to promote pre-K education, not only to constituents in our district, but also to other members of Congress.
Rep. Rodney Davis (R-IL): Well, I agree with what Joaquin said: that our goal is to have every child in America have access to pre-K and have access to child care.
Assistant Speaker Katherine Clark (D-MA): Well, I agree with everything my colleagues just said, and I think what is important is that we're in the middle of a paradigm shift. We have gone from thinking about child care and pre-K as a private decision between parents and providers, and we are realizing the fragility of the [child care] system that was always there, but exposed during this pandemic. We have to treat this as every other economic infrastructure. We have to make sure that we are investing in our future and that wherever you live in this country – rural, suburban, urban – you can find affordable, accessible child care. So as challenging as a time as this is for child care, I also feel this is a moment of opportunity, and this Caucus is a great vehicle for driving that change.
During the Caucus kickoff, attendees heard from early education experts including Dr. Mary Jane Miller-Baker, Senior Director of Early Childhood for the Edgewood Independent School District in San Antonio, Vicki Wilson, Principal of Homer Elementary School in Byng, Oklahoma, and Mayra Rosado, Senior Director, Family Child Care at Nurtury Early Education in Massachusetts. They shared stories from their communities and schools about the importance of early learning and care, and why federal action on early learning is so important.
Dr. Mary Jane Miller-Baker (Texas): Now that things are getting back to normal, we have an enhanced understanding of what we've known for years, based on our pre-K data, and that is simply that pre-K works. The important pre-K programs that establish strong foundational skills allow students to be fully prepared for the academic rigor that's going to come.
Principal Vicky Wilson (Oklahoma): Preschool bridges the gap between home and school. It's a place where children begin on equal ground, regardless of ethnicity. And for an ever increasing number of students it's their first time away from home. It's a structured environment where purposeful play provides a foundation for learning, and children have a chance to explore wonder and discovery during the stage when brain development is rapid and the environment is critical.
Mayra Rosado, Provider (Massachusetts): I would like to take the time to thank Congress for the emergency relief funds that the field has received. It has aided in keeping our programs running during such difficult times, and acquiring the supplies necessary to keep our children and staff. Although we are thankful, I would be remiss to not highlight the need for a long-term sustainability plan in order to support the current workforce equity gap.
Information about the need for federal action on child care and pre-K can be found here. Biographies from all the members and panelists can be found here.
Subscribe to FFYF First Look
Every morning, FFYF reports on the latest child care & early learning news from across the country. Subscribe and take 5 minutes to know what's happening in early childhood education.