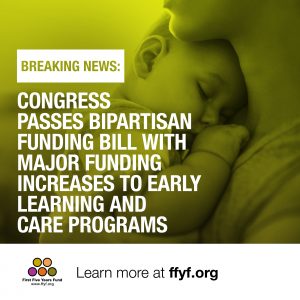 WASHINGTON, D.C. – Early this morning, Congress approved an omnibus spending package to fund the government through the end of September 2018, which includes a bipartisan provision to increase funding for the Child Care Development Block Grants (CCDBG) program to $5.226 billion – the single largest increase to CCDBG in the program's history. This represents an increase of $2.37 billion over FY2017 levels and effectively doubles the program's discretionary funding. The crucial funding increase will allow states to implement important quality improvements to child care programs that will better support children's development and education. This increase is the result of a bipartisan budget agreement reached by Senate Majority Leader Mitch McConnell and Minority Leader Chuck Schumer on February 9, 2018, who negotiated the funding boost for child care.
"This bipartisan increase in child care funding is truly historic, said Sarah Rittling, Interim Executive Director of the First Five Years Fund (FFYF). "CCDBG supports children from working families through access to the high-quality care and learning opportunities that are proven to build a foundation for a healthy and productive future, while allowing parents to work or attend school.The funding increase to CCDBG will finally allow states to implement the bipartisan quality improvements made by Congress to ensure children truly benefit from the care they receive."
The bipartisan omnibus bill passed today also includes significant funding levels for Early Head Start & Head Start, as well as the Preschool Development Grants program, setting funding for these programs at $9.86 billion and $250 million respectively. This funding for Head Start and Early Head Start represents an increase of $610 million over FY2017, and including an expansion of Early Head Start and the Early Head Start—Child Care Partnerships.
CLICK HERE TO SEE THE EARLY CHILDHOOD EDUCATION FUNDING LEVELS PASSED BY CONGRESS IN THE OMNIBUS.
"We are also grateful to Congress for its unwavering commitment to crucial early childhood programs like Early Head Start & Head Start, Child Care and Preschool Development Grants," continued FFYF's Rittling. "After years of work growing bipartisan support for early learning on Capitol Hill, lawmakers were today able to put partisanship aside and enact major funding increases for America's youngest learners. All kids deserve a chance to succeed. And the investments in quality programs Congress is making today will help ensure more children from low-income families have access to the high-quality learning and care experiences that build a strong and stable foundation, so they can take on the world."
CCDBG, which currently enables states to serve approximately 1.4 million children, was last authorized in 2014 with overwhelming bipartisan support and included provisions to improve health and safety quality standards. Today's funding increase will ensures states are equipped with the resources needed to continue implementing these quality standards, which will promote learning and healthy development.
Quality early childhood education is critical to achieving the outcomes children need to be successful in school and life – particularly for those from families in poverty. Unfortunately, less than half of low-income children have access to high-quality early childhood programs that could dramatically improve their opportunity to live productive lives. Research shows both short- and long-term beneficial outcomes in children who attend high-quality programs, including lasting gains in both IQ and socio-emotional skills. These gains prepare individuals to earn higher wages as adults, live healthier lives, avoid incarceration, raise stronger families, and contribute to society. Quality matters, and low-quality care can be detrimental to children, families, and society.
Now, as Congress continues negotiating funding levels for FY2019, FFYF calls on lawmakers to maintain the bipartisan momentum it has built in supporting quality early childhood education.
###
The First Five Years Fund provides knowledge, data and advocacy – persuading federal policymakers to make investments in the first five years of a child's life that create greater returns for all. FFYF helps America achieve better results in education, health and economic productivity through investments in quality early childhood education programs for disadvantaged children. http://www.ffyf.org