Working Families are Losing Access to Child Care as Providers Struggle to Stay Open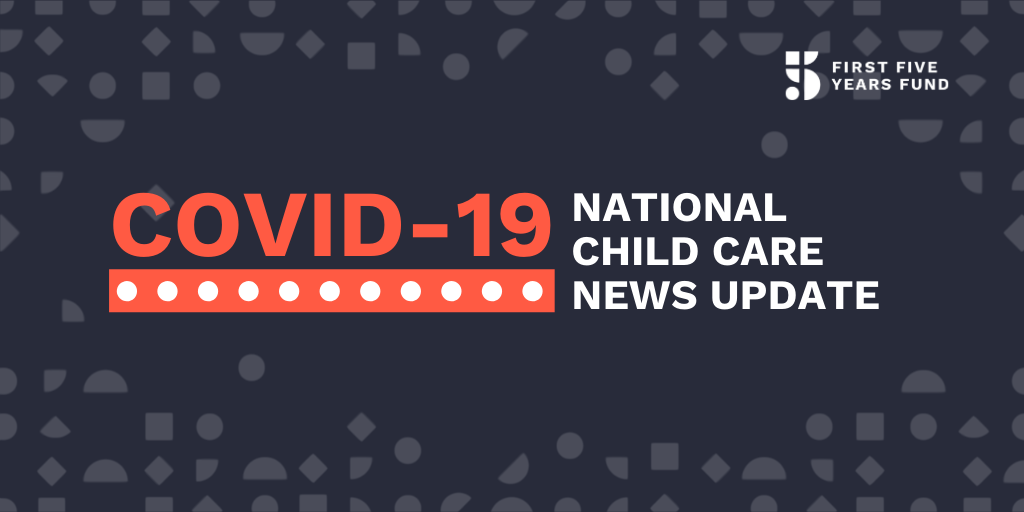 America needs child care relief to keep the industry afloat during the nation's economic recovery from the COVID-19 pandemic. The disastrous economic crisis has hit the child care industry especially hard, causing widespread layoffs and closures as a result of catastrophic drops in enrollment. And while the nation's economic recovery from this crisis will be a slow, phased process, child care providers will be expected to be open to care for children as parents return to work, while operating on financial losses for months to come due to new social distancing requirements and continued low enrollment. Providers will also face increased operating expenses to meet new and important health and safety standards.
The devastating impact of these financial realities cannot be sustained without direct federal investments that ensure child care providers can keep their doors open to meet the needs of children and families.The situation varies from state to state, and even from community to community. Here's a look at recent news coverage and analysis of the nation's child care crisis.
THE LATEST: Chilling new data from the results of a nationwide survey released by the University of Oregon's RAPID-EC Research Group finds that almost half of working families have lost the child care arrangements they were using before the pandemic. This issue is particularly pressing for lower-income families, with 48% of lower-income households reporting that they don't have the ability to return to their previous child care arrangement. Read more here.
WHY CHILD CARE NEEDS RELIEF: As the economy begins opening in states like California – the world's fifth largest economy – the fate of the recovery depends on the state of child care, according to reporting in Politico. The pandemic has forced many providers to close due to steep revenue losses and the rising costs associated with reopening clean, healthy facilities for children, and experts say even a small percentage of closures would have widespread impacts on the economy.
THE STATES: Reports coming in from across the country paint a bleak picture for the child care industry. Child care providers in Alaska are struggling to make ends meet without relief, and as many as one-third of North Carolina's child care programs remain closed as parents return to work. One Washington child care provider estimates that the cost of reopening and limited enrollment have raised the cost to serve children by 250 percent, an unsustainable increase for an industry that already operated on slim margins before the coronavirus pandemic.
STORIES TO READ: Darlene Mount cares for the children of emergency personnel at the YMCA of Greater Monmouth County, New Jersey and has shared what it is like being a child care provider during the coronavirus with TIME. She recounts the challenges she faces as a hands-on provider who cannot physically connect with her children during this health crisis.
IN CASE YOU MISSED IT: A new, first-ever analysis and ranking of how each country in America protects and provides for its children has found that communities of color, especially in rural, impoverished, Southern areas of the United States are the most disadvantaged. The rankings are based on four factors that cut childhood short: hunger, dropping out of school, teenage pregnancy, and early death due to poor health, accident, murder, or suicide. Read more about this Save the Children report here.
WHAT WE ARE READING: As COVID-19 Threatens Millions of Child Care 'Slots,' Families Face Deep Disruptions to Their Children's Early Learning and Social Development and to Their Own Jobs: Early learning and child care advocates estimate that the COVID-19 pandemic could eliminate 4.5 million child care slots due to providers permanently closing their doors. These slots represent the children who are missing out on access to high-quality early learning and parents who rely on child care in order to go to work every day. This will have long-term effects on children, families, and economies. Read more from The 74 here.
Be sure to subscribe to FFYF's daily early learning and care news clips report for the latest stories from across the nation, right in your inbox. We will continue sharing news and analysis with you as it happens.
Subscribe to FFYF First Look
Every morning, FFYF reports on the latest child care & early learning news from across the country. Subscribe and take 5 minutes to know what's happening in early childhood education.