New Pew Study Highlights Child Care Struggles for Working Parents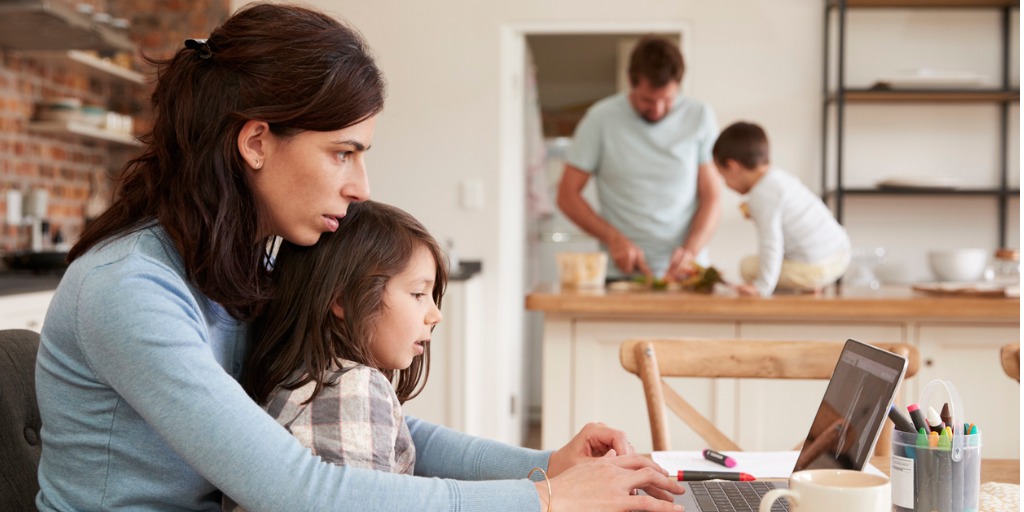 Working parents have faced a year like no other. The Pew Research Center recently released new data from a survey of working parents that reflects that many working parents have experienced professional challenges while trying to balance their work and family responsibilities.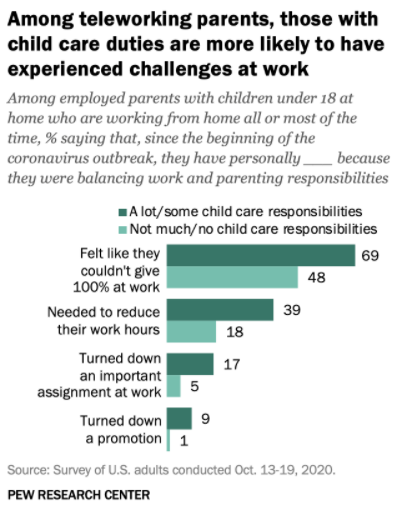 The survey found that, "among employed parents who are working remotely all or most of the time and have children younger than 18 at home, about two-thirds (65%) say they have at least some child care responsibilities when working from home, including 26% who say they have a lot." It is difficult for parents who work full-time to also parent full-time as schools and child care facilities remain closed.
Parents surveyed found their attention pulled from one thing to another and "felt they couldn't give 100% at work". Working parents have always known the struggle of balancing job responsibilities and a home life but the pandemic made this juggling act much more difficult. 
This may be due in large part to the fact that child care facilities began to close in the Spring with no end in sight for those who continued to telework. "Overall, about half of employed parents with children younger than 12 in the household (52%) say it has been difficult to handle child care responsibilities during the coronavirus outbreak, up from 38% who said this in March 2020."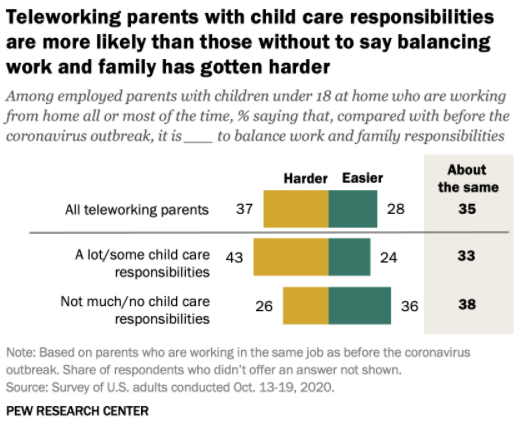 As reported in the Deseret News, "Many of the challenges faced by parents with kids younger than 12 stem from the need to do something for their children while they're trying to work." With schools and child care facilities closed, working parents who would normally have a reliable place for their children to be cared for were now left with no option but to parent while maintaining a regular work schedule. Many parents, mostly women, chose to leave the workforce entirely.
For a growing number of families, child care is an economic necessity while they work or attend school. As families navigate their unique circumstances, choice in, and access to, child care settings is imperative. New surveys like this emphasize this need as parents continue to navigate post-pandemic parenting.
Subscribe to FFYF First Look
Every morning, FFYF reports on the latest child care & early learning news from across the country. Subscribe and take 5 minutes to know what's happening in early childhood education.