Mothers of Young Children Have Been Pushed Out of the Workforce During Pandemic
A recent report from the Federal Reserve Bank of Minneapolis found that the lives of working moms in particular have been disrupted, as many left the workforce entirely due to, among other factors, child care issues.

Parents with young children under the age of five have been under immense pressure since the pandemic began. But it appears the burden of child care has been falling largely on mothers, who have been more likely to leave the labor force because of caregiving responsibilities. For those parents with young children who left the workforce, "nearly all fathers returned to the labor force, mothers regained virtually none of their lost ground, remaining 2.8 percentage points below their November 2019 participation rate—an extremely large change by historical standards."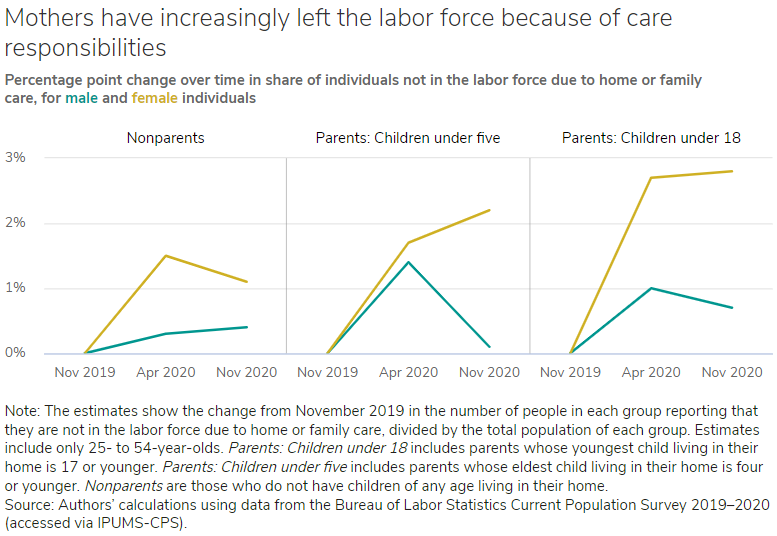 Women's ability to return to the workforce was dependent on many factors including challenges accessing care and a lack of affordable child care in their area. "According to surveys in April and August 2020, many parents reported challenges finding child care, in part because their child care provider closed or reduced hours." Access to affordable child care was also exacerbated by the pandemic as many providers closed their doors- some temporarily, others permanently.

Below are several other stark statistics concerning mothers' recent workforce participation:
Labor force participation among mothers with young children dropped 11.1 percentage points in Minnesota
In April 2020, the pandemic caused fathers and mothers of young children to leave the labor force at relatively high rates—3.4 and 2.9 percentage point declines, respectively, relative to November 2019
By November 2020, mothers of young children were 2.2 percentage points more likely than in November 2019 to report that care responsibilities kept them out of the labor force.
As this report and many others make clear, economic recovery depends on child care availability. Without access to quality, affordable early learning and care, working parents cannot return to the labor force and our economy cannot recover.
Subscribe to FFYF First Look
Every morning, FFYF reports on the latest child care & early learning news from across the country. Subscribe and take 5 minutes to know what's happening in early childhood education.