Survey of 5,000 Early Educators Shows Federal Investment is Essential to Future of Child Care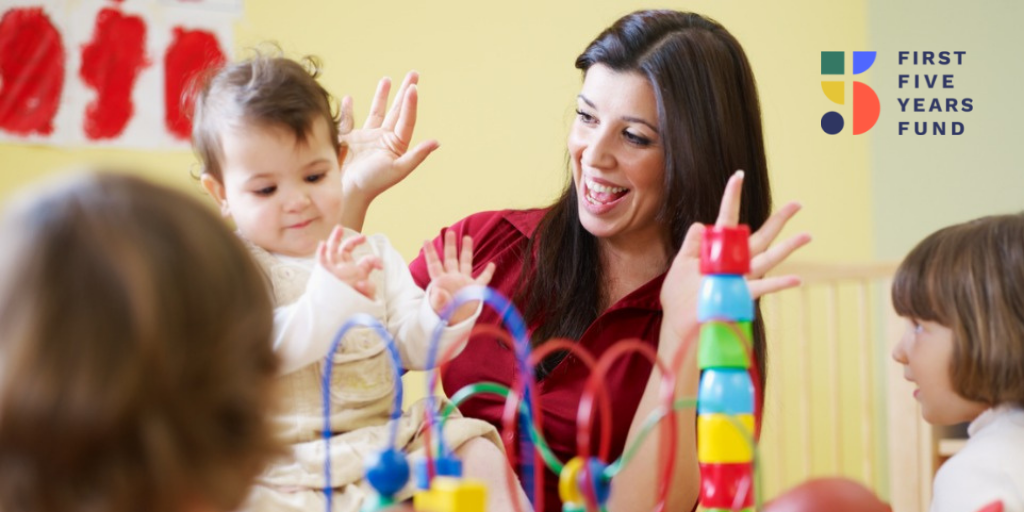 A new survey of 5,000 child care providers from across the country reinforces that federal funding is essential to the success of America's early learning system. The survey results show that federal COVID-19 relief funding temporarily stabilized the U.S. child care market, which was already failing before the pandemic, and kept the sector from total collapse. While critical, this temporary relief funding does not address the existential flaws that set America's child care system up for failure in the first place: 75% of respondents report that the end of federal relief funding and grants will have a negative or highly negative effect on their programs.
The survey, conducted by the National Association for the Education of Young Children (NAEYC), received responses from roughly 5,000 early childhood educators working across all states and settings, including small and large centers, faith-based programs, and family child care homes.
Below is FFYF Executive Director Sarah Rittling's statement on the findings of the survey:
"This pandemic laid bare a harsh reality that millions of Americans lived with long before COVID-19: despite the fact that child care is essential for families and our economy, America's early learning market has been on the brink for decades. Short-term federal relief enabled providers to stay in business and navigate the uncertainty of a health and economic crisis, while also offering a glimpse of what child care in America should be: lower prices for families, a stable supply market, and increased compensation for the early education workforce. But this relief is only temporary. The results of this survey only reiterate the need for sustained support, and they make clear just how effective federal investments can be. Now is the time for Congress to enact a more permanent solution to this decades-long crisis."
Key Survey Findings
Of the respondents who received federal relief funding, 92% said that the funding kept their program from permanently closing.
75% of respondents reported using funds to address compensation for educators, a major challenge that has contributed to an exodus of workers from the sector;

While 53% provided increases through bonuses, only 38% reported an increase in baseline pay, underscoring the need for permanent —not temporary — federal funding.

Two-thirds of respondents reported experiencing a staffing shortage that affected their ability to serve families;

52% of those with staffing shortages were forced to serve fewer children while 37% had a longer waiting list.

51% of respondents also indicated that they had used relief funds to help some or all of the families in their program save money on the costs of care.
89% of respondents who are aware of the child care & pre-K provisions in Build Back Better agreed that it would "secure the future of our program," including 86% of respondents from family child care homes and 85% of respondents from faith-based programs.
75% of respondents reported that the end of federal relief would have a negative or highly negative effect on their programs.
The Takeaway:
Child care was a flawed business model before the pandemic; the cost of providing quality care is greater than most families can afford to pay, forcing providers to operate on razor-thin margins and pay near-poverty wages to employees.
Federal funding enabled providers to stay in business, even as they were losing or without income, while offering employment incentives to retain staff, and providing care to children of essential workers at an affordable rate.
Unless Congress passes significant early learning investments and reforms, like those included in the Build Back Better Act, relief funding will expire and providers will return to the status quo, charging families $10-20,000 a year and paying teachers $12 an hour, perpetuating a broken child care system that sets everyone involved up for failure.
What the Providers Are Saying:
"More needs to be done for child care employees or many of us won't be here to provide care and education to our youngest children. I hope compensation for child care employees is increased to the level of teachers in the public schools." – Gina, Maine, works for a child care center serving 70 families

"The grant money is the ONLY thing that has kept us from having to close our facility." – Heather, South Carolina, works for a faith-based child care program serving approximately 200 families

"The stabilization grant is what has enabled us to stay open. We would 100% be closed now without it." – Sarah, Wisconsin, works for a child care center serving approximately 150 families
Subscribe to FFYF First Look
Every morning, FFYF reports on the latest child care & early learning news from across the country. Subscribe and take 5 minutes to know what's happening in early childhood education.