National Report on Preschool Policies Finds Uneven Progress Across States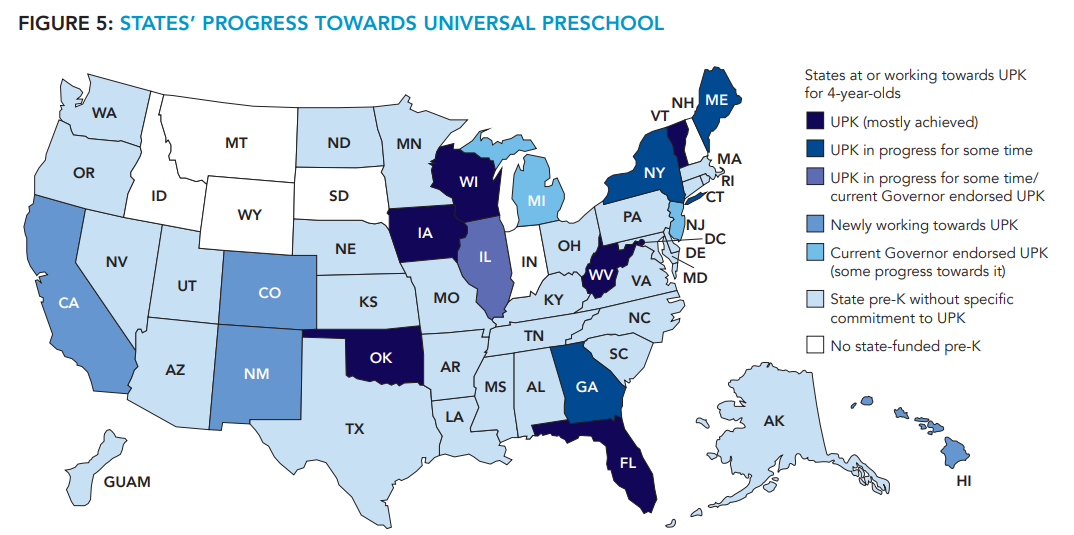 Last week, the National Institute for Early Education Research (NIEER) released the 2022 State of Preschool Yearbook, an annual survey of state preschool policies. The 20th edition of the report focuses on the 2021-2022 school year and includes information for every state on child enrollment, funding, staffing, quality standards, and program features in state-funded preschool programs.
While enrollment is on the rebound in most states, NIEER found uneven progress across states over the past year and most states remain far from offering high-quality, full-day preschool to 3- and 4-year-olds in need of early care and education. In fact, even after two decades of progress in expanding state-funded pre-K, a majority of children still cannot enroll in a publicly-funded program and fewer than one in five can access a public program at age three. While much work lies ahead, researchers are encouraged by the recent push in several states, including California, Hawaii, and New Mexico to expand universal programs.
The report emphasizes that "funding is the lynch pin" and calls on the federal government to provide more funding and support to help states advance their preschool programs.
Key takeaways from the report include:
Enrollment
Almost 1.53 million children attended state-funded preschool, including almost 1.26 million 4-year-olds and 245,194 3-year-olds. States served 32% of 4-year-olds and 6% of 3-year-olds.

This is a 13% increase over the 2020-2021 school year. Enrollment increased in all except 7 states.

However, state preschool has yet to fully recover from the impacts of the COVID-19 pandemic, as enrollment was still down by 130,558 children (8%) nationally in 2021-2022 compared to 2019-2020. Only 9 states enrolled more children in 2021-2022 than in 2019-2020, and most of these states have planned preschool expansions.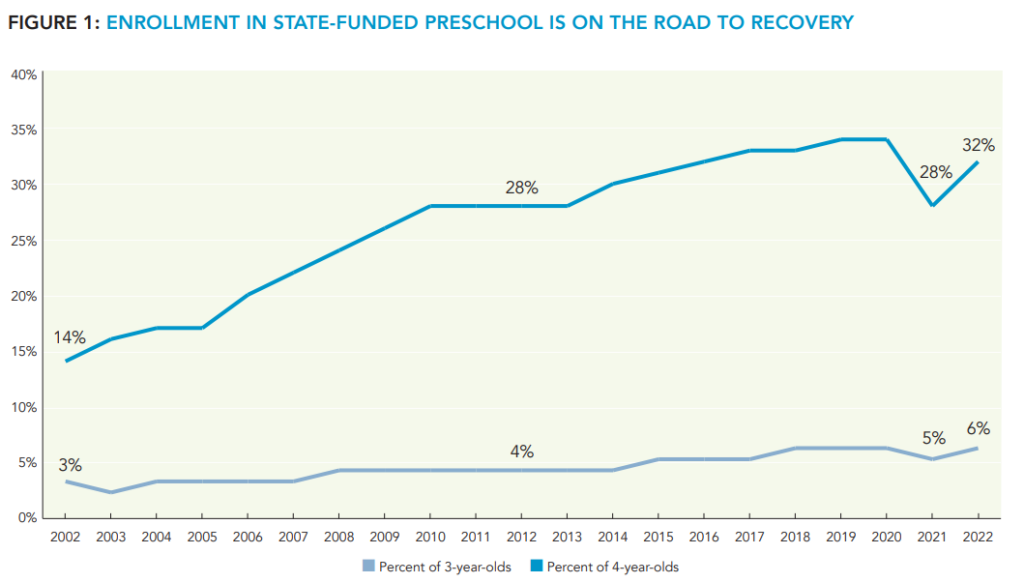 Source: NIEER
Funding
States spent $9.51 billion on preschool and also used $393 million in COVID-19 relief funding. Without federal relief funding, inflation-adjusted spending would have declined.
State spending on preschool in 2021-2022 was $212 million lower compared to 2019-2020 when adjusting for inflation.
Real state spending per child is unchanged after 20 years and remains far below what is needed to ensure the level of quality required to meet young children's learning and developmental needs.

In the 2001-2002 school year, state Pre-K spending per child enrolled was $6,532 (adjusted for inflation) compared to $6,571 in 2021-2022.
Quality
Only six programs in five states meet all 10 of NIEER's quality standards benchmarks (Alabama, Hawaii, Michigan, Mississippi, and Rhode Island)
37% of children in state-funded preschool attended a program that meets fewer than half of the benchmarks. Only 11% were in a program meeting nine or 10 benchmarks.
Recent Policy Developments
NIEER called the 2021-2022 school year, "a year of partial recovery," as some states made policy changes related to program quality, while others haven't yet returned to pre-pandemic implementation of policies including for continuous quality improvement.
Florida, Iowa, Oklahoma, Vermont, West Virginia, Wisconsin, and DC have implemented universal preschool with varying progress. NIEER notes that DC is the only one to provide universal preschool at ages 3 and 4, and while Vermont has eligibility at age three, it only served 35% of 3-year-olds. The other states—Georgia, Illinois, Maine, and New York—have universal preschool policies but have yet to fully implement them.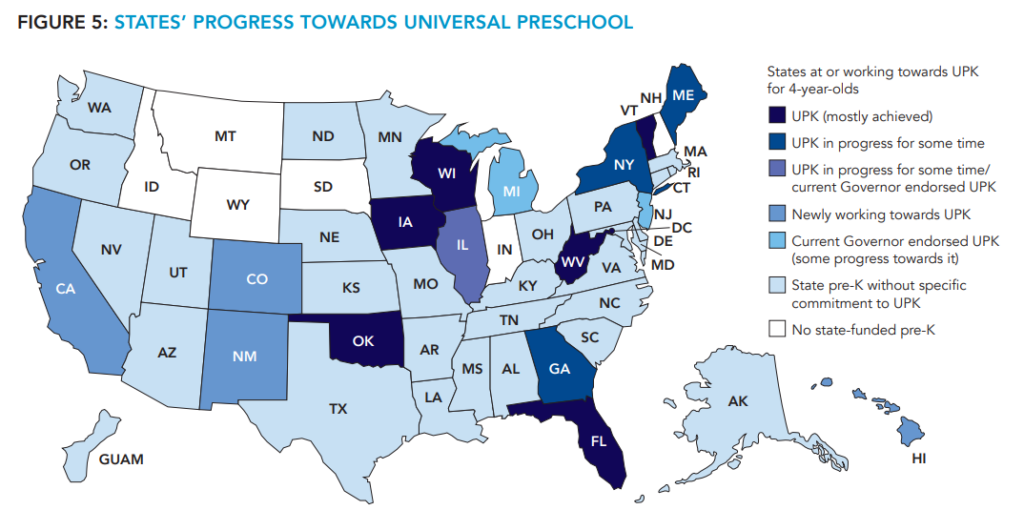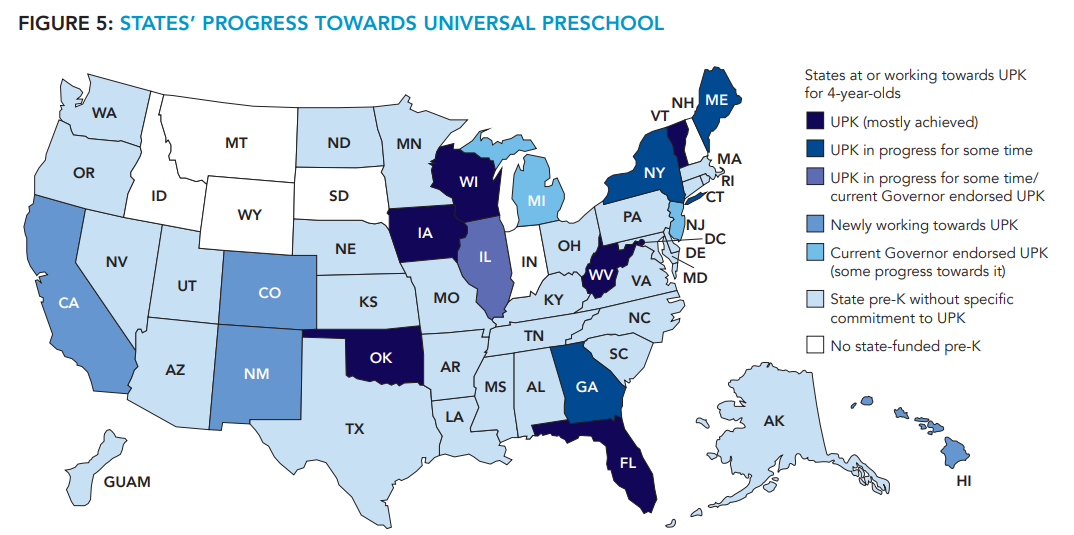 Source: NIEER
While significant work remains across the nation, several states have made notable progress. California, Colorado, Hawaii, and New Mexico offer hope as these states have all passed laws to provide universal preschool in the past year. Governors in both Michigan and New Jersey announced support for universal preschool and these states are moving forward with funding to expand enrollment. Alabama and Rhode Island are making progress by steadily increasing enrollment of 4-year-olds in their high-quality state-funded programs.
Recommendations
There is work to be done to improve access and quality in every state, and NIEER concludes with several recommendations, including:
States should conduct an audit of access, quality standards, and funding adequacy for preschool education, using the Yearbook data as a starting place.
The federal government should provide additional funding and technical support to support states in advancing their preschool programs. The federal government should work more closely with states on policy coordination with particular attention to the role of Head Start in states with universal preschool programs.
The full report, including state profiles, is available here.
Subscribe to FFYF First Look
Every morning, FFYF reports on the latest child care & early learning news from across the country. Subscribe and take 5 minutes to know what's happening in early childhood education.