Voters Overwhelmingly See Child Care Relief as Indispensable to America's Economic Recovery
WASHINGTON—The results of a new bipartisan poll commissioned by the First Five Years Fund (FFYF) and Center for American Progress (CAP) show overwhelming demand among voters across the country for Congress to prioritize emergency relief funding for child care providers in the upcoming COVID-19 recovery package. The new survey data also shows this demand cuts across party lines and among key constituencies, including those who voted for Donald Trump in 2016 (74%), voters 65 and older (83%), suburban women (86%), and Black (97%) and Latinx (93%) voters.
"The child care industry is in crisis and Congress must recognize the critical role it plays in our country's economy by prioritizing robust stabilization funding in the next economic stimulus package," said FFYF Executive Director Sarah Rittling. "Without this emergency relief, an overwhelming number of child care facilities—many of which are small, minority owned businesses—will be forced to close.
"Parents cannot go back to work if we don't invest in child care and save this critical industry," said Katie Hamm, Vice President for Early Childhood Policy at the Center for American Progress. "The coronavirus pandemic has shown all Americans just how critical child care is for businesses and economic recovery. Voters clearly recognize the need to prevent child care providers from closing their doors and strongly support federal funding for child care across political ideologies. Congress should work quickly to pass a rescue package."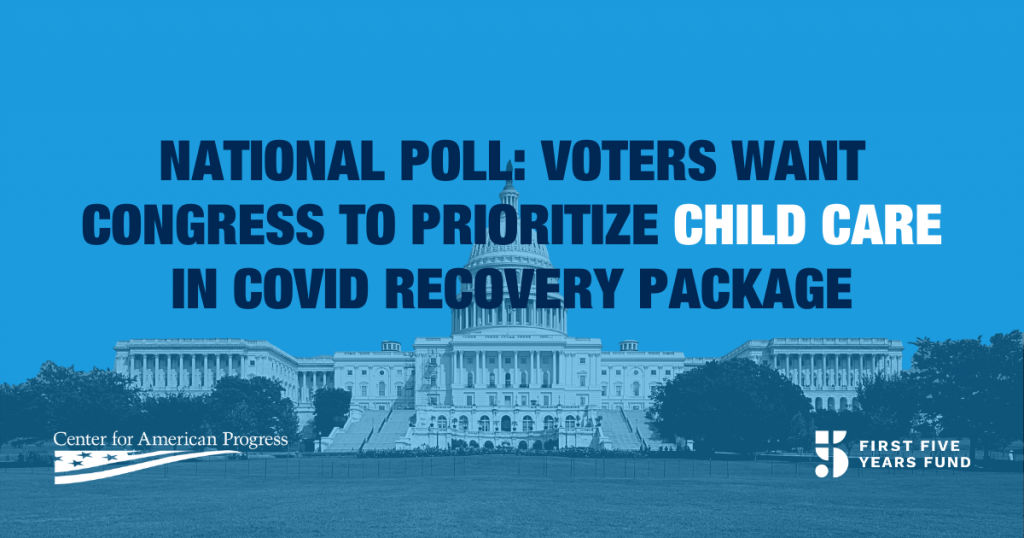 The compelling results of this new poll, conducted by a bipartisan team from Hart Research Associates and New Bridge Strategy, showcase the unmistakable understanding among voters of every political persuasion that child care is central to America's economic recovery, and that the industry must receive emergency funding in the upcoming Congressional package.
Key findings from the poll include:
More than 8 in 10 voters favor a federal child care stabilization fund in the upcoming COVID-19 recovery package, with overwhelming support across partisan lines, generations, and genders.
Even attaching a price tag as high as $50 billion for the child care stabilization fund has virtually no bearing on voter support.
Nearly 9 in 10 voters want child care providers at the front of the line for Congressional relief, prioritizing the industry above hotels, cruise lines, and real estate developers, and virtually tied with K-12 public schools.
Roughly 2 out of 3 voters say it is essential or very important for Congress to include support for child care in the next financial relief legislation.
The results of this survey highlight the broad, bipartisan support among voters for federal relief for child care providers to ensure they can remain open and able to serve their communities so American families can go back to work. As the backbone of our economy, our recovery will be incomplete if we allow this industry to collapse.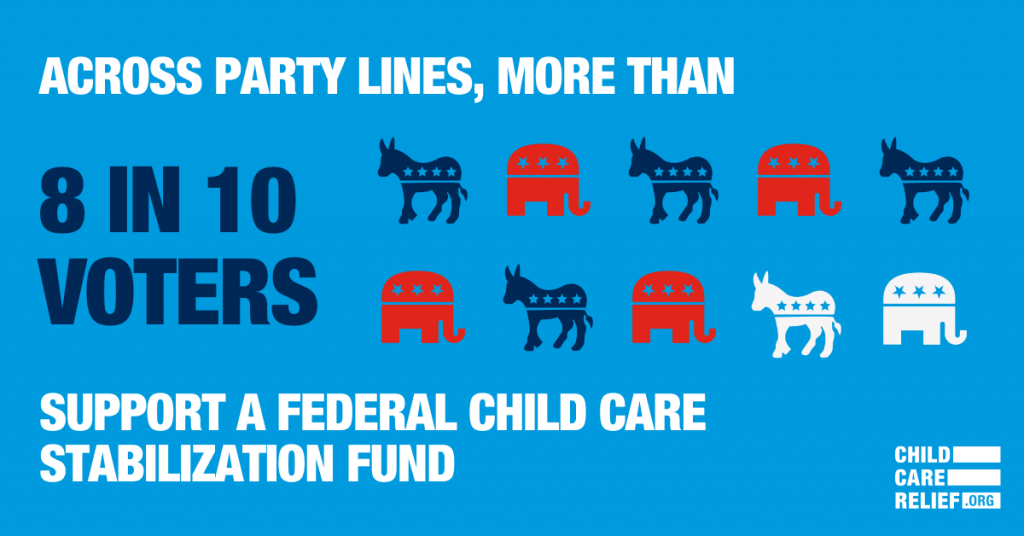 Meanwhile, new data from the National Association for the Education of Young Children (NAEYC) indicates that approximately 40% of the nation's child care providers say they will close permanently without financial assistance. Of those child care facilities that are currently open, 86% are serving fewer children now than they were prior to the pandemic. On average, enrollment is down by a whopping 67%.
Most child care providers typically operate with less than a 1 percent profit margin, and income is predominantly tied directly to the number of children enrolled. In fact, most child care centers only earn a profit if they are operating at close to 90% of enrollment.
At the same time, enrollment is guaranteed to remain low for the foreseeable future, while states' reopening plans have been stalled or reversed and many parents grapple with the difficult choice between re-enrolling children in care or staying home to eliminate risk of contracting the coronavirus.
What's more, in addition to mounting fixed costs like rent and payroll, paired with declining income, providers prioritizing efforts to ensure their staff and the children they support are safe and healthy which results in higher operational expenses due to cleaning and sanitation, personal protective equipment, training or retraining of teachers, recruiting new teachers as many have left the profession as a result of the pandemic, and many other new or increased costs associated with running a business in a post-COVID-19 world. On average, operating expenses are about 30% to 35% higher than they were prior to the COVID-19 pandemic. Without federal support, those costs will fall on parents who already struggled to afford high-quality care?
Simply put, many child care providers will be operating in the red for months to come. Others won't be able to afford to remain open and widespread closures will have a disastrous impact on the economy. Congress must include a child care stabilization fund in this recovery package to keep the industry afloat. Without it, 4.5 million child care slots – half of the nation's child care supply – will vanish.
For more information on the findings of this poll, please read this memo or view the results.
###
Subscribe to FFYF First Look
Every morning, FFYF reports on the latest child care & early learning news from across the country. Subscribe and take 5 minutes to know what's happening in early childhood education.