Vice President Harris Visits Preschool to Discuss Plans for Major Early Learning & Care Investment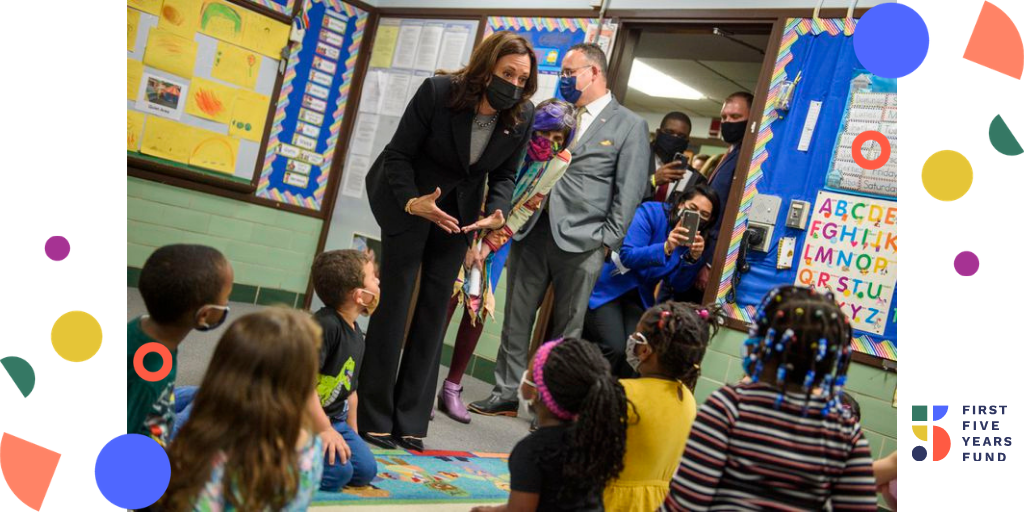 On Friday, Vice President Kamala Harris visited a Connecticut preschool, where she referenced the administration's plans to strengthen the child care system and invest in quality early learning. This visit comes shortly after the passage of the American Rescue Plan, which provided $39 billion in pandemic relief funding to the beleaguered child care industry.
Vice President Harris emphasized how important it is to recognize that, "when children don't have their basic needs, they cannot perform and then we have to rush resources… from every other system to make up for our failure to invest in them at the earliest stages of their life in the first place." To prevent these ups and downs faced by parents and providers alike, the system needs long-term solutions that do not simply respond to the crisis but prevent the crisis from happening in the first place.
Congresswoman Rosa DeLauro (D-CT), a champion for early childhood education, was also in attendance to tout the many benefits of quality, affordable care and education for young learners, and how federal funding can increase access, quality, and affordability. Newly confirmed Secretary of Education Miguel Cardona joined the Vice President and Congresswoman.
While the American Rescue Plan will stabilize the industry amid the chaos brought on by the COVID-19 pandemic, this relief package was just a first step. Congress must address the nation's long-standing challenges and build up a system of care that works for all families who need it and the early educators they rely on.. This means more than just giving kids a place to play while their parents work, as the Vice President stated on Friday. "You invest in our children, you're going to get a huge return on your investment."
Our polling shows and Vice President Harris agrees that "there are certain issues in this country that should not even be bipartisan, but nonpartisan, and one of them should be our children." Quality care for our nation's children is an investment in our future that everyone can get behind.
The Vice President discussed her own experiences growing up with a working mother who had to make sure that she and her sister had child care so she could continue her work in the important field of breast cancer research. This example is more than a personal anecdote, it is living proof that when providers, parents, and children are given the support they need, everyone has the opportunity to succeed.
Subscribe to FFYF First Look
Every morning, FFYF reports on the latest child care & early learning news from across the country. Subscribe and take 5 minutes to know what's happening in early childhood education.