Vice President Kamala Harris Meets with Business Leaders on Building Back Better with Child Care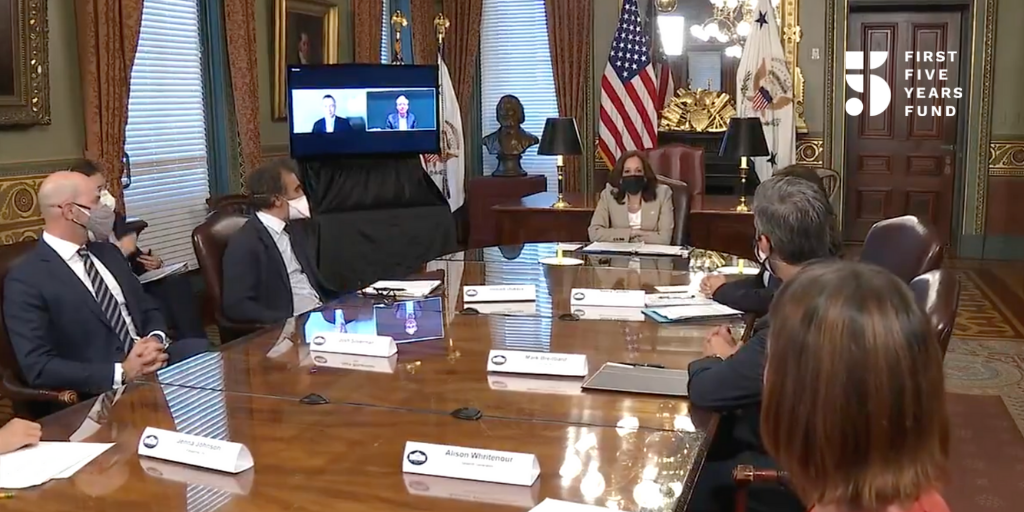 On Thursday afternoon, Vice President Harris met with business leaders from a variety of industries to discuss the need for long-term investments in early learning and care. This conversation is part of the Administration's "Build Back Better" plan to invest in American families and strengthen opportunities for all Americans.
During the meeting, Vice President Harris emphasized the benefits of child care to our economy noting, "the benefit to our families, the benefit to the strength of our nation and our ability to role model to the world what it means to be an economy that is strong." 
The business leaders, CEOs and executives listed below represented the economic perspective of the child care debate as employers benefit as much as working parents and providers when the industry is stable and supported.
Nathan Blecharczyk, a founder and strategy chief at Airbnb
Mark Breitbard, the C.E.O. of the Gap brand
Jenna Johnson, the president of Patagonia
Josh Silverman, the C.E.O. of Etsy
Brad Smith, the president of Microsoft
Hamdi Ulukaya, the C.E.O. of Chobani
Alison Whritenour, the C.E.O. of Seventh Generation
The Vice President stated, "Affordable childcare we know relates to both a business's ability to recruit talent and retain talent. We know that it directly impacts worker productivity, and the bottom lines of your businesses. We know that when we prioritize [it, it] contributes to our ability to be competitive globally, in terms of what we know is still an ongoing challenge for our nation which is to keep up with what is happening around the world."
The latest economic research supports this investment. A recent report from Moody's Analytics — the renowned global financial firm, which provides economic research regarding risk, performance and financial modeling — examined these elements of President Biden's Build Back Better Agenda and found it will "lift the economy's longer-term growth potential and ease inflation pressures."
Just yesterday, the White House released a brief ​​from the Council of Economic Advisers & Office of Management and Budget demonstrating the positive impact the president's proposals will have on families and the economy, noting that families with young children will "benefit most from the proposed expansion of the Child Tax Credit (CTC), universal preschool, and improvements in the quality of childcare and a reduction in associated out-of-pocket costs." 
Read more about the vice president's meeting today here. 
Subscribe to FFYF First Look
Every morning, FFYF reports on the latest child care & early learning news from across the country. Subscribe and take 5 minutes to know what's happening in early childhood education.