Vice President Harris and Treasury Secretary Yellen Highlight New Report on the Urgent Need for Federal Investments in Child Care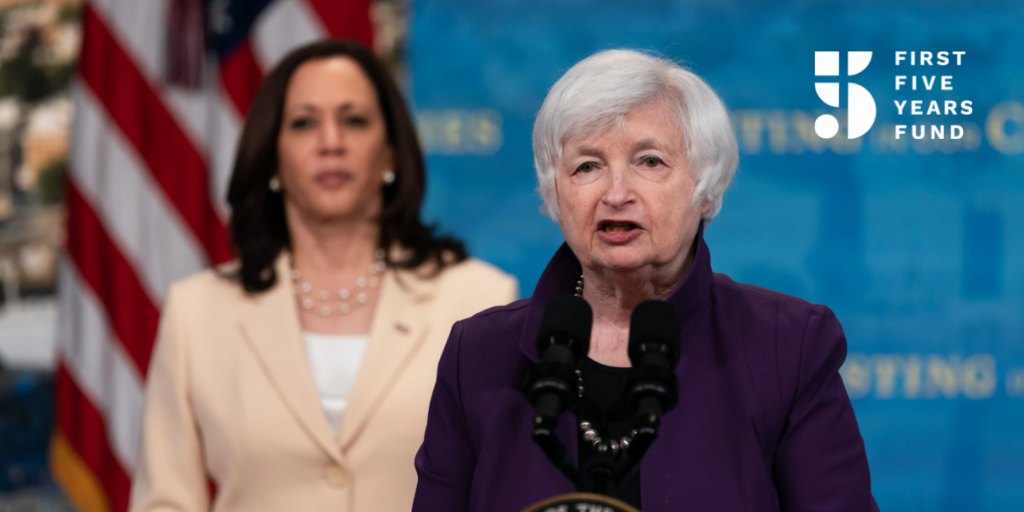 Following the release of a new report from the Treasury Department entitled "The Economics of Child Care Supply in the United States", Vice President Kamala Harris and Treasury Secretary Janet Yellen held an event at the Treasury Department to emphasize the need for Congress to pass the Build Back Better Act, which would save families thousands of dollars in child care and preschool expenses and build a strong, stable early learning system.
The report itself analyzes America's existing child care system, which relies heavily on parent fees to cover costly child care expenses, and demonstrates how this system fails to meet families' needs. As the report explains, "this is not just happenstance – sound economic principles explain why relying on private money to provide child care is bound to come up short." In the words of the Vice President, "this report confirms that, tragically, the United States is falling behind, on a global scale, on this issue of investment in child care."
The Vice President made it clear that this is no small matter, calling the recent mass exodus of women from the workforce "a national emergency," asserting that during and in the aftermath of the pandemic parents without child care have been completely stranded. She made clear that "by expanding child care options and lowering child care costs, [the administration] will give working people everywhere the support they need to dream, to do, and to determine their own future."
Secretary Yellen stated that, "child care is the textbook example of a broken market." She was not just speaking as the nation's top economist but also as a mother herself who, as she explained, would not be where she is today without the support of quality caregivers 40 years ago. Through both her expertise and personal experience, she knows this isn't just the result of the pandemic, but that "for the vast majority of Americans, the child care industry works in precisely the opposite way it worked for us, which is to say it doesn't work at all: Those who provide child care aren't paid well, and many who need it, can't afford it."
She also pointed out during today's event that the majority of American families now live in child care deserts meaning there are not enough child care slots in a given region to support all families in need of care. The report makes it clear that this reality is prevalent regardless of income or region type.
The Biden Administration's Build Back Better Agenda, now being considered by Congress, would:
Extend the Child Tax Credit
Provide paid family leave
Lower child care costs
Guarantee access to preschool
The proposal includes a $225 billion investment to address the child care needs of families and providers, $220 billion to expand voluntary preschool access to all 3- and 4-year-olds, and a permanent extension of recent improvements from the American Rescue Plan to various tax credits, including to the Child and Dependent Care Tax Credit (CDCTC), among other provisions to help working parents and young children. These investments and tax credits reinforce the benefits of a strong mixed delivery system that prioritizes parent choice, both in whether to utilize non-parental care, but also in determining the type and setting of care that best meets their needs.
The proposals included in the President's agenda would save the average family nearly $15,000 a year in child care costs. The Treasury Department found that "the measures would expand both child care supply and demand, providing lifelong positive effects for children, their parents, and the economy as a whole." The secretary explained that enacting these proposals is the single most important thing we can do to build up the economy over the coming decades.
Subscribe to FFYF First Look
Every morning, FFYF reports on the latest child care & early learning news from across the country. Subscribe and take 5 minutes to know what's happening in early childhood education.