Revamped Proposal Positions Child Care for Inclusion in Reconciliation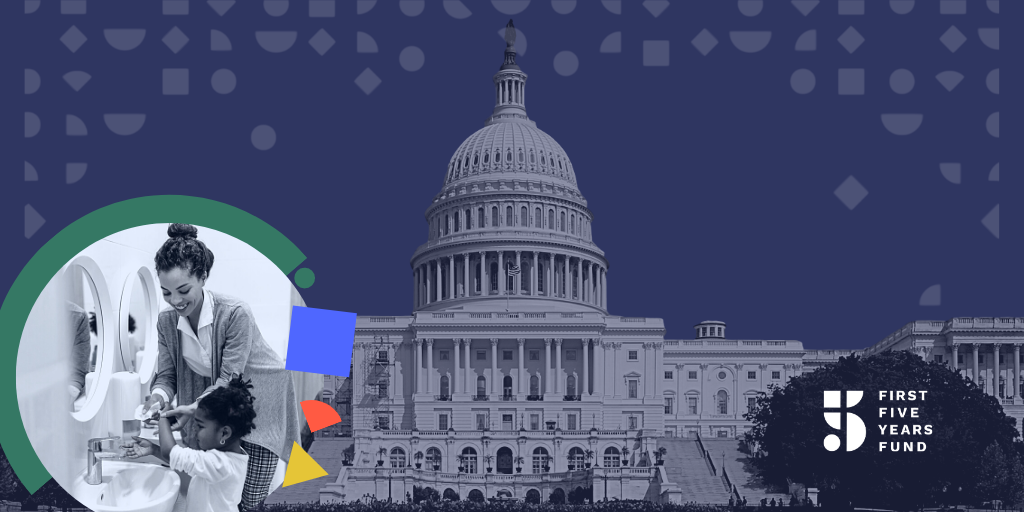 As negotiations on a budget reconciliation bill evolve on Capitol Hill, HELP Committee Chairwoman Patty Murray (WA) and Senator Tim Kaine (VA) have unveiled a streamlined child care proposal that fits within the parameters of the narrower reconciliation package currently under consideration from what was originally introduced as part of the Build Back Better Act. This is a clear signal that Democratic leaders remain confident child care can and must be included in reconciliation.
"A huge portion of the nation's labor force relies on child care just to be able to go to work each day, yet most families can't afford or even find the care they need," said First Five Years Fund (FFYF) Executive Director Sarah Rittling. "Thankfully, there is a clear understanding among lawmakers that the success of our economy is inextricably linked with the success of our early learning sector. The only question is whether Congress can secure the level of sustained investment required to begin addressing this crisis. We are grateful to Sen. Murray and Sen. Kaine for their leadership in taking definitive action to ensure child care is included in the budget reconciliation package, and we call on all Senate Democrats to unite behind this crucial, commonsense economic policy proposal. Voters are watching to see whether Congress allows the child care sector to fail."
The new proposal would invest in the existing federal child care program — the Child Care and Development Block Grant (CCDBG) program — which would swiftly get funding to all 50 states and territories, strengthen the early learning workforce, expand the supply of quality child care facilities, and drastically lower child care costs for families across the country. The CCDBG program has served millions of children and families for decades; however, due to insufficient funding levels, CCDBG currently reaches only 15% of income-eligible children. 
The Center for Law and Social Policy (CLASP) released a new analysis today on the revamped proposal showing that more than one million new children and their families could receive child care assistance to lower their costs through just the historic investment in the Child Care and Development Block Grant (CCDBG) in Murray and Kaine's plan.
Federal pandemic relief funding has provided a critical lifeline to the child care system, preventing a total collapse of the sector, but it fails to address the supply and demand challenges that have held back families and providers alike for decades. Relief funding is set to run out in 2024, a deadline that 75% of America's child care providers say will have a negative effect on their programs.
Additionally, new bipartisan polling by First Five Action Fund (FFAF) has found that among likely voters in seven Senate battleground states, support for lowering the cost of child care rivals prescription drug prices and climate change for inclusion in a reconciliation package. What's more, a sweeping majority of voters (66%) in these states, including 72% of women voters and 73% of suburban voters say they will be unhappy with their member of Congress if they vote to pass a package that does not include child care.
The new, streamlined proposal will:
Use the existing Child Care and Development Block Grant (CCDBG) program to provide robust funding to families and providers in every state. 
Fund critical infrastructure needs, wage supports, and quality improvement activities to all states to address child care "deserts" and improve the supply of high quality child care. 
Enable states to participate in a pilot matching program to expand child care assistance to middle-income families earning up to 250% state medium income. 
Provide funding to complement states' efforts in expanding access to high-quality preschool for 3- and 4- year olds, and provides funding to raise wages for Head Start staff.
Every state and territory already participates in the CCDBG program so eligible families and providers would immediately see results to ensure better access to child care, creating a positive effect on workforce participation across the labor market. And thanks to the temporary pandemic relief funding Congress provided over the past two years, states are equipped for an infusion of much-needed sustained funding in order to right-size their CCDBG systems.
By immediately increasing CCDBG funding, more parents will be able to choose the provider and setting that best meets their needs, including child care centers, home-based family child care providers, and faith-based programs, while enabling families to pursue greater economic security and job stability.
A one-pager on Senator Murray and Kaine's child care proposal can be found HERE.
Subscribe to FFYF First Look
Every morning, FFYF reports on the latest child care & early learning news from across the country. Subscribe and take 5 minutes to know what's happening in early childhood education.