85 National Organizations Call On Congress to Include Child Care in Reconciliation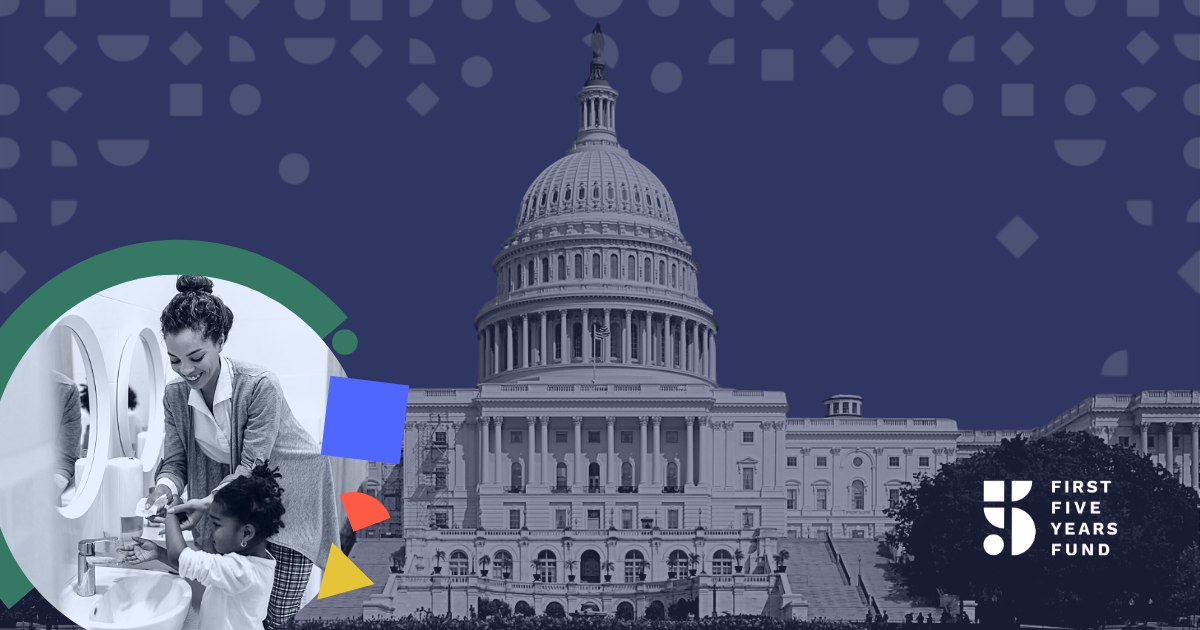 WASHINGTON – Today, the First Five Years Fund (FFYF), National Association for the Education of Young Children (NAEYC) and a coalition of 85 leading national organizations sent a letter to Members of Congress highlighting the urgent need to ensure the reconciliation package includes critical investments for child care. The letter comes as the Senate finalizes negotiations on a reconciliation package that, as it stands now, does not include any funding for child care. You can view the letter with the full list of national organizations here.
FFYF Executive Director Sarah Rittling also released the following statement alongside the letter:
"Lawmakers have demonstrated a clear understanding about the essential role that child care plays for millions of people – and the consequences for working families and our entire economy – when early learning options disappear. Now, Congress must follow through on their commitment to working families by including child care funding in any reconciliation package. They're hearing from their constituents every single day about the realities of this crisis: prices keep going up, waitlists are getting longer, and providers are facing an uncertain future when federal relief funding soon expires. Inaction by Congress will put the entire child care sector on a path to insolvency – a reality that would have catastrophic consequences for our entire labor market and economy. Families, providers and employers alike are counting on Congress to keep their promise and include a strong investment in child care in reconciliation."
From the letter to Members of Congress:
"Through federal relief dollars including those in CARES and the American Rescue Plan Act, Congress saved the child care system from complete freefall. These supports have temporarily staved off the worst of massive program closures, but the depths of the challenges are such that the early childhood workforce continues to face deep uncertainty and staffing shortfalls that are making child care harder for parents to find and afford.
"Without immediate Congressional action to provide additional federal investments in child care and early learning, this dire situation is likely to worsen as states and programs realize that additional support is not forthcoming, and current federal relief funding is set to run out in 2024. In fact, 75% of child care providers say that the end of stabilization grants will be devastating to their programs. If left unaddressed, states will be facing an estimated $48 billion funding cliff, with New York alone facing a $2.3 billion cliff, which will have disastrous consequences for working families and the child care programs they rely on."
The letter was also signed by 5,416 child care providers, early learning advocates, and individuals from all 50 states.  
As described in the letter, federal pandemic relief funding for child care providers, which is buttressing an already-struggling child care market, runs out on September 30th, 2024 – which is just 36 days before Election Day 2024.
If Congress does not include a significant child care investment in reconciliation, America's child care system will face an estimated $48 billion funding cliff upon expiration of federal child care relief funding, which Congress passed during the pandemic to shore up an already struggling child care market. Fourteen states are facing shortfalls of more than $1 billion dollars.
92% of America's child care providers who received federal relief funding say these grants helped keep their businesses open.
An analysis from The Century Foundation found that the American Rescue Plan funds — building on the earlier federal COVID-19 relief funds — helped temporarily prevent nearly 75,000 permanent child care closures, saving more than 3 million spots, or one-third of the nation's total child care spots, for young children.
75% of providers say that the end of stabilization grants will be devastating to their programs.
Even with the relief provided by the child care stabilization program, two-thirds of child care providers are experiencing a staffing shortage that affects their ability to serve families; 52% of those with staffing shortages have been forced to serve fewer children while 37% have had a longer waiting list.
There is clear and broad agreement throughout the Democratic Caucus that child care funding can and must be included in the reconciliation package. Given that the child care and early learning proposal was among the largest proposed investments in the Build Back Better Act that passed the House, it would be unfathomable that the Senate package would eliminate 100% of all proposed funding – especially at a moment when so many working parents, especially women, are unable to return to the workforce due to child care shortages. Desperate parents in every state and Congressional district remain in limbo, unable to find or afford child care, while the cost of living continues to rise. There's no question that investing in child care offers Democrats a way to immediately lower costs for working families and begin solving a crisis that has existed for decades.
Signers include:
American Federation of State, County and Municipal Employees (AFSCME), Coalition of Labor Union Women, AFL-CIO, Educare Learning Network, Early Care & Education Consortium, Main Street Alliance, First Five Years Fund, National Council of Jewish Women, National Education Association, National Employment Law Project, National Head Start Association, Save the Children, Service Employees International Union (SEIU), Start Early, YMCA of the USA, YWCA USA. ZERO TO THREE
Subscribe to FFYF First Look
Every morning, FFYF reports on the latest child care & early learning news from across the country. Subscribe and take 5 minutes to know what's happening in early childhood education.