Biden Doubles Down on Child Care Priorities Through Executive Order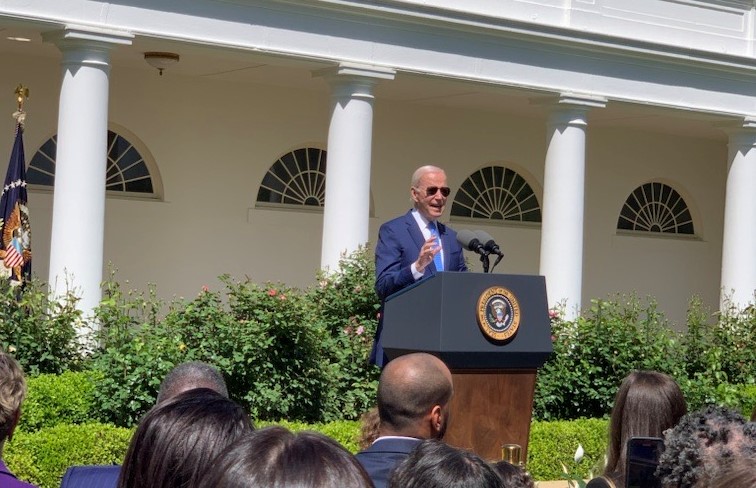 Last week, President Biden took an important step in strengthening his commitment to fix our nation's child care system. Through executive order (EO), Biden is directing nearly every Cabinet- level agency to use existing funds and programs to expand access to child care. When signing the EO, Biden called it "the most comprehensive set of actions any administration has taken to date to increase access to high-quality child care and long-term care and support for the caregivers."
These among the sweeping 50 new directives are those that seek to make child care more affordable, expand access to high-quality early learning programs, and support the early care and education (ECE) workforce. Additionally, the EO tasks the Department of Health and Human Services (HHS) to identify barriers to eligibility for Head Start and the Child Care and Development Block Grant (CCDBG) program. See below for information on a handful of key priorities, or read the executive order in its entirety here. 
Increase Compensation and Improve Job Quality for the ECE Workforce
The EO calls for important changes to support the ECE workforce. Early childhood educators have long been undercompensated for the essential and demanding work that they do, and the current workforce shortage has brought much-needed attention to this issue. Investing in this workforce would improve the supply and quality of child care. Biden calls on agencies to specifically:
Increase compensation for early childhood educators, including implementing strategies to encourage the alignment of compensation and benefits between Head Start staff and elementary school teachers. It also includes a directive to increase compensation and supports for early educators receiving Child Care Access Means Parents in School (CCAMPIS) funding.
Increase subsidy reimbursement rates in CCDBG, which providers could use to improve staff compensation.
Expand efforts to ensure care workers have access to health insurance and retirement benefits.
Implement strategies to support well-being and expand mental health supports for the ECE workforce.
Make Child Care More Affordable and Accessible for Families
For families eligible for federal programs: The administration directs HHS to find ways to reduce or eliminate co-payments in CCDBG. Under current CCDBG rules, child care providers that accept public subsidies can charge families co-payments because the subsidy alone is not sufficient to cover the cost of care. A recent GAO report pointed out that co–payments can be high enough to keep care out of reach for some families. Many states used COVID-19 relief funds to waive co-payments.
For workers delivering federally assisted projects: The administration calls on agencies to review how existing funds can be used to improve child care access for those working on federally funded projects, and considers requiring applicants seeking federal job-creating funds to expand access to care for their workers, as the administration has recently done with the CHIPS Act. 
For federal employees: The EO directs the Office of Personnel Management to review child care subsidy policy and set standards for when and how federal agencies should provide child care subsidies to their employees. Federal agencies will look for opportunities to expand employee access to child care services, whether that is through federal child care centers, access to subsidies, or contracted care for providers.
For military families: Military child care is often held up as an example that the rest of our system should emulate, but long waiting lists make affordable care difficult to access, which is "an impediment to military spouse employment and family economic security" according to the EO. Biden directs the Department of Defense to improve the affordability of child care on military installations. This also includes enhancing the recruitment and retention of the Department's child development program workers.
Expand Options for Families by Building the Supply of Care
The EO includes a variety of directives aimed at providing all families with options for high-quality ECE. This includes:
Updating payment practices for child care providers, which will improve provider stability and supply as well as expand options for families to access the high-quality child care provider of their choice.
Updating "a guide for schools and districts to expand high-quality early learning programming using Federal funds" in order to help preschoolers be fully prepared to succeed in school.
Ensuring services are inclusive of children with disabilities and their families and supporting ECE programs in providing these services. This includes identifying and disseminating evidence-based practices for serving children with disabilities and their families in a variety of early learning settings, including Head Start.
Supporting Tribes in constructing and improving child care facilities by streamlining the process of using CCDF and Head Start funding.
Encourage States to Use TANF Dollars for Child Care
The EO encourages states to use TANF for basic assistance and work supports, including child care.
Supplementing state funds with TANF funds can support child care and early learning programs. While states can transfer up to 30% of their TANF funds to CCDBG, on average states transferred 4% in FY2021. Click here to see how states leveraged their TANF funds in FY2021 to support ECE.
Child care has been a pillar of the administration's domestic policy agenda, but Congress has been slow to act on major child care reform. Biden's EO does not come ​​with new funding. The president's FY24 budget request to Congress includes substantial increases in funding for key ECE programs, and transforming our child care system will not be possible without a meaningful increase in federal funds. We look forward to working with Congress to solidify these priorities into action.
Subscribe to FFYF First Look
Every morning, FFYF reports on the latest child care & early learning news from across the country. Subscribe and take 5 minutes to know what's happening in early childhood education.