National Report Shows Families Spend More on Child Care than Housing in Most States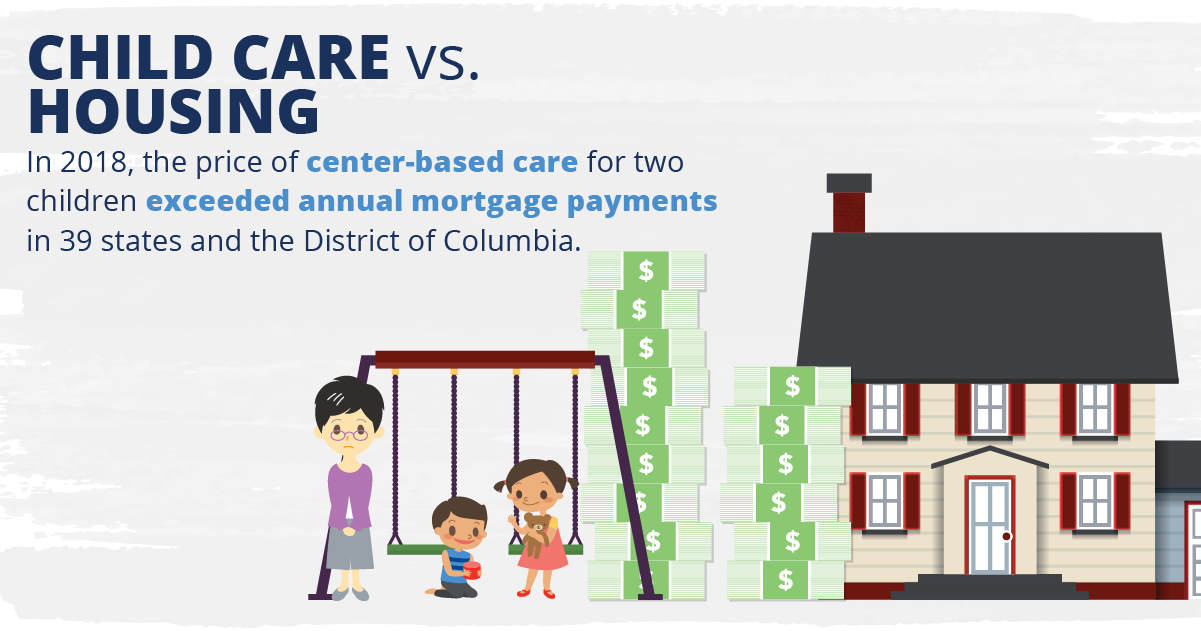 On Wednesday, Child Care Aware of America released its thirteenth annual report outlining the price of child care across the country. This year's report also examines the roles that providers, families, communities, and employers each have in the broader child care ecosystem.

This report found that child care consistently ranks as one of the largest expenses for families in every region of the country. In 39 states and the District of Columbia, the cost of child care exceeds average mortgage costs. Nationally, a married couple pays 11% of their income, on average, for child care. That figure is even higher in single parent households, where on average 36% of income goes to child care. This is well above the 7% of income that the federal government defines as the cost of "affordable" child care. Voters of all income levels agree that there is a critical shortage of child care options in their communities. In our most recent national poll, only 15% of low- and middle-income voters say that the child care options available to them are affordable and high-quality.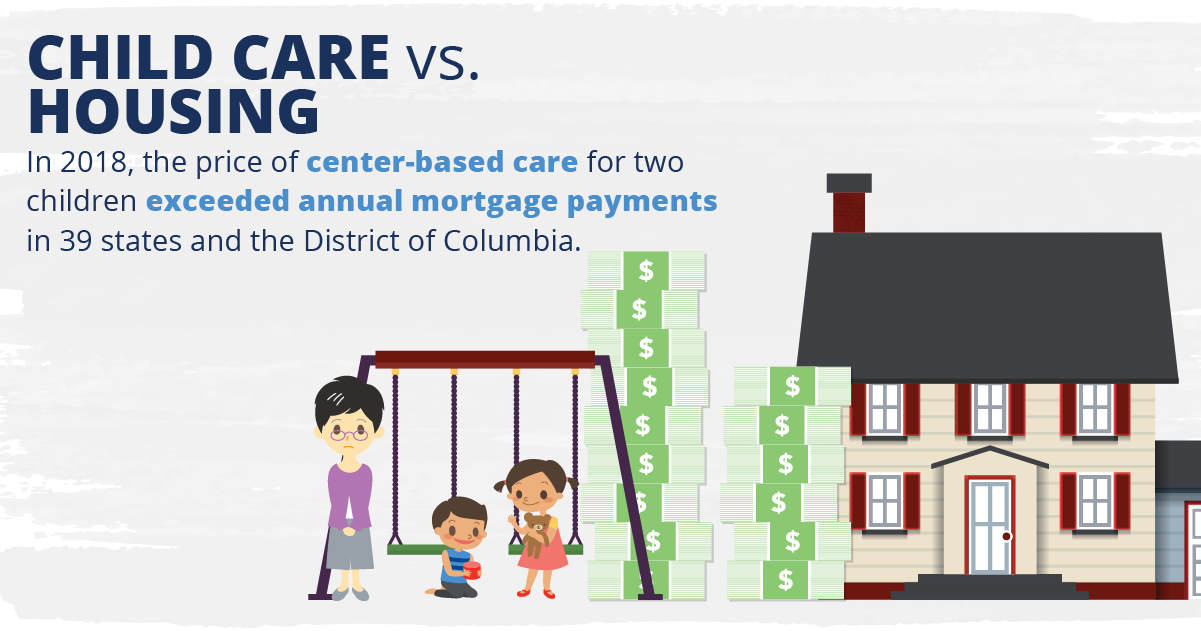 In addition to chronicling the cost of care, the report also discusses the importance of quality. The report details why quality early learning and care is crucial for young children, particularly those from low-income families, to build a strong foundation as they enter school and grow into adults. Research shows tremendous benefits to high-quality early learning, both in the short- and long-term, such as increased school readiness. These early gains help prepare children to earn higher wages as adults, live healthier lives, and raise strong families.

While the cost of child care, especially high-quality care, is an immense burden for families, the report also discusses the impact to employers when parents have to use unreliable care options for their children. Each year, America loses an estimated $57 billion in lost earning, productivity, and revenue because of the state of child care in the country. This is a tremendous cost for businesses and the economy as a whole.

Even as parents are paying significant amounts for care, Child Care Aware's report also highlighted the low wages of providers. While an increasing number of child care providers have a bachelor's degree, their wages have remained stagnant. In 2018, teachers at a child care center made, on average, $11.17 per hour. These wages are significantly lower than teachers working in public schools, and can make recruiting and retaining child care providers difficult.

Noting that a system that is both expensive for families and compensates providers so little is unsustainable, the report includes two overarching policy recommendations. The first recommendation is to support the child care workforce. This recommendation includes calls to recruit and retain providers and improve supports for providers. The report's second recommendation is to support families paying for child care. This recommendation considers both the role of employers as well as the role of financial assistance from public investments and tax credits in reducing the price that families pay. Additionally, Child Care Aware identifies three underlying policy needs: improved data collection across the country, promoting parent and provider awareness about existing resources, and strengthening funding mechanisms.

In the past years, Congress has recognized the importance of early learning and care. Members on both sides of the aisle have worked together to increase funding, while also reforming programs to improve quality and leverage state and local innovation.

Access to high-quality child care plays a crucial role in a child's development and in families' economic well-being. FFYF continues to support Congress' investments in, and partnerships with states, to address the needs of children from low-income families.

To access state specific data and read the complete report click here.

Subscribe to FFYF First Look
Every morning, FFYF reports on the latest child care & early learning news from across the country. Subscribe and take 5 minutes to know what's happening in early childhood education.