New Funding Opportunity for Tribal MIECHV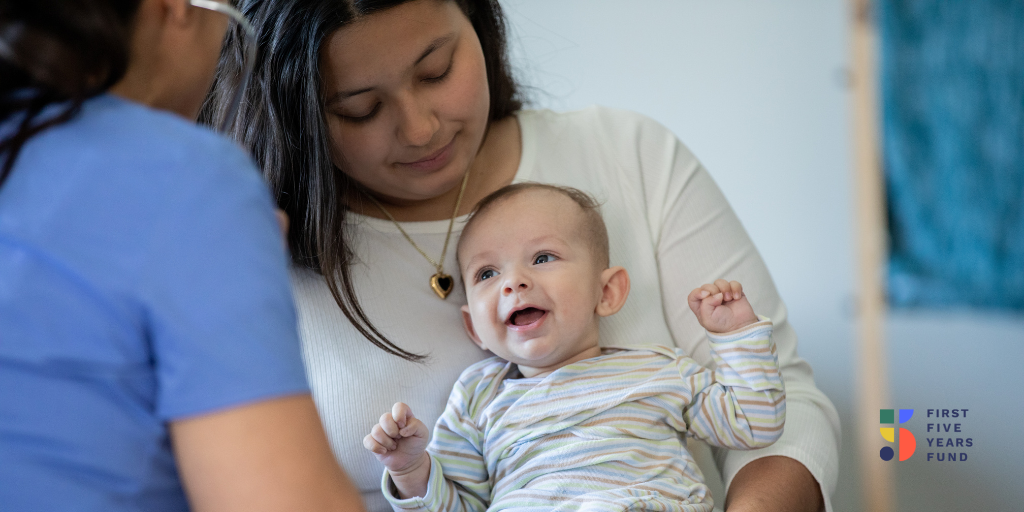 Earlier this month, the Administration for Children and Families (ACF) announced a grant opportunity for tribes to access funding for the FY 2023 Maternal, Infant, and Early Childhood Home Visiting (MIECHV) Program: Development and Implementation Grants.
This opportunity is possible thanks to the $500 million included in the FY2023 final funding package, where legislation increased the tribal set aside from 3% to 6%. These funds can help expand access to high-quality home visiting services for American Indian and Alaska Native (AIAN) families, who are at higher risk for adverse experiences, experience higher levels of food insecurity, and disproportionately lack access to high-quality early childhood opportunities. The home visiting programs made possible by MIECHV pair families who often have limited support and resources with trained home visitors, including health, social service, and child development professionals.
These professionals meet with parents one-on-one, often from pregnancy through their child's kindergarten entry, to help lay the foundation for the health, development, education, and economic self-sufficiency of the entire family.
With 55 grants and $140 million awarded to 36 tribal entities to date, the Tribal MIECHV Program has played a critical role in expanding high-quality, culturally grounded, evidence-based home visiting services for AIAN families and children. ACF notes that the goals of the tribal home visiting program are to develop and strengthen tribal capacity to support and promote the health and well-being of AIAN families, expand the evidence base around home visiting in tribal communities, and support and strengthen cooperation and linkages between programs that service AIAN children and their families.
According to the Notice of Funding Opportunity, funds will support 63-month cooperative agreements between ACF and federally-recognized Indian tribes (or a consortium of Indian tribes), tribal organizations, or urban Indian organizations to:
Conduct community needs and readiness assessments;
Develop the infrastructure needed for planning and implementation of evidence-based home visiting programs;
Provide high-quality, evidence-based home visiting services to pregnant women and families with young children aged birth to kindergarten entry;
Implement performance measurement and continuous quality improvement (CQI) activities; and
Engage in activities to strengthen early childhood systems of support for families with young children.
This funding is intended for tribal entities that do not have prior experience with implementing evidence-based home visiting programs and are not currently implementing a program. A separate funding opportunity (Tribal MIECHV Grant Program: Implementation and Expansion Grants, HHS-2023-ACF-ECD-TH-0241) will be available for entities with such prior experience.
According to the notice, activities that recipients carry throughout the cooperative agreement include:
Year 1*: Comprehensive Community Needs and Readiness Assessment, Planning, and Capacity Building
Recipients will identify the needs and capacities of their communities through quantitative and qualitative methods. This includes identifying the at-risk tribal community (or communities) by collecting data on the health and well-being of individuals and families; the quality and capacity of existing home visiting programs; an assessment of existing or ongoing efforts to develop a coordinated network of supports for expectant families or families with young children; among other activities.
Design and build capacity to implement and evaluate programs that meet these needs and fulfill requirements, while engaging with community members and partners.
*The first 15 months of the cooperative agreement is considered Year 1
Years 2-5: Implementation, Performance Measurement, Continuous Quality Improvement, Early Childhood Systems Building, and MIECHV Learning Agenda Activities
Fully implement the various components of their approved implementation plan, including but not limited to:
Implementing high-quality, culturally grounded, evidence-based home-visiting programs that meet the needs of at-risk tribal communities and providing home-visiting services including virtual home visits;
Collaborating with tribal, local, and state early childhood partners to ensure a successful home visiting program and to support the comprehensive needs of expectant families, parents and caregivers, and children from birth to kindergarten entry living in at-risk tribal communities through the development of an early childhood system;
Supporting maternal, early childhood, and infant mental health including, but not limited to, through infant and early childhood mental health consultation; and
Participating in MIECHV-funded evaluation opportunities to promote learning and contribute to the MIECHV Learning Agenda.
According to the notice, $8 million in funding is set aside and HHS expects to give 16 awards ranging from $250,000 and $1 million. Applications are due on May 1, 2023.
Subscribe to FFYF First Look
Every morning, FFYF reports on the latest child care & early learning news from across the country. Subscribe and take 5 minutes to know what's happening in early childhood education.