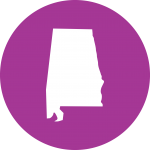 High-quality early childhood education is proven to dramatically improve a child's opportunities for a better future—particularly children from low-income families. If we, as a nation, want to ensure all children have access to high-quality early learning, there must be strong support and partnerships from federal government to extend the reach or fill in the gaps of state efforts and innovation.
This fact sheet provides an abbreviated overview of state- and federally-funded early childhood opportunities in Alabama, which serve more than 150,000 children and families.
"Early childhood education not only promotes success in school, but it also goes beyond and impacts the workforce. It's a cornerstone for future educational endeavors for our students, their future careers and for their future as productive citizens."
– Governor Kay Ivey (R-AL)
"I'm a strong believer that all children, regardless of their zip code, deserve an education that gives them every chance at success. That's why my office is working with the Office of Head Start, other Members of Congress, the state Pre-K office, and local groups to ensure that services will not be denied for eligible children and their families."

– Representative Terri Sewell (D-AL)



Click here to view all state fact sheets.
Download PDF