The Promise of Apprenticeships to Strengthen the Child Care Workforce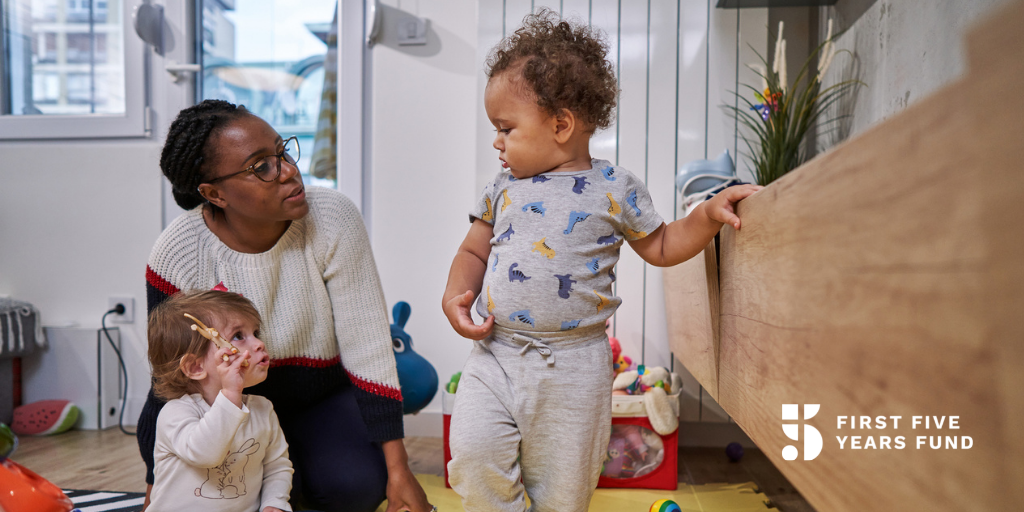 Quality child care and early learning opportunities for young children depend on a well-qualified early care and education (ECE) workforce. The ECE workforce has long been plagued by high turnover, but in recent years the field has experienced an unprecedented labor shortage. Low compensation, lack of benefits, and limited opportunities for growth make it difficult to recruit and retain qualified educators to do this challenging and important work. Registered apprenticeships offer one promising solution to strengthening the workforce, which is essential to ultimately improving access to quality child care and early learning. Apprenticeships offer on-the-job learning opportunities where participants acquire specialized knowledge and skills needed to earn a desired credential or degree and improve their earnings.
In August, the Bipartisan Policy Center (BPC) released a new report, Apprenticeships: Building a Strong Child Care Workforce Pipeline. This report offers helpful background on the federal laws governing apprenticeship programs, explains how to start a registered apprenticeship program, and offers an overview of the current ECE apprenticeship landscape with multiple state and local program profiles. BPC found that interest in apprenticeships are growing, with 35 states now having active child care and early learning registered apprenticeship programs, and an additional seven states developing programs this year. The report offers a host of recommendations for different entities, and calls on Congress to:
Authorize use of funds for programs to start up and expand registered apprenticeship programs as part of a child care career pathway.
Direct the Department of Health and Human Services to include registered apprenticeships as a career pathway in the 2025–2027 Child Care and Development Fund Plan preprint.
Last week, BPC hosted a webinar where panelists discussed their work building, running, and researching registered apprenticeship programs for the child care workforce. Linda Smith, Director of the Early Childhood Initiative at BPC, said "The apprenticeships get to the heart of a lot of the problems we have with our workforce." Panelist Pamm Shaw, Director of Strategic Funding and Partnerships for the YMCA of the East Bay, shared her experience building an extensive apprenticeship program in northern California that offers three different cohorts, where apprentices can earn their Associate Teacher Permit (equivalent of a CDA), AA degree, or BA degree. The on-the-job training links theory to practice and apprentices receive mentoring and coaching. The apprenticeship is completely free for participants and is funded through public-private partnership.
Panelist Dulari Tahbildar, Director for the Rhode Island Child Care Training Program of the SEIU Education & Support Fund, discussed her work creating the first ever apprenticeship program specifically for family child care (FCC) providers. FCC providers are unique in that they are both employers and apprentices. They are working to earn their CDAs and are eligible for a wage increase by increasing their rating in the state Quality Rating and Improvement System. The program is equity-focused, with staff and materials to support Spanish-speaking participants and an extensive anti-racist curriculum.
The third panelist, Emily Sharrock, Associate Vice President at the Bank Street Education Center, discussed Bank Street's recent report, A Snapshot of ECE Apprenticeship Programs. Bank Street conducted a survey of administrators of apprenticeship programs around the country to better understand how they function and interviewed several apprenticeship program administrators. They found that approximately 70% of ECE apprenticeship programs offer a CDA and that 90% have four or more partners involved in their program, such as community colleges, philanthropy, and the Department of Labor (DOL). They found that funding sources varied, and that 60% are not funded through DOL. Bank Street plans to deepen its Community of Practice for ECE apprentice program administrators.
There is a great deal of interest in apprenticeships on both sides of the aisle, and members of Congress are taking action to expand access. FFYF recently wrote a letter endorsing the bipartisan Early Educators Apprenticeship Act, which was introduced earlier this year in the Senate by Senator Todd Young (R-IN), Senator Bob Casey (D-PA), and Senator Shelley Moore Capito (R-WV) and in the House by Congressman Brett Guthrie (R-KY) and Congresswoman Susan Wild (D-PA). The Early Educators Apprenticeship Act would support and expand states' efforts to establish ECE apprenticeships programs to address the growing need for qualified early educators.
Specifically, the bill would establish a three-year grant for states to develop, administer, and evaluate a registered apprenticeship program that equips apprentices with the knowledge and skills required to be an effective early childhood educator. These grants would empower states to increase the number of apprentices with a credential or degree and provide a pathway to career advancement for apprentices who complete the program. Twelve organizations joined FFYF in signing the endorsement letter, signifying the broad support and enthusiasm for this work. The full text of the endorsement letter is available here.
Subscribe to FFYF First Look
Every morning, FFYF reports on the latest child care & early learning news from across the country. Subscribe and take 5 minutes to know what's happening in early childhood education.