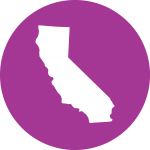 High-quality early childhood education is proven to dramatically improve a child's opportunities for a better future—particularly children from low-income families. If we, as a nation, want to ensure all children have access to high-quality early learning, there must be strong support and partnerships from federal government to extend the reach or fill in the gaps of state efforts and innovation.
This fact sheet provides an abbreviated overview of state- and federally-funded early childhood opportunities in California, which serve more than 1,000,000 children and families.
"The State has made great strides in enhancing early education. With increased rates and access, we will be opening the door for many families to give their kids the best opportunities at an early age and it is critical that funding was added for quality assurance at these institutions." – California Assemblymember Rocky Chavez (R-CA)
"Great strides have been made in understanding how children's brains are shaped and developed, how positive behaviors can be encouraged, and how investments in early childhood create success in later years. We must ensure that our policies match the latest research and that families are given what they need to take advantage of these scientific advances. We know that these investments in our children today pay off many-fold in later years. It makes good economic sense. It is also the right thing to do. Investing in our children early leads to their success, and prevents having to remediate problems later." -House Minority Leader Nancy Pelosi (D-CA)
Click here to view all state fact sheets.
Download PDF