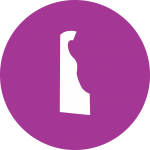 High-quality early childhood education is proven to dramatically improve a child's opportunities for a better future—particularly children from low-income families. If we, as a nation, want to ensure all children have access to high-quality early learning, there must be strong support and partnerships from federal government to extend the reach or fill in the gaps of state efforts and innovation.
This fact sheet provides an abbreviated overview of state- and federally-funded early childhood opportunities in Delaware, which serve more than 30,000 children and families.
"The payoff from high-quality early childhood programs is clear, a better-educated citizenry, healthier future adults and a productive workforce ready for tomorrow's jobs. Many other states are making advances in improving their early childhood programs, and I'd like to see Delaware do the same. Early childhood issues need to be a statewide priority that truly transcends politics." – Delaware Senate Minority Leader Gary Simpson (R-DE)
"We owe it to our children to give them every chance to succeed in school and beyond. Too often, children enter elementary school already lagging behind classmates who have developed critical skills in prekindergarten programs… These are investments in a brighter future for our children, and every child, regardless of income, deserves the opportunity for a strong start." – Senator Chris Coons (D-DE) 
Click here to view all state fact sheets.
Download PDF