Elected leaders on both sides of the aisle agree: quality child care must be a priority.
Access to affordable, reliable child care is critical for working families, offering parents better job stability and overall economic security. And just as importantly, high-quality care supports children's healthy development. Investing in quality child care, particularly for low-income families, creates upward mobility by ensuring all children have the opportunity to develop foundations for long-term success in school and life.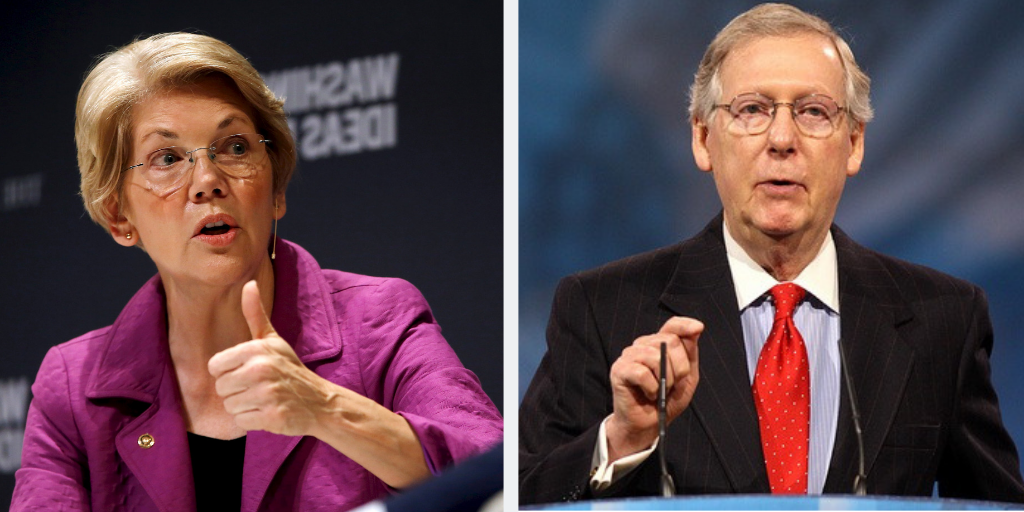 The good news is, lawmakers and voters on both sides of the aisle agree that more must be done to ensure working families have access to quality child care. According to FFYF's 2018 national poll, conducted in the days immediately following the 2018 Midterm Elections, there is overwhelming bipartisan support for a number of proposals that will help more families access high-quality early learning and care opportunities. And elected officials at every level of government have prioritized child care – both in their words, and their deeds.
Take a look at the following quotes from prominent members of Congress and Governors, from red and blue states alike, on the importance of investing in child care solutions for America's working families:
"Child care is not only important to the developmental health of children, but also to the well-being of their parents. When parents know that their children have a place to go where they will be safe and where they will learn, then the parents have more opportunity to earn a living to support their family." – Senator Susan Collins (R-ME)
"We must do more to ensure that all children have access to affordable, high-quality child care that will help families make ends meet and prepare our young ones for their futures." – Senator Maggie Hassan (D-NH)
"I'm so proud of my bipartisan work to strengthen early learning and child care, and I will continue working to protect North Carolina's working families in the United States Senate." – Senator Richard Burr (R-NC)
"Every time we invest in our children's education, it pays dividends for our nation's prosperity and competitive standing in the world. High-quality early care and education can improve child outcomes, ease the burden on public resources, and increase future productivity and growth of a child." – Senator Amy Klobuchar (D-MN)
"As the father of three daughters, I understand the importance of child care and educational programs designed to help Kentucky children and their families." – Senator Mitch McConnell (R-KY)
"Quality child care makes a major difference in the lives of young people in Maine and across the country, and we should be doing everything in our power to make it affordable and accessible for working families." – Senator Angus King (I-ME)
"Study after study has shown that regular access to high-quality child care promotes literacy skills, cognitive development, and healthy behaviors. These are long-term benefits: quality early education produces better health, educational, and employment outcomes well into adulthood." Senator Elizabeth Warren (D-MA)
"Our children deserve safe, developmentally appropriate learning experiences and care, and I know that these essential early years are the most impactful. Compassionate child care offers a meaningful source of stability for today's hardworking families, which is of great value in Washington State. Without a doubt, early learning helps shape a child's development, which sets them on a path for future success." – Congresswoman Cathy McMorris Rodgers (R-WA)
"Too many working parents must choose between a steady paycheck and caring for their kids. That's unacceptable. These new [child care] dollars will allow more parents to work while ensuring kids are safely and properly cared for. Helping families stay safe and strong is the right thing to do and will benefit our entire state." – Governor Doug Ducey (R-AZ)
"Sadly, many parents are priced-out of high-quality preschool and child care. No child should be denied a good start just because of their family's economic circumstances, and no parent should have to be faced with the burden of not being able to afford the very best for their kids." – Governor Jared Polis (D-CO)
"North Dakota's most valuable resource is our children, and their working parents are the foundation of our economy… available and quality child care is vital to children and their working parents, and has a direct impact on the economy of our state." – Governor Doug Burgum (R-ND)
"We can no longer afford to view child care as a convenience, but an educational and economic necessity, especially for low-income families." – Governor Ned Lamont (D-CT)
"I know how tough it is to make ends meet, while also raising a family. My husband and I lived it for many years of our life. That's why I support programs that help Iowa's parents who need childcare assistance, receive it." – Governor Kim Reynolds (R-IA)
Learn more about the bipartisan support for child care from our new national poll: http://ffyf.org/2018poll