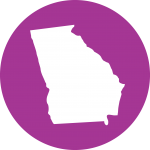 High-quality early childhood education is proven to dramatically improve a child's opportunities for a better future—particularly children from low-income families. If we, as a nation, want to ensure all children have access to high-quality early learning, there must be strong support and partnerships from federal government to extend the reach or fill in the gaps of state efforts and innovation.
This fact sheet provides an abbreviated overview of state- and federally-funded early childhood opportunities in Georgia, which serve more than 350,000 children and families.
"By making strategic investments in Georgia's Pre-K program, we hope to provide each student with a strong learning foundation."
– Outgoing Governor Nathan Deal (R-GA)
"Nothing has better returns than our investments in education, from early childhood through lifetime learning. The Head Start Program currently serves over 24,000 Georgia families by providing children with quality education early on in their development. Affordable, accessible education is essential for succeeding in the American economy and every child in America should be afforded an equal opportunity to succeed, regardless of what neighborhood they live in or how much money their parents make."

– Representative Hank Johnson (D-GA)
Click here to view all state fact sheets.
Download PDF