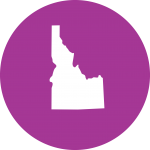 High-quality early childhood education is proven to dramatically improve a child's opportunities for a better future—particularly children from low-income families. If we, as a nation, want to ensure all children have access to high-quality early learning, there must be strong support and partnerships from federal government to extend the reach or fill in the gaps of state efforts and innovation.
This fact sheet provides an abbreviated overview of state- and federally-funded early childhood opportunities in Idaho, which serve more than 30,000 children and families.
"Early childhood development is directly related to economic development because it improves the quality of the future workforce and creates tremendous cost savings for society." – Governor Butch Otter (R-ID)
"We know high quality pre-kindergarten programs help children succeed and avoid trouble in all stages of their later lives . . .That makes [support of early childhood education] one of the best public policy choices we can make as a society." – Boise Mayor David Bieter (D-ID)
Click here to view all state fact sheets.
Download PDF