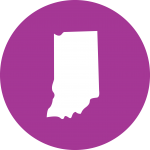 High-quality early childhood education is proven to dramatically improve a child's opportunities for a better future—particularly children from low-income families. If we, as a nation, want to ensure all children have access to high-quality early learning, there must be strong support and partnerships from federal government to extend the reach or fill in the gaps of state efforts and innovation.
This fact sheet provides an abbreviated overview of state- and federally-funded early childhood opportunities in Indiana, which serve more than 150,000 children and families.
"A strategic investment now to expand state-funded prekindergarten for children from low-income families is an essential investment we must make in Indiana's workforce and our state's future."
– Governor Eric Holcomb (R-IN)
"Early childhood learning is critical to building a strong foundation for each child's long-term success. It is linked to better outcomes in school, such as greater high school and college completion rates; higher wages; and better social and emotional skills."

– Outgoing Senator Joe Donnelly (D)
Click here to view all state fact sheets.
Download PDF