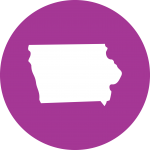 High-quality early childhood education is proven to dramatically improve a child's opportunities for a better future—particularly children from low-income families. If we, as a nation, want to ensure all children have access to high-quality early learning, there must be strong support and partnerships from federal government to extend the reach or fill in the gaps of state efforts and innovation.
This fact sheet provides an abbreviated overview of state- and federally-funded early childhood opportunities in Iowa, which serve more than 100,000 children and families.
"[The Maternal, Infant, and Early Childhood Home Visiting Program] serves so many mothers and children has enjoyed bipartisan support because it embraces a common sense idea… It provides states with the resources to design programs that work best for their communities to support children and families.  It gives parents access to professional expertise to help them improve their skills. When kids do well early in life, they're on a good path to become successful adults." – Senator Chuck Grassley (R-IA) 
"I grew up in poverty, and I know first hand how important programs like Head Start are to families that struggle in poverty everyday. Head Start does more than prepare children for elementary school; it helps restore hope and opportunity to Iowa's families." – Representative Dave Loebsack (D-IA)
Click here to view all state fact sheets.
Download PDF