The Every Student Succeeds Act (ESSA) was enacted in December 2015 with overwhelming bipartisan support and reauthorized the Elementary and Secondary Education Act (ESEA), which was enacted in 1965 as part of President Lyndon B. Johnson's War on Poverty. ESSA prioritizes equal access to education and closing opportunity gaps–issues that originate before children enter the K-12 system.
Recognizing the importance of early childhood education (ECE) in ensuring children are prepared for kindergarten and do not fall behind later in life, for the first time, the nation's comprehensive K-12 education legislation incorporates early learning across the law, including the first-ever dedicated funding stream for ECE, the Preschool Development Grant Birth through Five program (PDG B-5), which provides competitive grants for states to improve ECE coordination, quality, and access.
The overwhelming evidence shows that children who enter kindergarten behind are likely to remain behind throughout their educational careers and beyond. These gaps in achievement are difficult and expensive to close with K-12 education alone, and they can last a lifetime, particularly for children from low-income families.
ECE programs lay the foundation for school readiness by building the cognitive and character skills children need to do well in school and in life, including attentiveness, persistence, impulse control, and sociability. ESSA's inclusion of early learning throughout the law acknowledges these ideas and seeks to ensure children start kindergarten on an equal footing.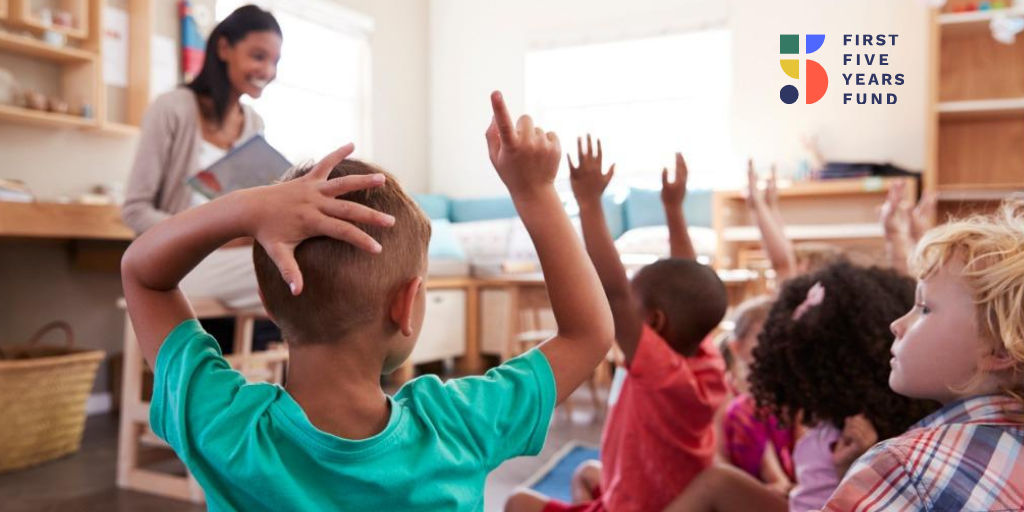 Although ESSA's predecessor, the No Child Left Behind Act of 2001, allowed early learning investments, ESSA significantly elevates early learning's importance in the law by promoting service coordination within communities; encouraging greater alignment with the early elementary grades; and building ECE knowledge and capacity among teachers, leaders, and other staff serving young children.
In combination with early learning's elevation throughout the law, ESSA gives states more discretion to redesign their school systems. States will be able to use these statutory improvements and related federal funding, including PDG B-5 funds, to support work they are already doing to further their early learning goals and to develop better systems for identifying and improving the nation's lowest performing schools, including using high-quality early learning strategies to promote school improvement.
As implementation of the law continues, FFYF is committed to helping states and school districts understand and use the law. FFYF has a plan to work closely with leaders to improve program quality, access, family engagement, school improvement, and other provisions to ensure more children from low-income families can access comprehensive early learning opportunities and arrive ready for kindergarten on day one.

Few early-learning provisions in ESSA were mandated; nonetheless, many states proactively and voluntarily included ECE in their ESSA plans. Additionally, in 2018 46 states and territories were awarded initial PDG B-5 grants and, after completing one year of planning, were eligible to apply for three-year renewal grants to support their implementation efforts. In 2020, after an incredibly competitive grant review process, 23 applicants received renewal grants, and 6 states and territories were awarded initial planning grants.
In March 2020, Congress passed the Coronavirus Aid, Relief, and Economic Security (CARES) Act in response to the devastating effects of the COVID-19 crisis with near unanimous, bipartisan support. This $2.2 trillion bill included $30.75 billion in emergency aid to the Education Stabilization Fund to help early learning, elementary, secondary, and postsecondary institutions and students address the impacts of the pandemic.
From that amount, the U.S. Department of Education will distribute funding through three independent programs:
(1) the Governor's Emergency Education Relief Fund
(2) the Elementary and Secondary School Emergency Relief Fund
(3) the Higher Education Emergency Relief Fund.
Each program permits recipients to invest in a wide range of activities. Although there will be significant competition for the Act's limited resources, early childhood services may be eligible for funding through each of the programs. A detailed analysis of these provisions is available here.
Current Funding Level:
Under Title 1, ESSA is funded at $16.31 billion (+$450 million above FY19)
Under Title 2, ESSA is funded at $2.13 billion (+$76 million above FY19)
Click here to view funding levels of other early childhood education and care programs for FY21.